ATM cards or debit cards get extensively used by the account holders for money withdrawal, fund transfer, balance inquiry, mini statement and several other services. There are probabilities of losing the Debit Card.
You can't deny the fact. A pickpocket may snatch away your wallet in which you have your ATM card. To prevent misuse of the debit card, you need to get blocked immediately.
Do you use Andhra Bank's ATM card? You need to use the card and keep it safe carefully. If for any reason, you lose the ATM card get it blocked. You must be aware of the ways of blocking the card.
Dialing the toll-free or customer care number for blocking the card is the traditional way and currently is in use. It takes time to get connected to the customer care and request to block the card.
With the modern advancements, several other ways got introduced ensuring convenience of the customers. SMS facility is a simple method for blocking the card. You can also access online process and request to block the lost or damaged card.
Block Andhra Bank ATM/Debit card online
Open your registered email account. Compose a new mail and type [email protected] to send a request for blocking the lost or damaged card. Send an email reporting the details to the official email ID. The card will get blocked instantly.
You need to access your email account and report the bank about the loss! You can block the card if the ATM card gets damaged for any reason.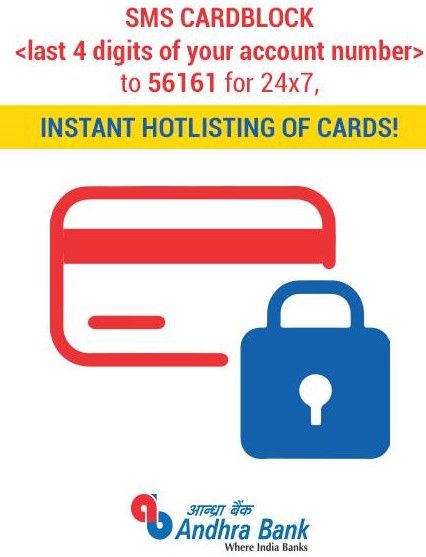 Block Andhra Bank ATM/Debit card By Calling
Call to toll-free number 18004251515 and make a request to customer care executive to block your lost card immediately.
Block Andhra Bank ATM/Debit card By sending SMS
From the registered mobile number, type SMS CARDBLOCK XXXX and send it to 56161. Your debit card will be blocked instantly.
Where XXXX is last four digits of the account number.
If you still unable to block your debit card, then visit your home branch and submit the atm block request form to the branch.