Have you lost your Bank of India Debit Card? If you missed the Debit cum ATM card, you must get it instantly blocked. If any unscrupulous person finds the ATM Card, it may get misused, and you may lose the money deposits in the account.
Being responsible, you must get the lost card blocked as soon as possible to prevent any misuse. You never know when you will get fixed under such scenario.
Are you aware of the method of blocking the card? Bank of India offers various options for its customers and helps them in such problematic situations.
Method 1: Hotlist/Block the Lost Bank of India Debit Card via Call
Dial 18004251112 from your mobile number. It is a toll-free number, and it will take some time to get connected to the number.
Provide your debit card number or account number as demanded by the customer care executive.
You may also dial 02240429123 from your mobile and request to hotlist the card.
In both scenarios, you need to provide the reason for blocking the card, and you have to give the bank details as inquired by the customer care executive.
Method 2: Request to BOI block debit card via Email
Send a request to block lost or damaged or misplaced debit card via email to [email protected] or [email protected]. You need to write a formal letter mentioning the account as well as the card details and the reason for blocking the card.
Method 3: Blocking BOI Debit Card via Internet Banking facility
Step 1: If you have active Bank of India Internet Banking account, just log in to the account using your login ID and Password through star token app.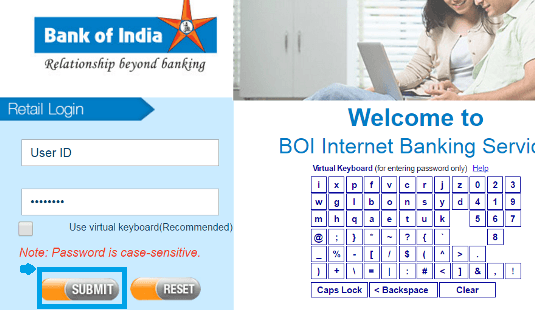 Step 2: Now click on the Requests tab from the main menu after successful login.

Step 3: Next open link debit-cum-Atm Card from the list of Submit requests.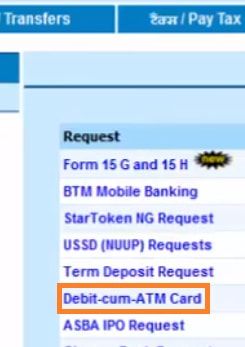 Step 4: Search for the option for hotlist-debit-cum-atm-card on the next webpage and click on it.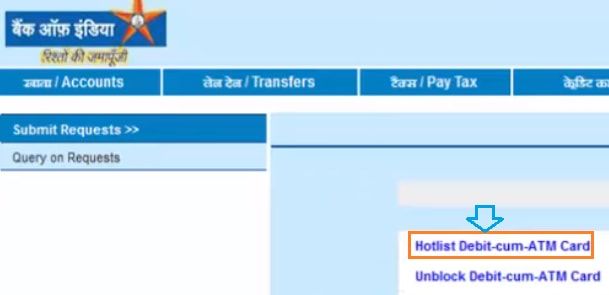 Step 5: Now select your Debit-Cum-ATM card number and Submit a request to hotlist the debit card instantly.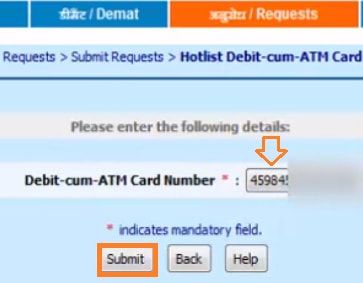 Method 4: Block the Bank of India Debit Card by Visiting the home branch
You may also visit the branch and request for hot listing the debit card, but it is not possible if you lost the card at night. You can block Bank of India Debit Card Online immediately at any time of the day.
The online option is the most convenient way to get the card blocked.