Axis Bank was founded in December 1993 with the name Unit Trust of India. Axis Bank got its first branch inaugurated on 2nd April 1994 at Ahmedabad by Dr. Manmohan Singh who became the Prime Minister of India later. On the current day, Axis Bank holds his rank in the top 5 banks of the country. It has 4050+ branches across the country. On 30 July 2007 Unit Trust of India bank changed its name to Axis Bank.
On present-day 11,800+ ATMs and also around 5000 cash recycler of Axis Bank available across the nation. Axis Bank has 70,000 employees working day and night for the customers. Axis Bank has always been a proactive bank, the bank which knows what to do before the crisis occurs. One of its proactive moves is opening an All Women Branch in Patna, Bihar in the year 2014.
Control over the debit card has become an important thing for the customers. The cases of fraud related to a debit card have increased these days. In this article, we will be dealing with the ways which can be implemented to block and unblock the Axis Bank debit card.
Various ways to block or unblock axis Bank debit card
1. Block/Unblock your Axis Bank debit card Using App
Step 1: Open the Axis mobile application. Login your account. If you have not logged in yet, you can register in the app using your axis bank account number. Enter the mPIN you allotted during your registration.
Step 2: Now click on the 3 lines on the above-left corner and then select 'service and support'.
Step 3: Now, several options will pop up on your screen. You need to select 'Debit card switch ON/OFF'.  The new page will come up, and you need to click on 'continue'.
Step 4: Then, the last page will come up; there you choose 'Switch off '. Then it will ask your mPIN and your debit card will be blocked within 24 hours.
Remember you cannot make a transaction without Switching ON your Axis Bank debit card. To unblock your debit card, you need to repeat all those steps but in Step 7 you will choose 'Switch ON'. As it got activated, you are free to do the transaction.
In the same way, you can unblock your axis bank debit card through internet banking.
2. Block/Unblock your Axis Bank debit card offline
If you don't feel comfortable in online mode or still have any query regarding it. Don't worry Axis Bank has its answers too. Go to the nearest branch from your location and there you will be guided by a panel of employees who can help you block your card.
3. Block your Axis Bank debit card through SMS
Providing the customers with the best assistance is something that Axis Bank excels at. Thus, to ease things out for its customers, the company offers the customers the option to block their cards via SMS. A user would have to type in 'BLOCKCARD' from their registered mobile number and forward it to 5676782 or +919717000002.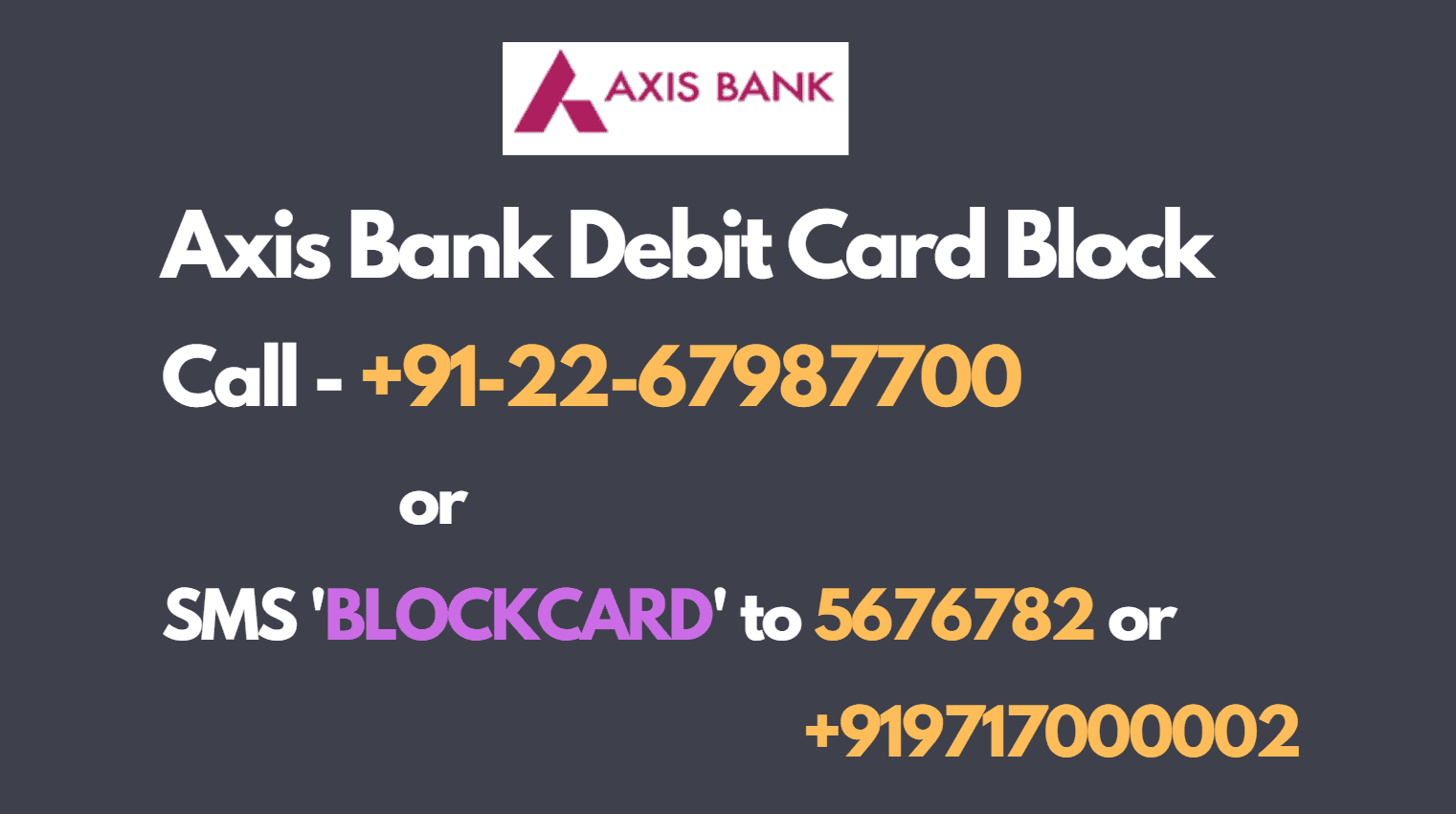 4. Block your Axis Bank debit card by Calling
If you have lost your card, you can directly call the customer service of Axis bank to request them to instantly block your card. You can do the same by calling the emergency helpline number: +91-22-67987700. The customer care guides would walk you through the process after you have made the call.
5. Through App or Internet Banking
If your mobile has the Axis Bank application, then simply log on to the application and navigate to Visit Banking, then choose on Services, from the next set of options, choose Debit card and finally select Block and Replace.
All these are some of the most efficient ways in which you can get your debit card blocked. In case, you end up blocking your debit card for some reason and then you want to get that unblocked, then you would have to directly head to the nearest branch. You might have to write an application and your account would be activated soon enough.
That sums up all the ways in which you can block or unblock your Axis bank debit card. You can choose from the large plethora of options that the bank has availed you to block your cards in case of an emergency.