The prominent growth and interest in the cybersecurity industry are closely related to the rise of online banking services. Digitization provides improved security, better delivery on bank facilities, and benefits the environment.
Debit cards revolutionized how we interact with our bank accounts. Withdrawing and depositing cash takes minutes and saves us from a trip to the nearest branch every time we need pocket money.
Despite being equipped with improved authentication procedures and online systems, we are susceptible to financial fraud and cybercrimes. We may even misplace our card. It is critical to block our debit cards in case our bank accounts are vulnerable. Moreover, treat it as a preventive measure to secure our money from falling into the wrong hands.
Kotak Mahindra Bank offers both online and offline procedures to block and unblock debit cards. Now, customers may not have easy access to a branch immediately or have the time to wait until the next day for actions.
Alternate methods using a personal computer or cell phone ensure the process takes place directly. You require an internet connection on any device or a mobile phone with the registered number in it.
With a Kotak Bank debit card, there are multiple ways to block your card permanently or temporarily.
Steps to Block Kotak Bank Debit Card Online
For Mobile Banking:
Log in to the 811 App using your six-digit login PIN.
Navigate to Service Request
Select your Debit card service requests
For permanent block, you need to report a loss of your card.
For a temporary block, click on the Deactivate Debit Card option.
For Net Banking:
Login to your account using your username or registered mobile number and password, which should be your CRN.
Navigate to your Debit Card
Select the Deactivate option on the card
Choose between a permanent or temporary block.
You can temporarily disable your debit card by reporting a lost and report card on the Kotak Bank website's transaction services option. You will require your registered mobile number and Customer Relationship Number (CRN) as your password. Enter the OTP and submit the report for processing.
Please ensure you block your debit card immediately if you suspect malicious activity or lose the card. The bank will issue a replacement following the deactivation.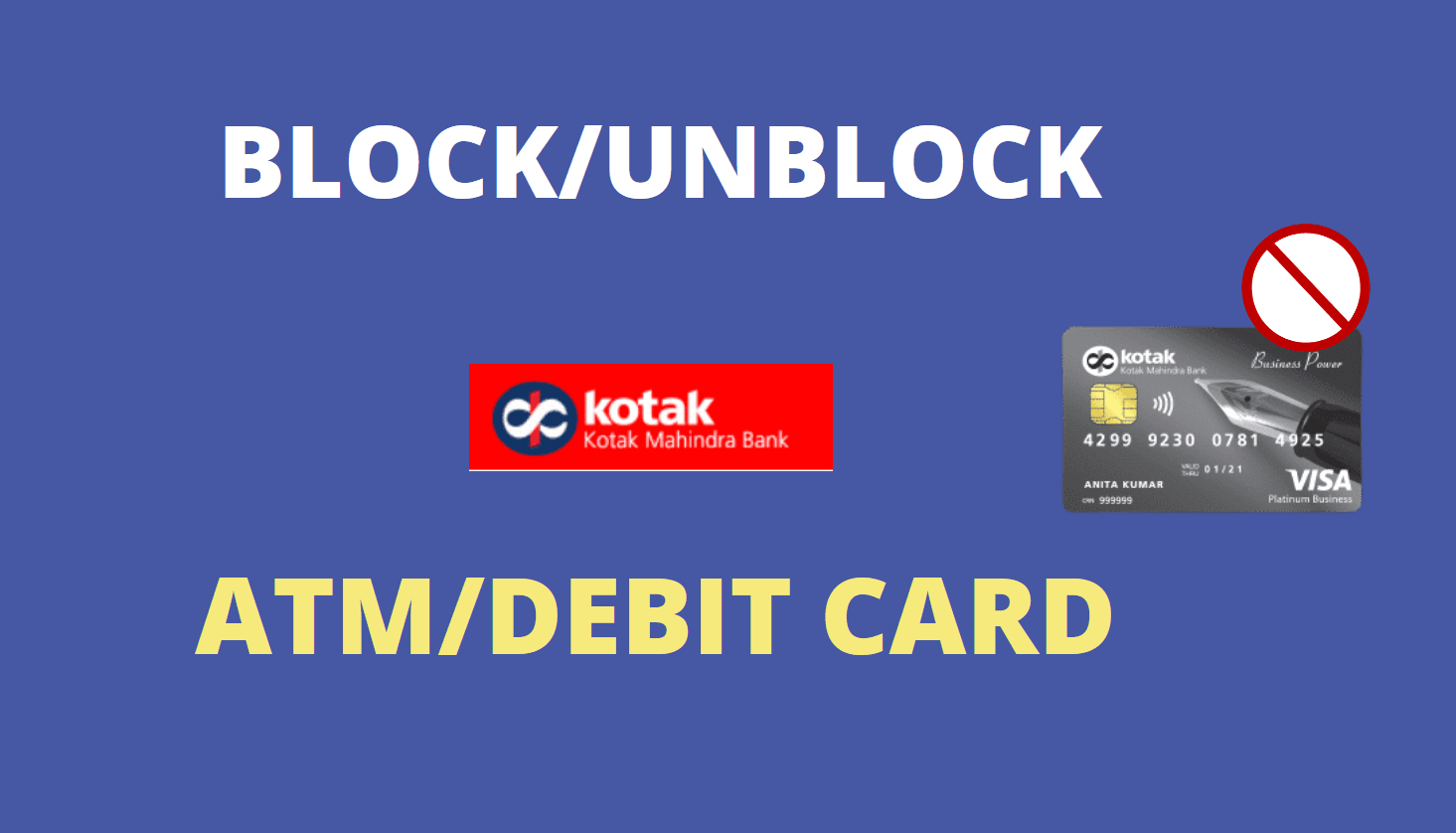 Steps to UnBlock Kotak Bank Debit Card Online
For Mobile Banking:
Login to your 811 App with your PIN
Navigate to Service Requests
Choose the Debit card service request.
You can activate your card here by selecting the option.
For Net Banking:
Login to your account with username or registered mobile number and CRN
Select the Debit Card
Click on the "Activate" option.
Through SMS
Alternatively, Kotak Bank provides an alternative offline solution to unblock or activate your debit card by SMS. Use your registered mobile number and send the following text to 5676788 OR 9971056767.
To block: SMS DCBLOCK XXXX (last 4 digits your Kotak Debit Card number)
To unblock: SMS DCUNBLOCK XXXX (last four digits of debit card number)
By Calling Customer Contact Center
Blocking a debit card, transaction disputes, and fraudulent cases is the top priority of customer support at Kotak Bank. You can contact the 24*7 helpline number 1860 266 2666 for any assistance. You can call the 24-hour Customer Contact Centre at 0091 22 6600 6022 to get the numbers for overseas locations.
| Services | Contact |
| --- | --- |
| Kotak Debit Card Toll-free number | 1860 266 2666 |
| Global Customer Care Number | 0091 22 6600 6022 |
| Debit Card block through SMS | SMS DCBLOCK XXXX (last 4 digits your Kotak Debit Card number) |
| USA | 1855 365 6767 |
| Australia | 001180044990000 |
| Hong Kong | 00180044990000 |
| UK | 0080044990000 |
| Canada | 18557684020 |
| Singapore | 8001013054 |
If none of the above methods are suitable for you, then visit your nearest Kotak Mahindra Bank branch and submit a request to block your atm card.