Do you have an account with Saraswat Bank? How often do you require updates on your account? Every responsible account holder opts to keep a track record of the bank account details.
Getting updates of your account balance will help you to plan the monthly expenses and your savings in the best way. Which method do you prefer to check the account balance?
Visiting the ATM is one of the traditional ways to inquire about account balance and updating the passbook is the other way. But what if you need to know the available balance info at midnight or under any other emergency circumstance?
Simply dial a number to make the balance inquiry. Saraswat Bank introduced a toll-free number for its customers to make balance enquiry anytime and anywhere.
Steps to Check Saraswat Bank account balance by a missed call
Dial 9223040000 from your registered mobile number for balance inquiry. You need to disconnect the call after 2-3 rings or else the call will get disconnected automatically.
You will receive an SMS from the bank containing detailed info about the available balance in the account. It is a toll-free number and you need not pay any charges to make the balance enquiry.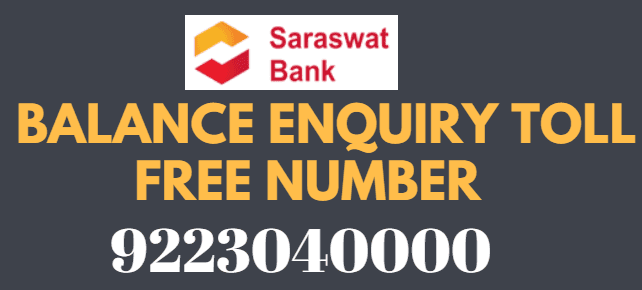 The missed call service is accessible anytime and anywhere. Dial number 9223501111 to get the mini statement of your account.
Saraswat Bank account balance Enquiry through SMS
From registered mobile number with a bank account, type SBAL 15 Digit account number and send it the number 9223810000. The available account balance details will be sent to your inbox.
 All ways to Check Saraswat Bank account Balance:
| Services |  Balance Enquiry |
| --- | --- |
| Missed Call Enquiry number | 9223040000 |
| Toll-Free Number | 1800229999 OR 18002665555 |
| Mini Statement Enquiry  | 9223501111 |
| Email | [email protected] |
Make sure to dial the toll-free number from your registered mobile number. Dialing Saraswat bank balance inquiry toll-free number, you can get the balance info instantly. You need not travel to the ATM or bank and waste your valuable time to get updated about the available account balance.