Do you have an account with State Bank of India? Do you access Internet Banking facility? SBI's Internet banking services ensure customer's convenience in different ways. If you are a new user, you may face certain problems.
One of the common problems faced is the screen will display Upgrade Access Level while you try to login to your internet banking account. It means you have only viewing rights.
On this page, you will learn how to upgrade access level in SBI net Banking new version. It is easy to activate the SBI net banking services for your account via online. After generating the password, you will log in to your account.
While trying to transfer funds, the screen will display the message 'Upgrade Access Level' in SBI Net Banking. To make the transaction successfully, you need to upgrade the access level.
Steps to Upgrade the access level in SBI Net Banking
Step 1: First login your online SBI account and find the tab 'Request & Enquiries' displayed on the homepage along with other tabs. Click on the tab and scroll the mouse cursor to 'More' option in the pop-down menu.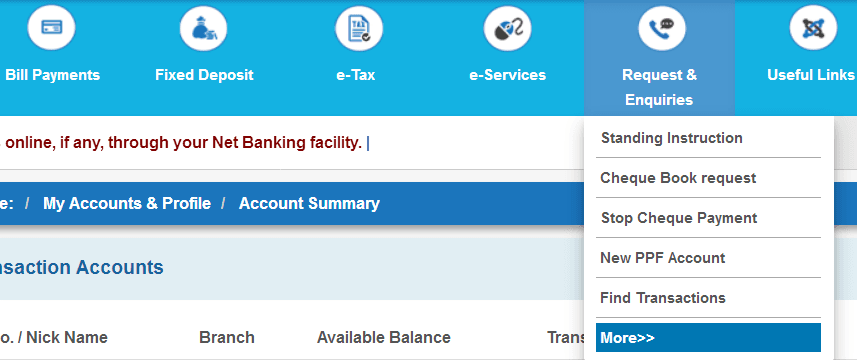 Step 2: Now, scroll the page to find 'Upgrade Access Level' in the list of options. Click on the link to proceed ahead.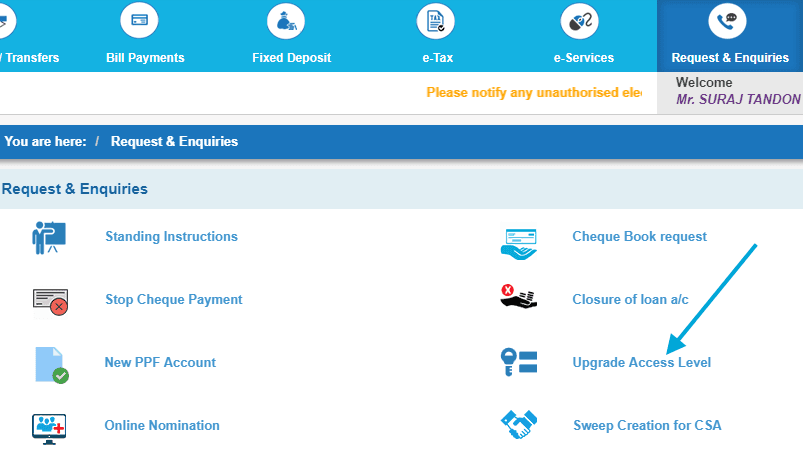 Step 3: Select the account number. Check the 'Upgrade Access Level to' box and set it to 'Full Transaction Rights'. To proceed ahead, click on 'Submit' button.

Step 4: The One-time password will be sent to your registered mobile number. Enter OTP and click the Confirm button.

The screen will display a message stating your request for upgrading access right for the selected account is pending for processing. Please check the status after some time.
Check the status after some time, and when you receive the message for successfully upgrading access level, you can proceed with your transactions.
Without upgrading the access level, you will be able to view the account details. Upgrading the access level, you can successfully perform third-party transfer and interbank transfer along with other services like RTGS, NEFT, and IMPS.