Before filing an application, you should know what is RTGS is? RTGS is Real Time Gross Settlement that denotes money transactions in a huge count. Real-time, which means the process starts working as soon as the fund is received, Gross settlements means transactions made individually and not in bulk, Settlement means once the procedure is complete and settled, it can not be reversed.
In India, more than 100000 banks are RTGS enabled, and ICICI Bank is one of them. If you want to apply for this process from ICICI Bank, you have to have an account in ICICI Bank. ICICI Bank is the best private sector bank in India now, and it gives its customers the best facilities they deserve.
ICICI Bank has the facility where its customer can apply for RTGS and transfer funds of more than 2 lacs to any other bank account across the country. RTGS is the only way you can send or receive money faster, safer, and easier way. People in India usually use mobile net banking to transfer money like Google pay, Phone pay, Bhim, UPI, etc.
These platforms are handy for the small number of money transactions like shopping payments, bill payments, purchases tickets, payments giving to someone, etc. You can not use these platforms to transact a huge amount of money. ICICI Bank provides an RTGS form for PDF formats, and you can download the form by the given link here.
How You can apply for RTGS at ICICI Bank?
We are giving here some tips to fill-up the form. You have to follow this thoroughly to apply for RTGS in ICICI Bank. Just keep in mind, the timings for RTGS that it works within bank office hours from 8 am to 6 pm. You can download the PDF form, but you need to submit it in person by visiting the bank branch. Fill the forms with your proper and original documents as requires. You have to make sure of using capital letters to fill the form.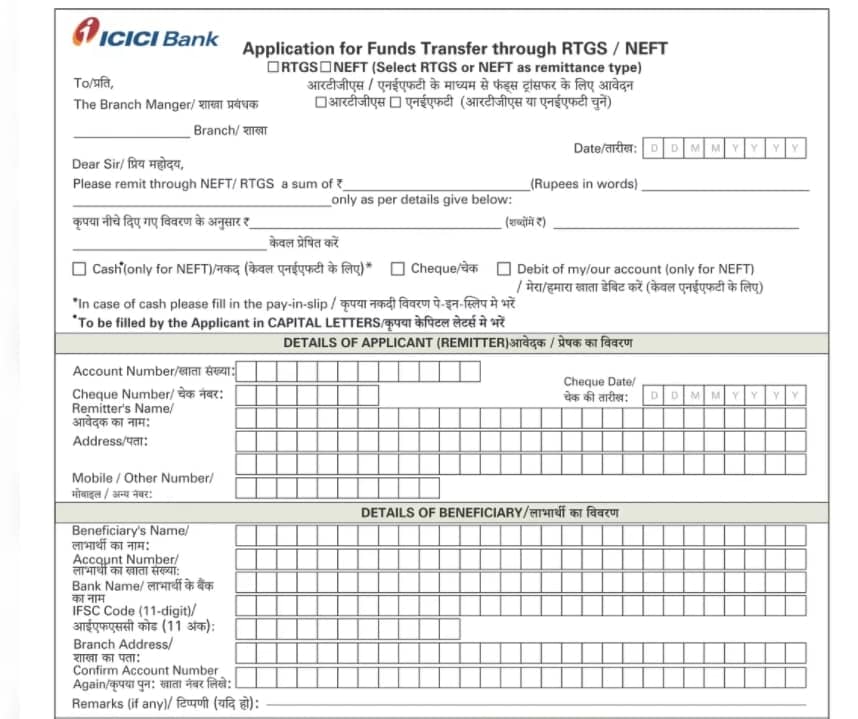 If you are the remitter, fill in the details with the bank's name, branch name, IFSC code, the type of account, account holder name, the amount to be transferred, the mode of payment(cash or cheque), the date of application, etc. If the payment mode is in cash, you have to put the number of notes you are giving, and if the payment mode is in a cheque, you have to put the check number in the form itself. Now, you have to fill in the receiver details like the beneficiary's name, the beneficiary's account number, the beneficiary bank name, the IFSC code of the bank, branch name, etc.
Conclusion
In the last, you only make sure you are applying RTGS from ICICI Bank for more than 2 lacs of fund transactions. Apart from the PDF download, you also can avail of this application through ICICI Bank offline source. ICICI Bank provides the online facility to make your work done in a hassle-free way. Contact us for any further inquiries.