Punjab National Bank is one of the leading public sector banks in India. It was formulated in 1894 and is referred to as the largest bank, in terms of assets held by a bank. It is also regarded as an important pillar in the Indian Banking Industry, listing in the top 10 banks of India.
Recurring deposits is an investment form, which suits the Indian society. With inflation and the high cost of living, it has become really difficult to accumulate a lump-sum amount for investment.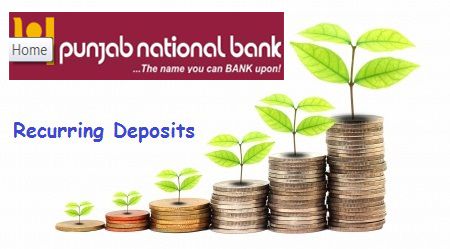 Recurring deposit allows the leisure or liberty to the investor by nurturing periodical investments at high-interest rates. Punjab National Bank also has lucrative recurring deposit schemes, which can stimulate an investor to consider PNB recurring deposit accounts.
Who are eligible?
The recurring deposit scheme is wide open for most people, institutions, trusts, companies, partnership firms, and other similar organizations, which have legal existence. Hindu Undivided Families, Trusts and Minors above the age of 10 years, can also access recurring deposit accounts in their nearest PNB branches. Further, illiterate and blind people can also create a recurring deposit account at PNB.
Key features of recurring deposit account at PNB
The minimum monthly deposit in a PNB recurring deposit account is 100 rupees. There is no cap for maximum monthly deposit. The interest is credited on a quarterly basis.
The minimum tenure for participating in the recurring deposit scheme is 6 months. The maximum tenure is 120 months or 10 years. The tenure has to be decided as a multiple of 3 only and no random number of months can be fixed as per convenience.
Customers can make a pre-mature withdrawal under the recurring deposit scheme. Premature withdrawal basically means withdrawing money from the recurring deposit account, before maturity.
No tax is deducted at source, which is one of the biggest advantages of recurring deposit schemes. The investor will receive full maturity amount, without any deductions. However, the interest earned on the investment might be taxable, based on the regulations indicated by the Income Tax authorities
Recurring deposits can be regarded as liquid instruments, as they not only allow premature withdrawal, but one can also avail loans, based on the amount deposited in the recurring deposit account.
Documentation to open recurring deposits at PNB
Documentation is an essential process of banking, which cannot be ignored. If you have a savings account in PNB, you can directly link a recurring deposit account to it, with minimum documents or procedures. But, in case, you do not have an existing account in PNB, you would need to follow some procedures, before accessing the recurring deposit account.
Firstly, you need a reference to an existing Punjab National Bank customer to act as an introducer to the bank. You can consider any friend or a relative, who is an existing customer of PNB as an introducer.
Two recent photographs and various other documents like PAN card, or General Index Register Number or Form 60/61 is necessary for setting up a recurring deposit account, as per the Reserve Bank of India guidelines and Income Tax Act.
One has also got to fill the KYC or "Know Your Customer" form as per the Reserve Bank of India guidelines. Accurate and verified information has to be provided in this form, as it will be the base for accessing a wider range of banking products from PNB in the future.
Penalty and interest rates
The closing of recurring deposit account before maturity attracts penalty. Also, delayed payment of installments attracts a penalty in the ratio of 1.50/100 rupees (in respect to the monthly installment). The current recurring deposit rate of PNB is 6.25-6.75% (bound to change with market fluctuations), which is lower than Indian Post Office (7.3%) and various other competing financial institutions.
Punjab national bank recurring deposit interest rate in February 2019:
Maturity range
General

(% p.a.)

 Senior citizens

(% p.a.)

6 Months to 1 Year
6.35%
6.85%
1 Year to 2 Years
6.75%
7.25%
2 Years to 5 Years
6.25%
6.75%
5 Years to 10 Years
6.25%
6.75%
Table updated: 17 February 2019