The major concern that troubles a lot of NRIs is to find an effective way to transfer money to India as well as from India in some cases. There are many different options available to send and receive money from abroad but not all of them are highly effective and some are too costly to afford.
Even if they find the best option to send money to India from abroad, it is very difficult to maintain a Rupee account in India. Hence, the Government of India has introduced two options for NRI to open a bank account in India – NRE or NRO account.
Both NRE and NRO accounts can be used to transfer money via savings account as well as NRIs can also opt to open a fixed deposit account, or buy mutual funds or stocks in India.
How to open an NRE or NRO Account?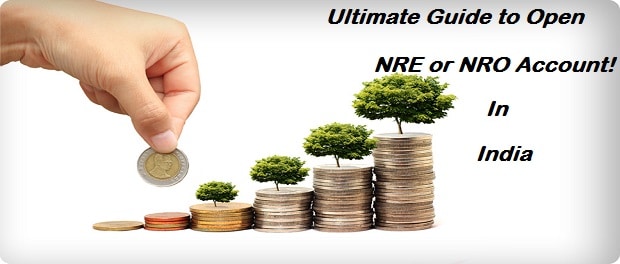 Opening an NRE or NRO account is a complicated process but not a tedious one if you follow the steps mentioned below:
1. Get in touch with the Bank
Of course, it is the first and foremost step to contact the bank if you want to open an NRE or NRO account in India. Basically, you can approach the respective bank in either of the two ways; let them call you or you can call their helpline.
Several banks like HDFC and HSBC offer a facility where you just need to fill an online form and you will get a call for their representative. However, SBI provides a list of call centre numbers for different countries where you can call to discuss with them about opening an NRE or NRO account.
In either way, the representative will guide you through the process by asking you basic questions such as the type of account you want to open, whether it's individual or joint account and based on your answers, they will inform you about the required set of documents and formalities you need to open the account as well as email necessary forms on your account.
2. Schedule an Appointment to fill the form
Once you have talked with the bank representative, they will send you a 10-page attachment in your email which in fact is the application form. Don't get too intimidated by the large form, as it will take mere 20 minutes to fill up as well as a bank representative will guide you through it.
To fill up the form, you need to book an appointment with the bank rep (usually telephonic) to guide you through the forms and help you fill it.
Make sure to print the 10-page attachment prior to your appointment and fill the easier sections that you are aware of. Any field that seems confusing or alien, leave it blank as the form consists of many complicated inquiries that may not be as straightforward as it seems. Try to fill them with the help of the bank rep during your appointment.
Also, keep a black pen handy so you can freely fill up the huge tons of information on the form without hanging up the phone. Most of the fields on the form will be left blank or skipped, so it's not hard as it seems.
3. Make sure you have all the necessary documents ready
Depending on your country of residence and the type of account you want, you will be asked to submit some necessary documents for verification and other formalities. Here are some common ones that you
Two Residence Proof copies – You can submit your driver's license, phone or utility bills, bank statements, pay-stubs etc.
Copy of the first and last page of your Passport
Copy of the Visa page on your Passport
Completely filled Account Opening Forms
Passport Size photographs
Some banks emphasize on getting all these documents notarized but Self-attested documents are also accepted which is nothing but a simple process of signing on every document copy.
4. Make a check in USD or the currency of the country you live in (if accepted)
Along with the form and all the documents, you must also write a Check to open the account. The check can be made in USD or a few other accepted foreign currencies. The bank representative will inform if you can write the check in the currency of your resident country or the alternative if that's not accepted.
5. Send it to the PO Box or India Address
Lastly, you need to send the documents to the respective bank. Many banks do have a PO Box within your country where you can send the documents via mail instead of sending it all the way to an Indian address.
Yet, make sure to find out the difference if any in the processing time between the documents sent to PO Box and the documents directly send to India.
Eventually, the documents that you send to the PO Box are also sent to India. So rather than delaying the process by 15-20 days, check with the bank and inquire about the processing time difference as well as the cost difference between sending the documents directly to India rather than PO Box. Follow the advice of the bank and work it out accordingly.
Once you have sent the documents, you can get in touch with the bank representative and let him/her know that you've mailed the documents. The bank will then keep a track of your documents and inform you when they receive it and make the processing faster.
That's it. Follow these simple steps to open an NRE or NRO account in India.