Bank jobs are always considered a much secured career option with great pay and other amenities. There are many students who while pursuing their education also prepare for upcoming bank exams to get posted in any one of the most reputed banks in India. As it is considered to be one of the best jobs in the country, getting selected for any post in banks is highly competitive and most difficult.
It requires a lot of preparation and the candidate has to go through different exams and interviews depending on the post he/she is applying for. To apply for a banking career, you must know the types of jobs available at Banks in India.
The most common posts or jobs for which recruitment campaigns are conducted on a regular basis are as follows:
Clerk
Probationary Officer
Specialist Officer
Managers & above
Who are they?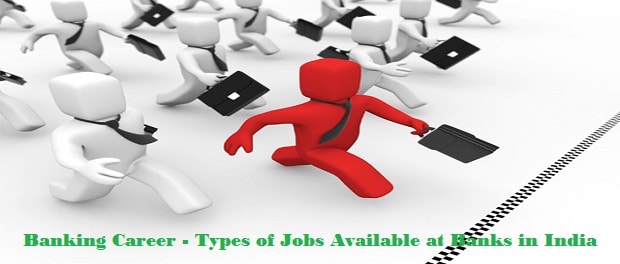 Almost all the bank employees have joined the organization through either of these 3 cadres: Clerk, Probationary Officer or Specialist Officer irrespective of what post they are at currently or what their pay scale is!
Let us understand each job post at banks in detail:
Clerk cum Cashier/ Office Assistant
Clerical post in banks is the first entry into the professional banking career for candidates applying within the eligibility criteria of 12th or equivalent.
Appointed clerks are designated for any work related to general branch banking that includes addressing the customers, maintaining account/create reports or any work related to banks ordered by the higher authority such as Officers or Bank Managers.
Probationary Officers (PO)
The post of Probationary Officers (popularly known as PO) is a direct entry into banking career for Graduates (any stream). If you are selected as a Probationary Officer at a bank, there are chances that you may reach higher positions to become MD or CEO of the bank someday.
There are so many examples in the banking industry where professionals who started as a PO have been rewarded with promotions for their excellent performance to become MDs or CEOs of the bank.
Once you are hired as a PO, you will go through training in all departments for a while and assist the Bank Managers for different tasks assigned by them.
Specialist Officers
With the development of banking industry, the demands for specialist officers in departments such as Engineering, Systems, Marketing, Management, Public Relations, Agriculture Banking, and Corporate Banking etc. got an ultimate boost giving opportunities for those who fit for these jobs.
Many corporate firms approach bank for financial aids and hence the banks requires qualified loan officers who could analyze the company's future and background to make sure the company's eligibility to repay before sanctioning the loan.
While almost every bank today is offering online features. Also for faster banking service, all the branches of a particular bank is linked with each other via internet. Hence, there's a need for candidates with B.E. in computer science, who can handle the technical department of the bank.
Also, with Government of India taking special initiative to support agriculture industry in India, several agricultural officers are also recruited to support farmers in rural areas. Although, the vacancy for such specialist officers with qualification in Agriculture, Veterinary Science, Horticulture & other subjects related to agriculture is limited within banks, these posts are always generate huge demand.
Managers/Asst. Managers
Unlike all the above banking jobs listed above, managerial positions are mostly filled through promotions or exams held within the bank.
However, if you have a MBA degree or any degree with more than 3 years of experience, then your chances of getting hired, as a Bank Manager or Asst. Manager, increases instantly.
The most important thing to be noted here is that all the above mentioned Job postings are discussed for public sector banks alone. As private sector banks operate separately for their hiring process, the management structure and eligibility criteria for their recruitment may differ a lot.