Allahabad Bank is one of the major banks in India. It is known for wide range of customer base and equally customized schemes. Customers have many quarries in Bank but the most common one is the balance enquiry. Allahabad Bank has multiple options to get balance enquiry answered. Here are the different options to check the balance online and offline.
Method 1: Allahabad Bank Missed Call Balance Enquiry
This is one of the most convenient and effective method to know balance from the Allahabad Bank. One needs to give miss calls to a particular number and the account balance will be provided by SMS to the customer from the bank. Just give missed call to the number 09224150150 and balance details will be sent via sms.
However, one needs to register the mobile number in the bank and get it verified. Once the registration is completed, the customer can utilize the facility.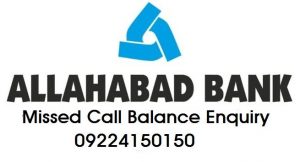 The registered number for Allahabad Bank can be obtained from the Bank once the registration for the SMS Banking is completed.
You can always get the balance from Toll Free Number as well. Toll Free Number is 1800226061 for Allahabad Bank.
Method 2. ATM
The most popular and common method to know the account balance of the account is ATM. One may get the balance after transactions. However, there are separate options for Balance Enquiry and Mini Statement.
Method 3: Internet Banking
Internet Banking is one of the most common methods to check the balance as well. Internet Banking has to be activated from the Bank and one can log in to the Allahabad Bank (https://www.allbankonline.in/) and enter the user name and password. There is different option for Balance Check in the Home Page.
Method 4: Mobile Banking
Banking can be facilitated by the Mobile phones as well. However, the customer has to ensure that the smartphone supports the Mobile Banking facility. There is different apps for Allahabad Bank that can be used in Android and iPhone as well.
Method 5: Front office
It is not really very much in practice but one can always visit the nearest Allahabad Bank and get the answer for Balance Enquiry from the front office.