Do you have an account with Allahabad Bank? Do you remain updated with your account and transactions? Are you aware of the latest advancements in the banking sector and the latest facilities and services introduced by Allahabad Bank?
Well! Every responsible person must stay updated with the latest advancements introduced by the bank. It is also pivotal to keep a real-time track record of the available account balance.
The traditional modes of balance enquiry like printing passbook or using Debit Card at ATM counter require time and energy. There are certain limitations for accessing both the traditional methods.
With the latest introduction of missed call services, it has now become easier to check the balance in real-time without any restrictions or limitations.
To access the missed call service, first of all, you need to register your mobile number with Allahabad bank. The bank will link the mobile number with the account. You will get a confirmation message stating successful registration of mobile number.
Steps to make Allahabad Bank balance Enquiry via missed call
Dial 9224150150 from your registered mobile number.
Disconnect the call after 2-3 rings or the call will get disconnected automatically.
Within a minute, you will receive an SMS from the bank.
Open the Message Inbox and the SMS to find out the current available balance in your account.
Either the bank or the network service provider won't charge any cost for the missed call as the number is toll-free.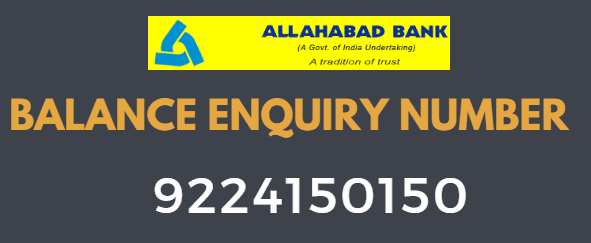 In case, you have more than one account at the same bank and have linked all the accounts with the same mobile number; you can't access the service! If you want to check the available balance in a particular account, send an SMS to 9224150150. Type the code 'REG Account Number' and send it to the number to receive current balance info.
You need not visit the branch or ATM or don't even need to access the net banking service to check the available balance in the account. Give a missed call to Allahabad bank balance inquiry Toll-free number and receive the info instantly!
You can access the service round the clock and from anywhere. You don't need to wait for minutes to collect updated info about the account balance. Dial the dedicated toll-free number and give a missed call to receive the SMS instantly.
With this service, you will remain updated with your account anytime.