Do you have an account with Allahabad Bank? Do you keep the track record of the transactions in your account? How do you remain updated about the transactions? Passbook printing or checking through ATM or obtaining the account statement are among the traditional options.
Accessing internet banking and mobile banking services are modern means. But, what about the persons who don't have facilities to access the modern means and don't have the feasibility to access the traditional options.
You may require obtaining the transaction history in your account at late night and out of the city! Allahabad Bank introduced a smart option for its customers to obtain the mini-statement and keep a track record of the transaction history.
You can access the service of Allahabad bank mini-statement enquiry Toll free number. The process is quite simple, and any person can access the service.
Allahabad Bank Mini Statement Number
Dial 09224150150 from your registered mobile number.
Disconnect the call after few rings or the call will get disconnected automatically.
Within a few minutes, you will receive the mini-statement or transaction history of your account via SMS.
The SMS will contain the last five transaction history in detail.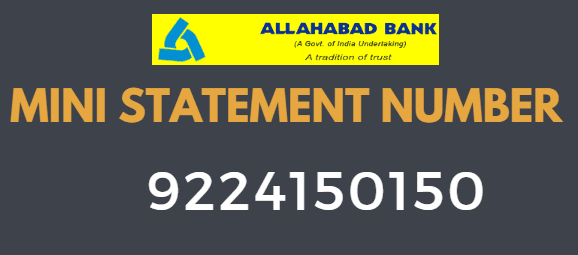 Make sure to dial the mini statement toll-free number from your registered mobile number at the bank. The bank links the mobile number with the account and takes some time to authenticate the mobile number after you give a missed call.
Either the bank or the network service provider won't charge you for the call. Any account holder can access this service. You can avail the facility anytime and from anywhere, as the service is available round the clock.
Register your mobile number and link it with your bank account to access the service! You need not wait to obtain the mini-statement of the account.