ICICI Bank gets highly ranked among the leading banks in the private banking sector of India. ICICI Bank has altered the scenario of the private banking sector with its excellent banking facilities and customer care services.
Do you have an account with ICICI Bank? ICICI Bank offers superior services for its customers. ICICI Bank provides certain banking facilities and other services which no other bank offers. It introduces specific facilities from time-to-time!
One among such services is missed call service. The bank provides certain dedicated numbers to check icici account balance, or get the mini statement. You need not opt for the traditional ways of making balance inquiry or getting the mini statement.
Use ICICI Toll free number to obtain mini statement
Dial 02230256868 from your mobile.
Disconnect the call after few rings or the call may get disconnected after few rings automatically.
Within few seconds you will receive an SMS containing info about last three transactions of your account.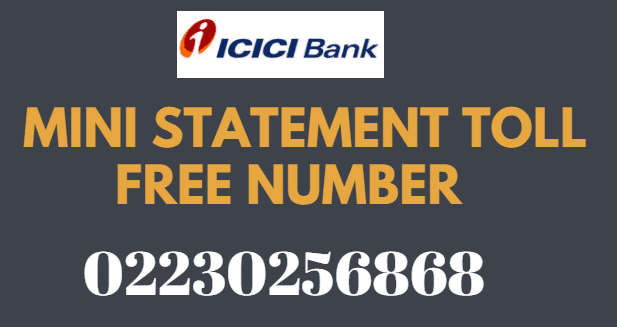 Note: You can avail the missed call service only from your registered mobile number.
02230256868 is a toll free number, and the customers using the service need not pay any charges either to the bank or the telecom operator. You can use the service round the clock and from any location. If you haven't registered the mobile number, get it registered at the bank.
Visit the branch and request to link your mobile number to the account. The bank official will record your mobile number and get it connected to the account. You will receive the notification of the confirmation of successful registration.
To get the ICICI Bank mini statement of your account, you need not visit the branch or the ATM. Missed call service is straightforward and open to all registered customers. It saves your time as well as effort!