ICICI Bank is one of the very prosperous private sector banks in India. Wide range of products on offer and quality services is the unique proposition of the bank. If you are associated with this private sector giant, you would like to make note of a few simple tips, through which you can realize your bank account balance in minutes. These are:
Online banking is one of the most common facilities offered and accepted by most customers in Indian banking sector. People are facilitated with a 'user id' & 'password', which allows them to execute transactions online. This 'user id' and 'password' is valid only on the secured site of the bank.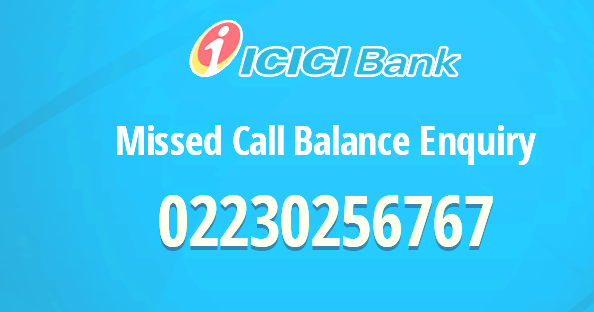 There are various other options, which are displayed after login like the 'balance enquiry' option and the 'mini bank statement' option, which can subsequently be used to determine the ICICI bank account balance and details about latest transactions.
For BOB Bank: Check Bank of Baroda Balance By Missed call or SMS
If you are an online addict, you would love these facilities, as you would not have to waste a single minute, before executing a particular transaction, as the bank account balance is available in minutes. You can also use the 'iMobile app' of the ICICI Bank to determine bank account balance instantly.
2. Via Missed Call
From you registered mobile, just give 2-3 rings at the number "02230256767" and disconnect it. A message with account details will be sent to your mobile inbox.
3. SMS facility
ICICI Bank features SMS banking, which allows people to determine bank account details with the help of an SMS. Registered users of ICICI Bank, who are not exposed to smart phone world or internet can use this facility.
For canara Bank: Check Canara Bank Account Balance by Missed call or SMS
Registering your number to the ICICI Bank is a must to exploit this service. You can type 'IBAL' and send it to '9222208888' to avail balance details.
4. Customer care
You can also determine the ICICI Bank account balance, by enquiring with the customer care. You can dial '1800-102-4242' and determine the current account balance. One has to respond to a few queries of the customer care executive, in order to certify his/her identity.
Please do not disclose 'pin number' and other confidential passwords to the customer care executive. One can use any one of the above listed methods, as per convenience, in order to determine ICICI Bank account balance. Read post to know balances for other banks: Missed call balance enquiry numbers.