Bank of Baroda is one of the largest nationalized banks, which is run and managed by the Government. The wings of Bank of Baroda are spread across India equally and it is one of the most important banks in the banking sector.
If you hold a bank account of any type in Bank of Baroda and are wondering, how to determine the current balance and various other details, by using simple effortless steps, you should read the following:
1. Bank of Baroda Net banking
If your account is linked to the net banking services of Bank of Baroda, you can just log on to the official website of Bank of Baroda to avail balance details. Just log on to bobibanking.com and enter details like "user id", "password", 'MPIN', etc., to instantly know your current account balance. This facility can also be accessed from the mobile using the Bank of Baroda app.
2. Missed call feature
Bank of Baroda customers can avail account balance details by just a missed call from the registered number. The registered number of the customer can only be used for this service.
Updated Bank of Baroda missed call Numbers 2018

8468001111 OR 84680 01122
The missed call is to be given at '8468001111 OR 84680 01122' and you will receive an SMS update in a matter of few seconds signifying account balance details. This number is applicable for Bank of Baroda customers, throughout India. One can use this feature for a maximum of five times in a day.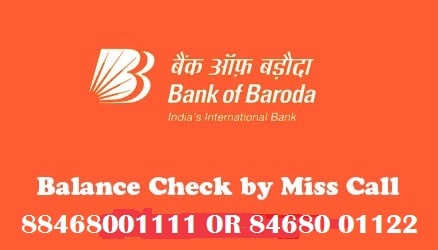 3. Via SMS
Bank of Baroda customers alternatively can use SMS banking services to avail account balance details. This can be an undesirable method in most circumstances, mainly because of the SMS charges (of up to 5 rupees per SMS) and also due to excessive use of codes for different purposes.
For Punjab National Bank: Check PNB Account Balance
You can type 'BAL' followed by a 'space' and last 4 digits of the account number to receive an update about you're a/c balance. There are various other codes like 'MINI' followed by space and last 4 digits of a/c number, which can be used for determining mini statement of the account instantly.
Banks have become much more, easier to access due to advancements in the digital platforms. The above are some of the effortless methods, which can be exercised at any time, any place, to determine the account balance of the Bank of Baroda account. To know account balance for other banks, check our post on balance enquiry numbers for banks in India.