A beneficiary account means a Demat account, which is in the name of an Individual. The beneficiary account can also be in the name of the firm, society, partnership, corporate, trust, and similar endeavors.
The beneficiary account is the recipient of the funds. The recipient usage and rules may vary based on the transaction and type of bank. In short, we can state that the recipient account is the account to which you have decided to transfer the money.
For instance, you wish to move funds to your sister, so, on the form, you can see your account number as "Payee account number" and your sister's bank account number as "Beneficiary account number". Once you have applied, the OBC bank would proceed further to transfer the funds to your sister's account. That's all.
How to Add New Beneficiary in Oriental Bank of Commerce internet banking:

Step 1: Visit the OBC official website, ie. https://www.obconline.co.in. Then, you can log in with your OBC User ID and password.
Step 2: Now click on the 'Transactions' tab and select "Manage Beneficiary".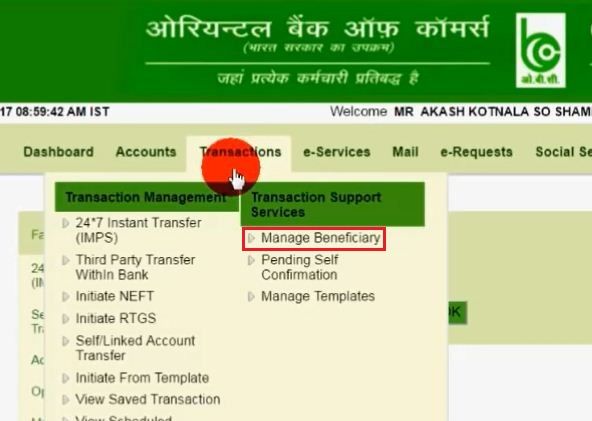 Step 3: After Clicking on the "Manage Beneficiary" Section, select the Type of beneficiary. Choose the desired one and click 'ok'. Here, we are transferring money from obc to other banks. So, we are choosing "add Interbank beneficiary".

Step 4: Enter the "Beneficiary Details" and "IFSC code" in the form. If you forgot the IFSC code, then you can search for the code from the drop-down menu.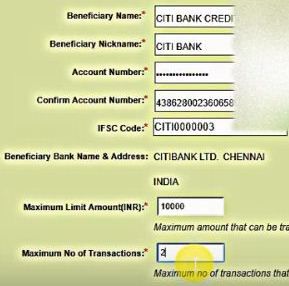 You have to enter the basic details like Maximum Account Limit, Account Number, OBC Transaction Limit and so on.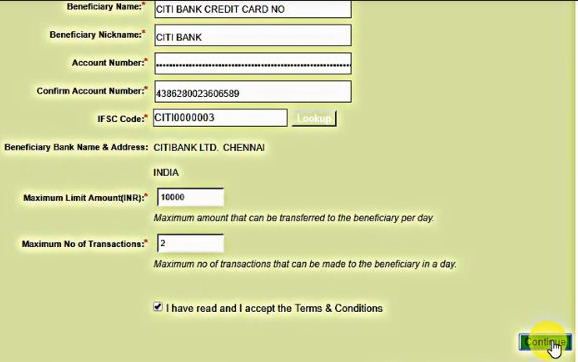 Fill in all this information careful. Finally, click on the "Continue" button.
Step 5: Now enter "transaction password" and select the registered mobile number, then click on the 'submit' button.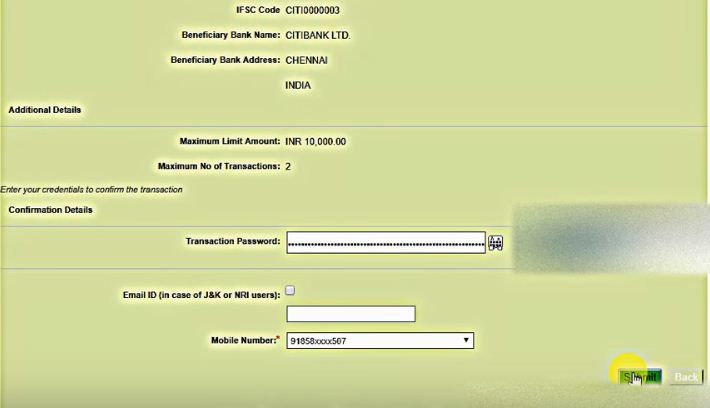 Step 6: On clicking on submit button, you will receive a One Time Password message on your registered mobile number.  Note down the One Time password and follow the below steps.

After, enter the one Time Password in the required field and click 'confirm'. Then, you will receive a confirmation message saying that the new beneficiary is added successfully and you will be able to make a fund transfer to this beneficiary within 24 hours from now.
By following the above steps, you can add a beneficiary an OBC Internet banking account easily. If you want to get more details, then visit your nearest OBC Branch. Also, you can contact customer care for more details. Hope you have got an idea.