Do you have an account with Dhanlaxmi Bank? Dhanlaxmi Bank is one of the old commercial banks in the private banking sector of India. In the year 2010, the name of the bank changed to Dhanlaxmi Bank.
With the growing modernization, the bank introduced several advanced banking services for its customers. The bank ensures to satisfy its customers offering convenient banking services. One of the modern banking service facilities presented by the bank is Missed Call service.
If you have an account with Dhanlaxmi Bank, you must have the idea about the newly introduced service. How do you make balance Enquiry? Visiting the branch or the ATM is, of course, the traditional way of getting updated info of the account balance.
With the missed call services, you can instantly make balance Enquiry anytime without visiting the branch or ATM.
Know Dhanlaxmi Bank Account Balance By Missed Call
+918067747700 is a toll free number introduced by Dhanlaxmi Bank. Dial +918067747700 from your registered mobile number and give a missed call. The call will get disconnected automatically after few rings. In few minutes, you will receive an SMS from the bank containing updated balance info of the account linked to the mobile number.
Give missed call to +918067747711 to get the last 3 months Statement of your Account to your email.
Give missed call to +918067747733 to get the One Day statement of your accounts to your email.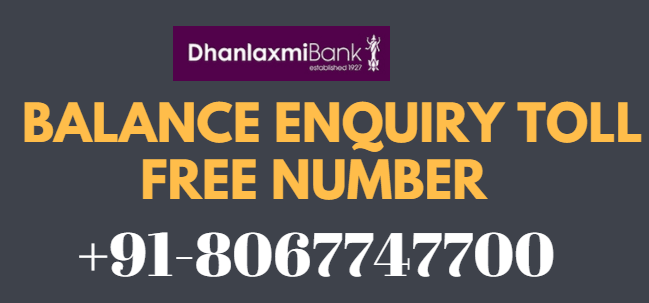 Important Note: The bank restricts the account holders to avail the missed call services more than five times a day. If you use the services more than five times, you would have to pay Rs. 1 every time.
The account holders can avail the Missed Call services only from the registered mobile number. You need to get the mobile number and email registered at the bank and get it linked to the account if you haven't.
To register the mobile number, visit the branch and make a request to the concerned bank official providing the required details. You can avail the Missed Call services round the clock.