Do you have an account with Karnataka Bank? Karnataka Bank is an A1+ Class Commercial Bank. The bank gives continual efforts in upgrading its services and ensures convenient facilities for its customers.
The bank embraced advanced banking facilities and modernized its services bringing its services to the fingertips of its customers. Online Banking is one of the advanced facilities that every bank offers nowadays!
If you have an account with Karnataka bank, you would never like to miss the opportunity of accessing Net Banking services. You can get registered for net banking online without any hassle. To complete the Karnataka Net Banking registration process, you will be asked to enter Account ID as well as Customer ID in given Box.
What is Account Id in Karnataka Bank?
To access Net Banking facility, you need to enter the Account ID. When you proceed ahead following the steps of Net Banking registration online, you will require entering Account ID.
Do you know what Account ID is? The Account ID is simply the 16 Digit bank Account Number. You need to enter the 16 digit account number in the provided box while registering for Karnataka Internet Banking.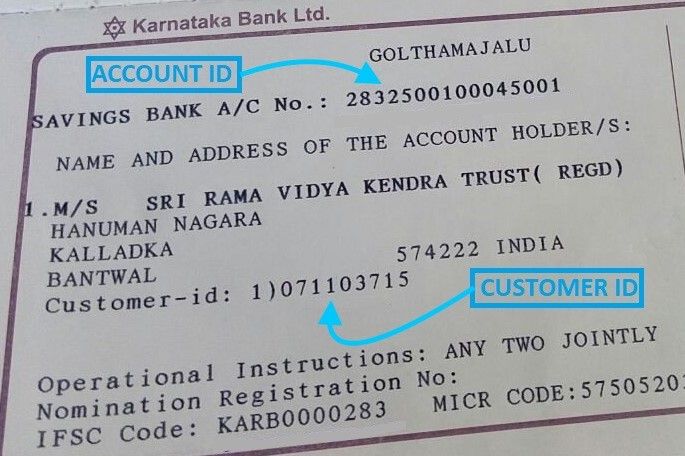 What is Customer Id in Karnataka Bank?
The customer ID is a 9 digit Unique identification number given to the all account holders by Karnataka Bank. The customer Id is used to identify and track the facilities used by account holder.
How to Get Account ID and Customer ID in Karnataka Bank
You can obtain the account number from the passbook or bank statement or the cheque book, but customer id can be found only in bank passbook. Make sure to keep the details available during online registration. You need not visit the bank to register for Net banking.