Do you use an HDFC Bank Credit Card? The users using the Credit Card wisely enjoy the facilities. If you make your credit card payments without any delay, you must be satisfied using the Credit Card.
How do you make the payment for hdfc Credit Card? Do you have an account with HDFC Bank, you must be aware of the advanced facilities to make instant credit card outstanding amount payment from the savings or current account easily.
HDFC Bank offers a plethora of options for the cardholders to make online as well as offline payment. If you don't have an account with HDFC Bank, you must be following the traditional methods of payment. HDFC Bank also offers smart ways for Non-HDFC Bank account holders to make payment for the credit card. To add credit card as a beneficiary, you will require to enter IFSC code for hdfc credit card.
Make HDFC Credit Card payment using IFSC Code
Use IFSC Code HDFC0000128 for HDFC credit card payment via NEFT.
Credit Card Holders having an account with any other bank can avail NEFT services and transfer the funds from the savings account to the HDFC Bank credit card account.
Visit the official website of HDFC Bank for credit card payment.
Select Make Credit Card Payments from another bank.
You need to provide the Credit card details along with the payment details.
HDFC Bank doesn't charge any fee for receiving the Credit Card outstanding amount.
The bank with which you have an account may charge you for the transaction.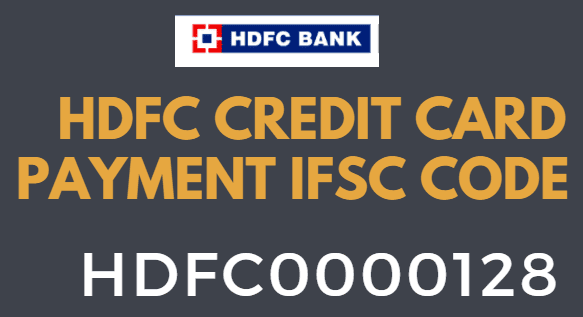 There are several other methods of making HDFC Credit Card payments for Non-HDFC Bank account holders. You must have proper info about different ways to make the payment to avoid any hassles and time-consuming methods of making payment.
Various forms of making credit card payments are very convenient and quick. After making the payment successfully, you will receive the notification about the transaction.