IndusInd Bank (इंडसइंड बैंक) is a Mumbai based private sector bank that offers multiple types of credit cards for imbursement comfort of its valuable customers. The types of credit cards that the bank issues in this moment are Super Premium, Premium, and Co-branded credit cards. Modern advanced technology helps IndusInd Bank to provide better customer service for credit card bill payment.
If you are that valuable credit card holder of this bank and wish to pay credit card bill without waiting in a long queue, the article is exclusively for you. The bank has adopted various methods to pay Indusind credit card bill online. Here they are:
Method 1: Pay directly through IndusInd Bank credit card form using net banking

This is the easiest way to pay your credit card bill online using billdesk. No need to wait in a long queue, just open the link  https://www.billdesk.com/pgidsk/pgmerc/induscard/indus_card.jsp from anywhere in the globe.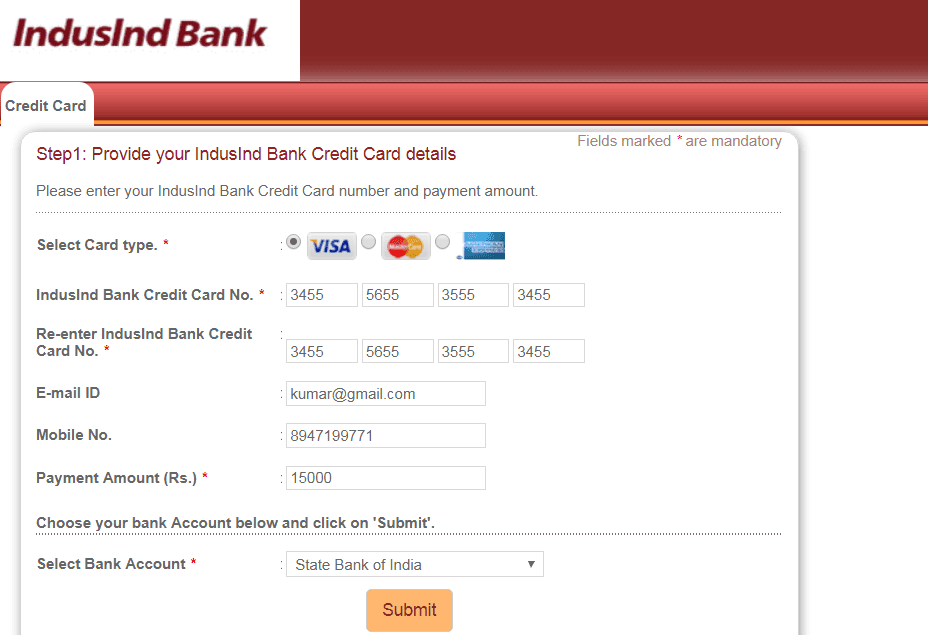 Fill out the Indusind credit card details and select the bank having net banking account from which you want to send the bill amount and press the 'Submit' button. You will be able to pay your credit card bill amount using your bank net banking account.
Method 2: IndusInd Bank Visa credit card bill payment service – IndusNet
Waiting in a long queue in your bank branch or waiting for a demand draft preparation, writing the cheque which will take time to clear – if all these are boring to you.
Here is the solution waiting for you. Visa Credit Card Bill payment system introduced by the bank makes bill payment faster and easier.  It's completely free that you only need beneficiary's VISA Credit Card number to make your payment.
To pay under this system you may opt for any one of this two systems:
Funds transfer through ATM,
Funds transfer through IndusNet Net Banking.
How to pay through ATM Transfer
The process is simple:
Just choose the 'Visa Credit Card Bill Payment' option.
Now choose your bank account through which you wish to transfer your funds.
Enter the Bank's Beneficiary credit card number and then confirm your transaction.
Make your payment through IndusNet Net Banking
This is also another convenient method for bill payment of your credit card. Follow the process:
Login the bank's website first http://www.indusind.com/
Now with your User Id and password login to IndusNet Internet Banking.
Now click on the 'Fund Transfer' tab and put 'beneficiary's name' and 'credit card number' in the appropriate field,
Under Funds Transfer option choose 'To any Visa Card'
Choose the IndusInd Bank Account by which the fund will be transferred,
Choose card option and put transferred amount,
Confirm your transaction Date and then confirm your transaction,
Now validate your transaction through OPT or transaction password you receive from the bank.
Method 3: Pay your IndusInd Credit Card Bill online Through NEFT
You can also pay your credit card dues from any other bank that has NEFT/IMPS/RTGS facility on net banking.  This is an added advantage for the cardholders who have no savings account in the IndusInd Bank. You have to register for net banking before making your payment.
Once you have completed your registration you can now create a beneficiary to pay for your credit card in a similar manner like you have created a beneficiary for the fund transfer. The most important things you must keep in mind that-
Account number: It should be 6 digits credit card number,
Beneficiary Name: It should be the name that has on the credit card,
IFSC Code: It should be collected from the credit card company. IFSC code for Indusind bank is INDB0000018.
The payment process is also very simple:
First of all login to your account
Now visit 'add beneficiary' option
From the listed menu select the bank
Then select the city and your branch
Put correct IFSC code ( INDB0000018) and 16 digit credit card number.
You are now ready to make your payment on credit card bill using NEFT or RTGS or IMPS.
However, the other options you may opt for your payment are Auto debit facility, NACH facility etc.