If I ask you to imagine your life with absence of banking facility in it, you will probably fail. Banking is the need of today's life. If you want to make most of your surplus money, want to start a new business, or to own something new, then banks are always out there to help you. Since banking is something everyone's need nowadays, therefore, Indian banking sector has got many shining names in it. Needless to mention that SBI rules the Indian Banking sector.
State Bank of India has been serving people for many decades now. This bank is known to come up with facilities that always please multitude of customers. All recent surveys done in this manner scream how satisfied are people with SBI. This top-notch bank has got plenty of services to offer. Credit Card facility is one of major facilities that tempt new customers to opt for SBI, and keep the old ones stick to this renowned bank.
SBI Credit Cards have eased the life of millions. You can buy things you wish to without requiring to have amount for that thing in your pocket. Just use your SBI Credit Card and get the things you want, SBI will pay for you. Obviously, you need to pay that amount later. If you have been SBI Credit Card holder for quite some time now, then you might be familiar with multiple ways of making SBI Credit Card bill payment.
Read About: SBI Virtual Credit Card
Before I head over to next section, let me ask- how many methods do you know to make SBI credit card bill payment? One? Two? Well, there are a lot more than this small number actually provided to you by esteemed SBI. By having knowledge of more and more ways to do the said task, you can surely ease your life even more. So, if you intend to know the ways, do keep reading this post ahead. It covers list of 10 ways to make SBI Credit Card Bill payment.
1. Paynet
Let's start with the simplest one. To make you aware, paynet is the easiest way out there that let you make SBI credit card bill payment in no time. Just follow the below steps:
First of all, visit the Paynet's page meant for SBI card. Click on this link to ease the task.
You can use your SBI Debit card or net banking to pay credit card bill via paynet. So, be ready with the details of intended method.
In the page that you landed on by clicking the above link, click on 'Pay Now'.
The page seeks some details. Just provide them. Since the detail's fields are self-explanatory, so you will know yourself what you need to provide.
Just click on 'Pay'. Once the payment is done successfully, you will get confirmation message on your mobile and email ID.
2. Online SBI
If you are worried whether the above provided payment method is safe or not, then let me clear the clouds of confusion that it's totally secure. Still, if you did not like that, and wish to opt for another one, then you might like doing it through Online SBI. A big portion of users pays its SBI Credit Card bill payment through Online SBI. Below are the steps go with this option: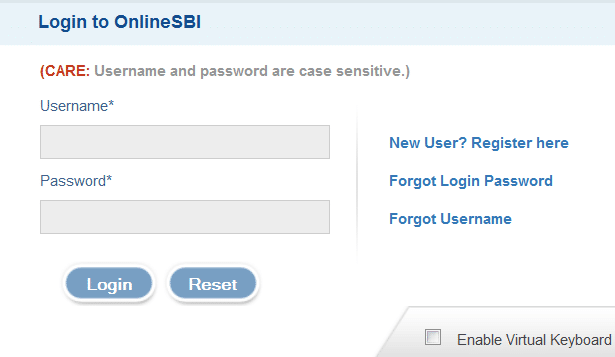 Look for Bill Payments link there and click on that. On the left side of page lies 'Manage Biller' section. Just click on it.
Select 'All India Billers' option and then select 'SBI Cards and Payments Services Pvt Ltd' option. This particular option lies under the biller name.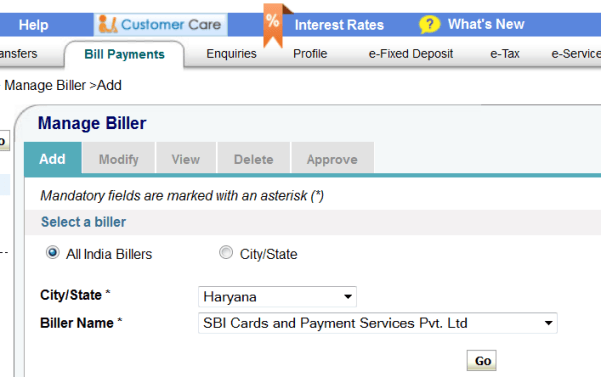 Enter your name and credit card number to register your biller details.
Click on Submit. You will receive password on your registered mobile. This is done for security purposes. Enter this password on the field meant for it.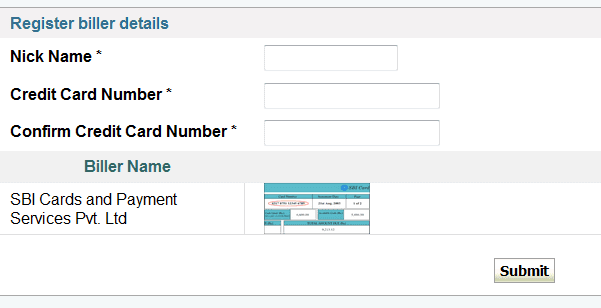 You have successfully registered your credit card.
Making Payment
Click on 'Without Bills' option. It lies under Pay Bills section.
Click on Pay after selecting SBI Credit card as biller.
Enter the amount you wish to pay and click on submit.
You have successfully paid your Credit Card bill payment through Online SBI.
3. Automatic Debit
If you are lazy enough to remember the payment due date, then this is the method meant for you. You don't need to pay the bill on your own. Self-part is least in this particular method to pay SBI Credit Card bill payment.
All you need to do is give approval to bank to deduct the amount before due date. With that, whenever due date is near, SBI will perform automatic debit. Undoubtedly, a boon for those with bad habit of forgetting things.
4. Visa Credit Card
Yet another impressive service by SBI that lets you pay for SBI Credit Card bill payment with ease. Net banking is used in this method. You must be registered already for Third Party Funds transfer. Below is the process you need to follow.
Head over to the net banking page of SBI.
Enter your Customer ID and password to login.
Now go to Third Party "Funds Transfer" section and select Visa Credit Card Pay.
Provide sender and recipient details there.
Confirm the transaction to end the process.
That's it. Your account will get debited in no time. Amount to sender's account will reach in 3 working days. Bank of beneficiary will then transfer funds to his/her card account.
5. Through Cash
Got cash in your hands? Don't want to follow any online payment procedure? No issues! SBI lets you pay your Credit Card payment through cash as well. For this, the esteemed bank has tied up with Easy Bill.
For your info, it's a Hero Honda Group Company. You just need to walk to Easy Bill outlet along with cash. Mention your SBI credit card number, amount and other required details. You will get receipt the same time.
This method is very convenience, and the best thing is that Easy Bill outlets are open 7 day a week. But, you need to pay a little fee to use this service. The fee you need to pay depends on what amount you are paying. Up to Rs. 5,000, the charge is Rs. 15 and for more than 5,000, charge is Rs. 25. But, keeping the convenience in mind, the aforesaid charges are nothing, right?
6. NEFT
NEFT stands for National Electronic Funds Transfer. If you may like, you are all free to opt for this particular method to pay SBI Credit Card bill payment. To use this service, you need to add your SBI card as beneficiary. It should be added under Third Party transfer.
Process to use NEFT is quite simple. Below are the steps:
As mentioned earlier, you need to go to SBI net banking and add your card as beneficiary under third party transfer section.
SBIN00CARDS is the IFSC code you need to enter to make payment.
In the field that asks account number, just add your SBI card's 16-digit number.
Provide other details that are asked there. Don't panic! The fields are self explanatory.
Once you are done registering your card, you can use this way to credit card bill payment for state bank of India anytime you want to.
It may take up to 2 days for payment to arrive in your SBI card account.
7. SBI ATM
Got SBI Debit card with you? If yes is your call, then this is probably the most convenient way to pay bill of SBI credit card. You just need to step into any SBI ATM near you.
After swiping your card, select Bill Payment option that lies under Services Head. Just mention your credit card number and amount. Once you are done paying the bill, an instant electronic receipt will be provided to you.
By the way, SBI has got its ATM everywhere in the country. There are number of ways to track one nearest to you. SBI's website lets you locate it. You can even use many third-party apps meant for this task.
SBI mobile banking lets you perform many banking tasks from your mobile. Those who don't know, the mobile banking service lets you even pay your SBI Credit Card bill payment. You need to register to avail the service.
Just SMS <MBSREG><MobileMake><MobileModel> to 567676.
MPIN, User ID and WAP link will be sent to you in no time.
All you need to do is to download the application on your esteemed mobile. After that, you can enjoy all services of SBI Mobile Banking.
9. Electronic Clearing Services
Are you fed up of paying cheques every month to pay your SBI Credit Card bill payment? That's indeed a tedious task. To get free from it, I would recommend you to use Electronic Clearing Services.
Just authorize your SBI card so that amount can be deducted from your account every month. Of course, in this option, your card gets credit on due date every month.
To avail the service, you need to setup ECS. It's pretty easy to do. Just follow the below steps:
First of all, download the ECS Enrollment form. Click here https://www.sbicard.com/PDFs/ecs.pdf?s_uftype=ECS_Enrollment_Form to download that.
Just fill out the form with details that it seeks. Don't panic! Form is really very easy to fill.
After filling the form, you need to post it to SBI's correspondence address which is follow: SBI Card & Payment Services Ltd, P.O. Bag No.28, GPO, New Delhi – 110001
Once you get ECS setup, you are ready to use it to pay your SBI Credit Card bill payment.
10. Over the Counter
Just walk into your nearest SBI Branch, mention your SBI Credit Card number and amount on pay-in slip and deposit the mentioned amount at counter of branch. Get receipt as proof of deposit of payment.
Keep in mind that only payment of up to Rs. 49,999 can be paid over the counter in single transaction. Rs. 100 plus Service Tax is what you need to pay as fee of using this facility. Also, it may take up to 2 days for payment to reflect in your SBI Credit Card account.
Final Words
That's it. You now know all convenient methods to pay your SBI Credit Card bill payment. What's next? Just select the most convenient method and start using that. In case you have any query regarding this post, do use the below comment section.