Virtual credit card is the latest presentation by SBI, which is a great alternative for all the SBI customers who do not have a credit card. The main benefit of VCC is that it can be used as a security measure while making online purchases from popular online shopping sites.
It helps the customer keep all the details regarding the card as well as the bank totally confidential while making online purchases. As the name suggests, virtual credit card is not a tangible credit card but it can be used for Indian websites which accept Visa Card.
Steps for Creating SBI VCC
Creation of SBI Virtual Credit Card is a simple process, which involves a few steps that are easy to understand and implement. Here are these steps:
1. Login to your SBI online Banking account and then move to Requests tab. Click on "e-cards" option on the right side.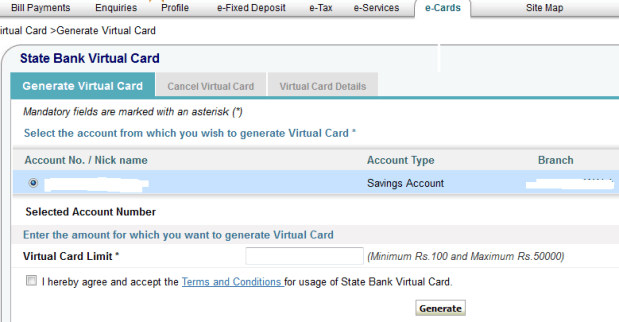 2. In the Card limit, fill the requisite amount ranging from Rs 100 to Rs 50000, which implies that the maximum value of this card cannot exceed Rs 50000. Check the check box for accepting the terms and conditions. Click the "generate" button as illustrated in the picture.
3. You will be asked for a confirmation by SBI, for which you need to click on the "Generate" button.

4. A One Time Password/OTP will be received on a registered mobile number from SBI net banking. Following this, a virtual card will be generated for you, with a 16 digit Visa Card number, name of the cardholder, CVV number and expiry date of the card. Here is what your SBI virtual card would look like: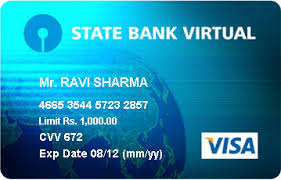 5. The details of the card need not be saved by the user, rather they can be retrieved from the "Virtual Card Details" tab. The status of the virtual credit card can be viewed at the "Virtual Card Details" tab, which tells about the card status, whether it is used, unused or cancelled.
Also Read: SBI Mobile Banking
Working of SBI Virtual Card
SBI Virtual Credit Card is ideal for online shopping, in addition to bookings of movie tickets and railways. The validity of the card is 24 to 48 hours or till the completion of the transaction. Only when you make an online shopping transaction, the payment is debited from your bank account rather than at the time the virtual card is created, which means that you do not lose on your bank interest by generating the card.
The bank does not charge any fee for generating, using and cancellation of the card. You can generate an unlimited number of cards at one time, but each of it can be used only for a single transaction. Its currency is in Rupees and it can be used in India, Bhutan and Nepal.
Though SBI Virtual Credit Card is beneficial for security reasons, it has its own set of disadvantages too. Its coverage is limited as it can be used only in India, Bhutan and Nepal. Moreover, it is valid only for a short period of time, for which it makes use of OTP/One Time Password.
Hence, for those looking for international shopping with virtual credit cards, SBI Virtual Card is not so useful; instead they can use other options like EntroPay and HDFC NetSafe.