IndusInd Bank is a new generation private bank based in Mumbai and offers various types of commercial and electronic banking products & services. In India, it is the first bank among the new generation private banks. This bank was established in the year of 1994 and inaugurated in the same year by Manmohan Singh, the then Union finance minister.
Today the bank is offering different types of banking services throughout the country. To provide better services to its customers, the bank appoints relationship managers.
This makes the bank as one of the top private banks in India. With the help of new technology, the bank continuously upgrading its support system. The retail banking service is the main business of the bank.
Credit cards of the banks: This bank issues different types of credit cards like:
Indulge Credit Card
Pinnacle Credit Card
Signature Credit Card
Iconia credit card
Platinum credit card
Platinum select credit card
Platinum Aura credit card
WorldMiles Credit Card
Jet Airways IndusInd Bank Odyssey Credit Card
Jet Airways IndusInd Bank Voyage Credit Card
Chelsea FC Credit Card
Platinum Aura Edge Credit Card
Legend Credit Card
Gold Credit Card
Classic Credit Card
Business Gold Credit Card
These cards provide you with imbursement comfort that customers always desire from the bank. Now if you apply for the credit card and don't get any information about your application status, you may check application status online.
For checking of the application status you need the following information first:
Credit card application number,
Mobile Number
Step-by-step guide for checking IndusInd Bank credit card application status online:
Step 1: Go to the bank's official IndusInd credit card application tracking page https://creditcards.indusind.com/verifyOwnershipForm.html.
Step 2:  You will be redirected a page that tells you to enter your 'application ID' and 'mobile number'.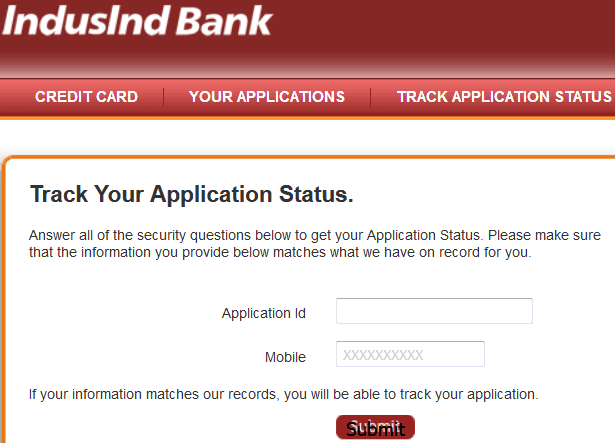 Step 3: After inputting all the data click on the 'submit' Button. The website will display your credit card application status.
Note: You can also call any representative of the bank or may visit the branch physically to verify the status. But the online system is the best method and more convenient and quick method for checking the status.