HSBC or Hong Kong and Shanghai Banking Corporation is among the biggest banking and financial services organizations in the world. It is serving more than 37 million individuals through their four global businesses; these are Commercial Banking, Wealth Management, Global Banking and Markets.
Global Private banking that is covering across 70 countries along with the territories in Asia, North America, Latin America, Europe, Africa and the Middle East. HSBC has around 4000 offices around the globe and has the goal of fulfilling their customers requirements. It has been in India more than 160 years back.
HSBC is offering various valuable facilities to the customers and Credit Card facility is one of them. Credit card offered by HSBC bank are:
HSBC Visa Platinum Card
HSBC Premier Mastercard
HSBC Advance Visa Platinum Card
If you have applied any of above hsbc credit card and want to check your application status, then you are at right place.
If you want to track your hsbc Credit Card Application status, then you should follow some necessary steps that are provided below:
Step 1: You have to visit the official HSBC website for tracking the HSBC Credit Card Status at hsbc.co.in.
Step 2: After entering to the Official Website, you should click on Credit Cards Tab.
Step 3: In the Credit Cards Tab, You have to click on Credit Card Application Tracker. or use direct link https://www.apps.asiapacific.hsbc.com/1/2/sgh2/sgh2_cctrackeruat_en?WABFormEntryCommand=cmd_init.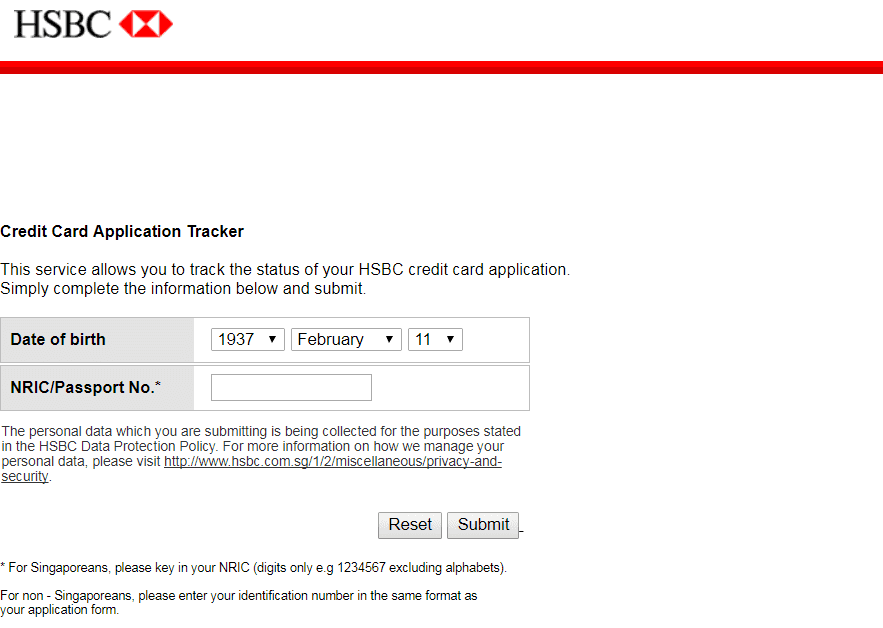 Step 4: They will ask you to submit some important details, date of Birth and NRIC or Passport No. Enter NRIC, if you are from Singapore. Otherwise, enter your passport number.
Step 5: After filling the necessary information correctly, click on "Submit" option. You can now view your Credit card status as Approved or Rejected, or Despatched, etc.
By following these above specified steps, you can easily check your HSBC Credit Card status online.
You can also do this by sending an email to the HSBC customer service from the Registered Mail id of your Account. You can send an email with your correct application number along with the registered mobile number.
They will communicate with you as early as possible. Their response is prompt, and thus your issue will be resolved at the earliest.
Note: If you experience any problem in tracking the status of your Credit Card Application, then you can make a call to the HSBC bank's Customer Service Number, and the concerned person will solve your query.
The HSBC Customer Service Number is 1800 103 4722. You may call them and ask your questions involving with their services to the specific service agent after the allotment (of the agent).
It takes 2 – 3 weeks for the processing of the application. Therefore, you have to keep your patience for up to three weeks. However, if you do not receive your Credit Card after the waiting period, then you may contact the HSBC bank's Customer Services through a call.