There are different types of plastic money available in the Indian market and some of them are – debit cards, credit cards, add-on cards, co-branded cards, charge cards, affinity cards or Diners Club cards. All these forms of plastic money help in achieving the goal of 100% digital banking dreamed of by the present Indian Prime Minister.
Credit cards are a must-have in this modern world. When it comes to India, Indian banks are fast moving towards digital banking and these credit cards help increase in cashless transactions and digital banking. There are many banking institutes that offer credit card facilities to their prime valued customers.
Axis Bank, HDFC, Bank of Baroda, ICICI Bank, Canara Bank, Indian Overseas Bank, Corporation Bank, Punjab National Bank, Karnataka Bank, Kotak Mahindra, Syndicate Bank, SBI, Vijaya Bank, AND Union Bank of India are one of those. If you applied for an Axis bank credit card and wondering how to check axis bank credit card status then this article is for you.
Here are the three main methods that you can use to check the axis credit card application status online:
एक्सिस बैंक के क्रेडिट कार्ड का स्टेटस जानने के तरीके!
Method 1: From Axis official website online

To check the status of your Axis credit card application, you need to visit the official website of the bank. When you are there, simply click on the option that says 'Products' and then select 'Cards', and then choose 'Apply online for credit cards'.
Once you are there, select the 'track your application' feature to check the status of your credit card. To view the status, you will need to enter the unique 'application ID' and then enter the registered 'mobile phone number'.
Or, you may simply click on this link – https://application.axisbank.co.in/cctracker/cctracker.aspx?cta=listing-page-credit-card-cc-track-application and then enter the unique application ID and then enter the registered mobile phone number to get the status details.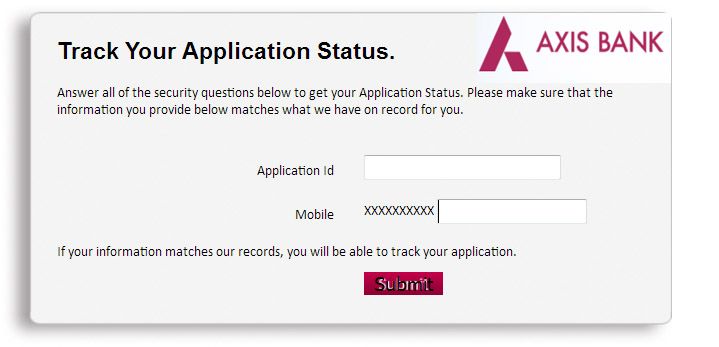 Method 2: By calling customer care toll-free numbers

You can check the status of your Axis bank credit card using your mobile phone. You simply need to call them on their toll-free number – 91-22-67987700, 1860-419-5555, or 1860-500-5555.
Ask the customer care representative about your credit card status. He may ask you a few questions to verify your credentials and then give you the exact information regarding the status of your Axis bank credit card application.
Method 3: By Sending an email
This is yet another effective method to get information regarding your credit card application status. You simply need an email stating your request to know the status at this email id – [email protected]. Someone will revert you back asking you for the application ID, so please keep the number handy for future communications.
When you use any of the methods mentioned above to find the status of your Axis bank credit card application, you will get any of the following answers – accepted, rejected, or waiting for approval.
Check Also: Check Kotak Mahindra Bank Credit Card Application Status Online
If your application has been rejected then they will give you the reason for rejection which you can improve upon. If your application has been accepted, you can expect to have your credit card shipped to your address within a week or so.
We hope this information helped you in checking Axis Bank Credit Card Status. Stay tuned for more informative articles like this one.