Citibank is one of the leading banks across the globe and getting a credit card from CitiBank is of great privilege as it opens door for great convenience across the world.
There are many impeccable benefits offered by CitiBank Credit Card and will offer excellent user experience. It is not difficult to apply for a CitiBank Credit Card as it can be applied online but there must be some criteria matched.
After applying for a credit card from Citibank it is easy to even track the application and status of credit card using the official website of Citibank. The process of checking the application status is very easy but in order to check the status you need to keep some information handy.
SBI user: Check SBI Credit Card Application Status Online
There are many types of credit cards offered by CitiBank and hence it is recommended to understand your requirement and choose a card accordingly.
Here are few simple steps by which you can check the status of your credit card online:
Step 1: Open the official site of Citibank by tying https://asia.citi.com/india/InstantApplication/CheckUserStatus.aspx on the address. It will open directly into the credit card page instead of the homepage.
Step 2: Make sure you keep information like application number, phone number etc ready to enter in application status page.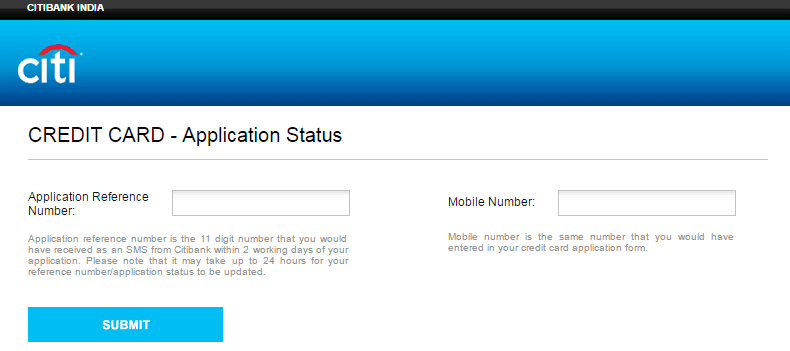 Step 3: Enter the application reference number and phone number and click on "submit". This will check the status and display the status of the credit card on the screen.
Step 4: Here are the simple and quick steps where using online connectivity you can instantly check the status of your CitiBank Credit card online.
Video:
Note: It may take about 3 to 4 weeks for the credit card to reach you including the complete processing.