HDFC is one of the largest private banks in India and the credit cards from the bank are worth its great deals. The bank has developed many strategies to bring out the best deals and provide the best money solutions to the users.
Credit cards have greatly helped in making our expenses easy and helping us purchase expensive things without putting pressure on our wallets. HDFC credit cards have a number of benefits that helps in saving more money and help in efficient money handling.
It is very simple to apply for HDFC credit cards and the application process is very easy. With technological advancement, an applicant can apply for the credit card online and also keep track of the status of the credit card.
Track application for HDFC credit card
While tracking the credit card application status, it is important to keep the following details handy
Credit card Application Number
Date of Birth
Mobile Number of Applicant
Follow these steps to know your HDFC credit card status online:
Open the website by typing www.hdfcbank.com
On the home page, click on the product tab followed by clicking on the credit cards tab. After clicking on the credit card tab, it will open a page with "Track your Credit Card Application Status", click on it. Here is the direct link https://leads.hdfcbank.com/applications/webforms/apply/cc_track_revamp/index.aspx.
This will redirect you to a different page and will open up a screen to track your credit card. The user needs to fill up "application number" and "mobile number" or "date of birth" and click on submit.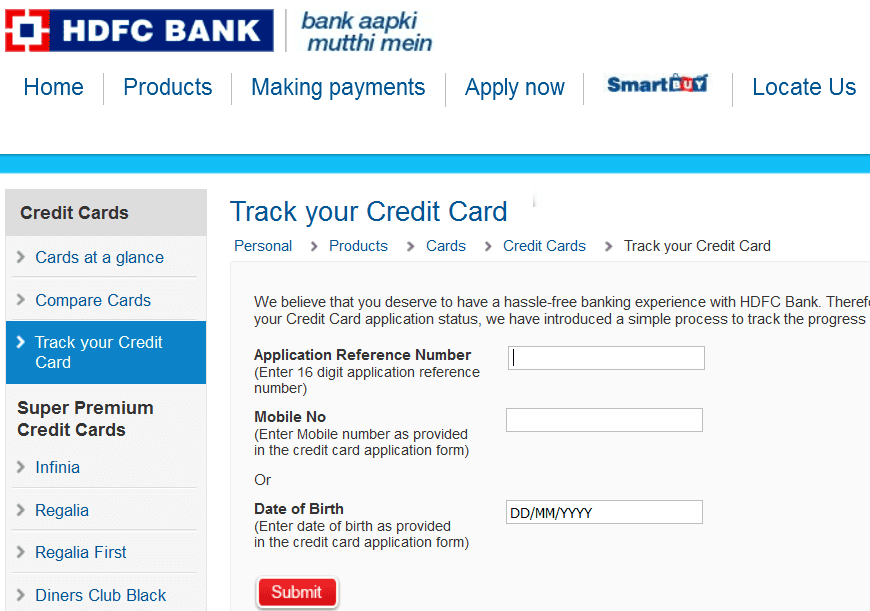 4. After clicking on submit, it will give the details of the credit card and track the information and credit card status.