Standard Chartered Bank is one of the oldest International banks in India. With over 100 branches of this bank in 43 cities, it is one of India's largest International banks. Standard Chartered Bank started its operations way back in 1858.
Since then it has never looked back and today it offers various banking services across the country. For SCB 'Our Customers and Clients Come First' is a slogan and they follow it in the best way possible.  SCB appoints many relationship managers to serve their customers best than any other bank in India.
This is why it stands among the top banks in India. Out of their many services if you have applied for a credit card and want to check standard chartered bank credit card status online then this article is for you.
Here are the step by step instructions to check your standard chartered bank credit card application status online:
स्टैण्डर्ड चार्टर्ड बैंक के क्रेडिट कार्ड का स्टेटस जानने के तरीके!
Step 1: Open Standard Chartered Bank's official website.
Step 2: Go to the credit cards tab placed at the top header menu adjacent to the Standard Chartered Bank logo.
Step 3: Place your mouse on Credit Cards, it will open a sub-menu. Go to the last list on the sub-menu stating "Track Credit Card Application" and click on it or visit the direct link -> https://www.sc.com/in/credit-cards/.
Step 4: This will open a new page with the heading 'Track your online application status'.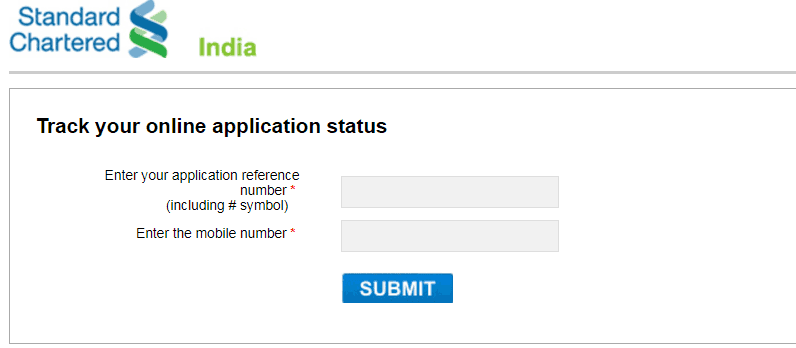 At the end of applying for a Standard Chartered Credit Card online, you must have received the application reference number. This number is very important while checking the status of your credit card application. Keep that number with you for the next step.
You must have entered a mobile number while applying for a credit card at Standard Chartered Bank online. You need that mobile number too to proceed to the next step, keep that mobile number with you and move to the next step.
Step 5: There are two empty boxes on this page. In the first box adjacent to the text 'Enter your application reference number' enter the application reference number that you have received while applying for the Standard Chartered Credit Card. Be careful while entering the application reference number as you have to enter this number along with the '#' symbol in it.
Step 6: Now, move to the next empty box adjacent to the text 'Enter the mobile number'. Here you have to enter the mobile number that you have entered while placing your application for Standard Chartered Credit Card online.
Step 7: Once you are done with both entries click on the 'Submit' tab.
Step 8: After clicking on submit tab, the system will check your credit card status and provide relevant information on a new page opened.
You can check Landmark Rewards Platinum credit card, Platinum Rewards, Super Value Titanium, Manhattan Platinum, Emirates World, Standard Chartered Yatra Platinum, and Priority Banking Visa Infinite credit card application statuses by following the above-mentioned steps.
Next time if anyone asks you about standard chartered bank credit card application status online then you have the answer ready.