American Express, also known as Amex, is a famous and reliable American financial services. This multinational corporation is popular throughout the globe for its better credit card business. It makes the financial life of its customers convenient by its reputed credit card services.
Types of credit cards offered by American Express
American Express is well known for its Gold, Green and Platinum cards with no annual fees to the certain amount of annual fees. It has also some co-branded credit cards that fall into three categories: Airlines, Hotels and Retailers.
It offers some special type of credit card called 'Blue' for a young adult at free of cost. Below are credit cards offered by American Express:
American Express Platinum Reserve Credit Card
American Express Membership Rewards Credit Card
American Express Platinum Travel Credit Card
American Express Gold Card
Jet Airways American Express Platinum Credit Card
American Express MakeMyTrip Credit Card
American Express Platinum Card
American Express PAYBACK Credit Card
When you apply for any type of card and wish to check the status of your application online, then you are the reader of this article. Checking the status online is very simple.
If you have not received any response regarding your application, you can check amex credit card application status online by following below mentioned steps.
Note: It may take up to 4 weeks to process your credit card application.
Check American Express credit card application status online:
Step 1: American Express provides an online form that helps to check the status of the card applications.  To verify the status of your application visit 'Application Status page' of the official site of Amex. Visit Directly from here https://online.americanexpress.com/eaol/statusCheckAction.do.
Step 2: Now enter two valuable data: The social security number and Home zip code.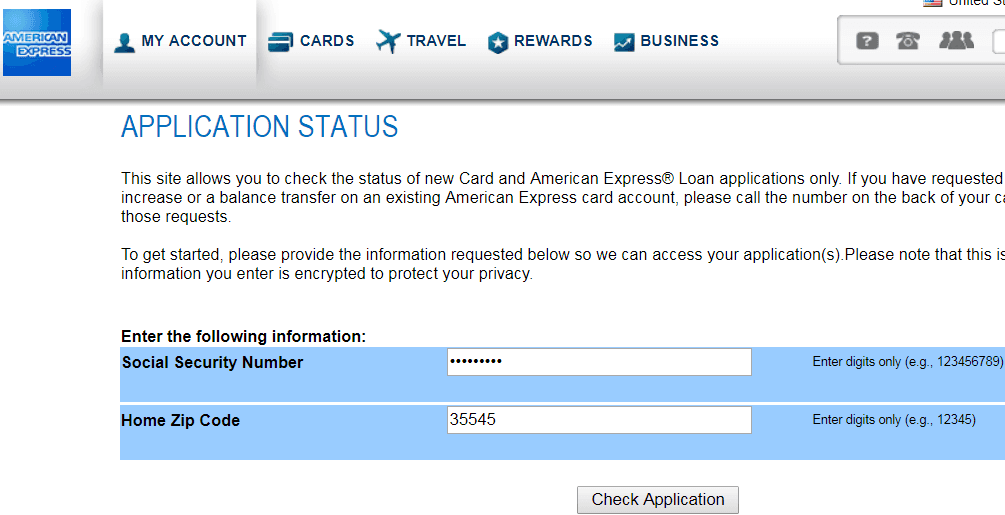 Step 3: Click 'Check Application' tab, the list of application you have submitted recently will be displayed with the status of your application and notes.
Possible outcome you will notice in this stage
With short interpretation, you will notice the following things:
Approved – You are approved.
In progress – Wait for the cards with more info.
Declined – When Credit-worthiness does not meet criteria or when hits restriction.
Cancelled – If you already apply for the credit card within the last 90 days.
Lastly, if your application is not approved wait 24 hrs for the last update. For more information you may visit Amex own website.