In this fast-moving advanced world, a number of employees and persons have increasingly started using credit cards as an easy and quick medium for getting short-term credit. However, various financial terms are written on the credit card bill. These include unbilled credits, unbilled debits, minimum amount due, the total amount due, payment due date, available credit limit, available cash limit, statement date, cash advance limit, rewards points balance, and statement of transactions, etc.
In this article, we will discuss the unbilled amount and outstanding amount in HDFC credit cards. If you are using an HDFC credit card, then you should know what is the unbilled amount in the HDFC credit card.
What is the Unbilled Amount on HDFC Credit Card?
If you are confused about the unbilled amount in your HDFC credit card bill and want to learn its facts, then this article is for you. Just follow the below-mentioned correct information, simple instructions, and some easy steps, such as:
An unbilled amount in an HDFC credit card bill is the amount you use after the billing cycle and is charged in the next billing cycle.
To understand it more clearly, log in and open the homepage of HDFC net banking.
Now, click on the Cards tab at the top bar on the same page. Then you will see an unbilled amount on your active credit card. It is the amount spent through your credit card after your bill is generated.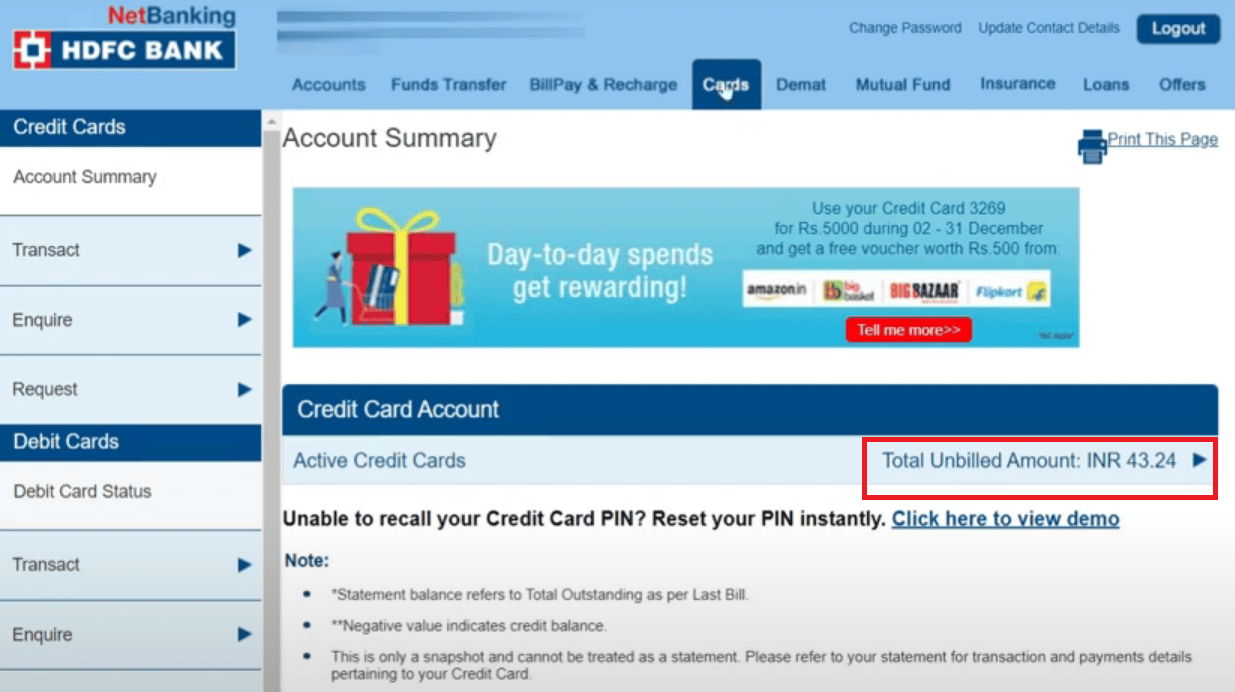 For example, suppose your credit card bill is generated on the 10th of every month. Then, your monthly credit card statement will include transactions that you made between the 11th of last month and the 10th of the current month.
If you spend any amount after the 10th of the current month and before the generation of your credit card bill, then this amount will be added to the unbilled amount. The total unbilled amount on the next billing date will be converted into an outstanding balance, which you will have to pay.
You should know that your credit card statement balance amount is called an outstanding balance. This way, you can know What is the unbilled amount on your HDFC credit card.
Conclusion
After reading this article and following the simple above-written steps and valuable information, we hope you have the correct answer to your questions about the above subject. And now, you will be able to know what is the unbilled amount on your HDFC credit card.
However, if you want to understand the credit card statement in a better way, then you should be aware of the banking terms written in it. Because certain terms written in the credit card bill may not be understandable to you. Due to a lack of awareness of it, you can easily commit mistakes.