Telangana Grameena Bank is a leading regional rural bank. State Bank of India sponsors this bank. It serves in 18 districts of the state and earns a reputation as one of the advanced banks in the sector.
The bank aims to provide top-class services to the account holders. The banking facilities and services get upgraded from time-to-time to meet the current needs of the customers and the advancements in the banking sector.
If you have an account with Telangana Grameena Bank, you can avail the newly introduced services for making the balance enquiry. The bank launched missed call service which is the most convenient way to make the account balance enquiry.
Balance Enquiry Number for Telangana Grameena Bank
09278031313 is the missed call balance enquiry toll-free number introduced by Telangana Grameena Bank. You can dial 09278031313 from your mobile number.
Give a missed call to the number or else the call will get disconnected after few rings automatically. In 30 seconds, you will receive an SMS on the same mobile number containing detailed info about the current account balance.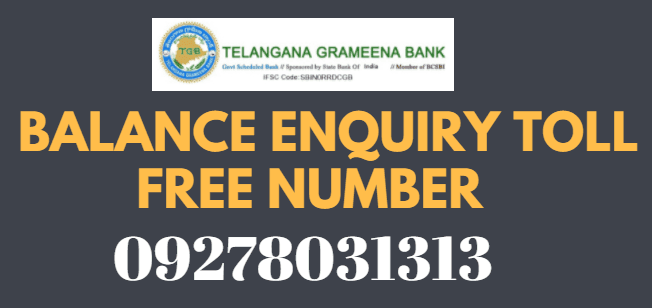 As it is a toll-free number, you need not pay any fees to the bank or the mobile operator. You will receive the SMS instantly. But before you can avail the missed call service, make sure to dial it from the registered mobile number.
Important Note: Get the mobile number registered at the bank done as soon as possible. Visit the branch and request for the registration form. Fill the form entering the details of the account and the permanent mobile number.
Submit the registration form. You will receive confirmation SMS about successful registration. You will get confirmation SMS within 24 hours.
Your mobile number will get successfully linked to the bank account. You can avail the missed call service only from your registered mobile number anytime and anywhere.