Do you have an account with Andhra Pragathi Grameena Bank? Do you remain updated about your account transactions and available balance? How do you collect short information like balance info, last transaction, etc. of your bank account?
A responsible person would like to remain updated about the account. Being a smart person, you would never want to opt for a time consuming or stressful option for short and straightforward information.
SMS Banking, Missed call services, Internet Banking, etc. are few of the advanced facilities introduced by different banks to ensure convenience of the account holders.
How do you make Andhra Pragathi Grameena Bank balance enquiry? Andhra Pragathi Grameena Bank ever gives high effort to improve the customer experience. If you want to make the balance inquiry, advanced banking services would be quite helpful.
# APGB Balance Enquiry By Missed Call
Dial 09266921358 from your registered mobile number linked to the account.  It is a Toll Free number, and the bank won't charges you any fees to avail the service. Just, give a missed call to the number or else the call will get disconnected automatically.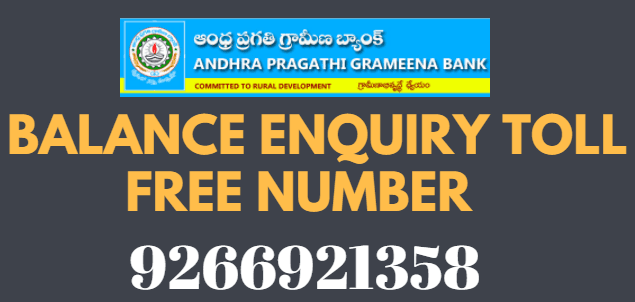 Within few minutes, you will receive an SMS containing available balance details. Missed call services are high-speed, and you will get balance details instantly.
# Via Internet Banking
Internet banking is another way of getting updates about the available balance in the account. You must have active internet banking services for the account.
# Traditional ways
Visiting the branch, updating the passbook, or visiting the ATM are the traditional ways of making the balance enquiry. Ever account holder must be aware of the conventional methods.
The traditional ways, as well as the Internet Banking option, are time-consuming in comparison to missed call services.
Important Note: Make sure to register your mobile number at the APGB bank, before availing the service as missed call services are only for the account holders having the registered mobile number.