Do you have an account with Bank of Maharashtra? How do you check the available balance in your account? Bank of Maharashtra is a popular Public Sector Bank in India. The bank has branches across the country in different major cities.
The bank offers advanced and convenient banking services and products to satisfy the growing needs of the customers. Bank of Maharashtra adopted a digital approach to improvising its banking system. The bank introduced a dedicated toll-free number for balance enquiry.
The account holders can now check the available balance in their account without visiting the branch or ATM. You don't need to print the passbook or use the Debit/ATM card or access internet banking services for checking the account balance.
You can dial the Maharashtra bank toll free number from your registered mobile number and get the updates instantly.
Steps to follow for making a balance enquiry in Bank of Maharashtra
18002334526 and 020-27008600 are the toll free numbers provided by the Bank of Maharashtra for balance enquiry.
Dial any one of the toll-free numbers from your registered mobile number and give a missed call or the call will get disconnected automatically after 2-3 rings.
You will receive instant updates of the account linked to the mobile number.
You will receive SMS containing the information about the available balance in the account.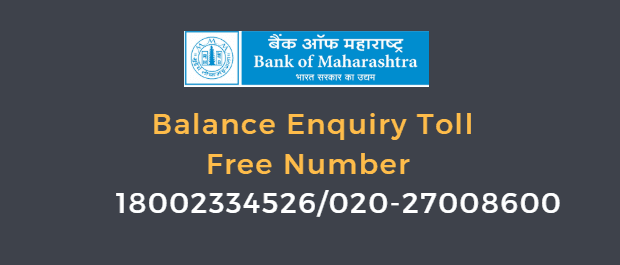 You can access the service anytime and from anywhere without any cost. Account holders can access the service from the registered mobile number; so, make sure dial the toll-free number from the registered mobile number linked with the bank account.
If you have not registered your mobile yet, please visit your home branch and submit an application to update your mobile number with saving account. Register your mobile number for phone banking and take advantage of new digital services.
For more information, please follow the instructions given on the official website of Maharastra Bank.