Banks have also emerged as custodians of our expensive belongings, apart from being successful financial institutions. Instead of trusting any third parties, we can trust the banking industry to store our cash and gems, and jewels for safe upkeep.
But for doing so, banks charge us a nominal fee depending upon our requirements. The same is the case with Canara Bank. If you intend to store your Jewellery in Canara Bank, You should first be well aware of Canara Bank Locker Charges.
Canara Bank Safe Locker
Bank lockers or safe lockers are a facility provided to customers by all the banks whether nationalized or private, to keep their expensive belongings with the banks. In return, their respective banks charge them an annual rental locker fee for providing their customers with their locker facility. The locker charges might vary with the bank branch, location, and even the size of the lockers. Usually the bigger the locker size the higher the locker charges.
Features of Canara Bank Safe Deposit Lockers
The customers of Canara Bank can deposit all their cash and important documents with their jewellery and precious items in the locker system provided by the Canara Bank. Some of the important features of Canara Bank safe deposit lockers are:
The lockers of Canara Bank are available at different locations in different sizes.
The rates for the locker facility vary regarding the size and location of Canara bank branches.
Canara bank provides the payment for the locker rental facility through the customer's debit card itself.
The customers are allowed to assign nominees to their bank lockers.
The lockers of Canara Bank can be visited at any time of the day but during bank working hours.
If the customers are satisfied with these features of the lockers facility by the Canara Bank, they can initiate using them for keeping their valuables safe.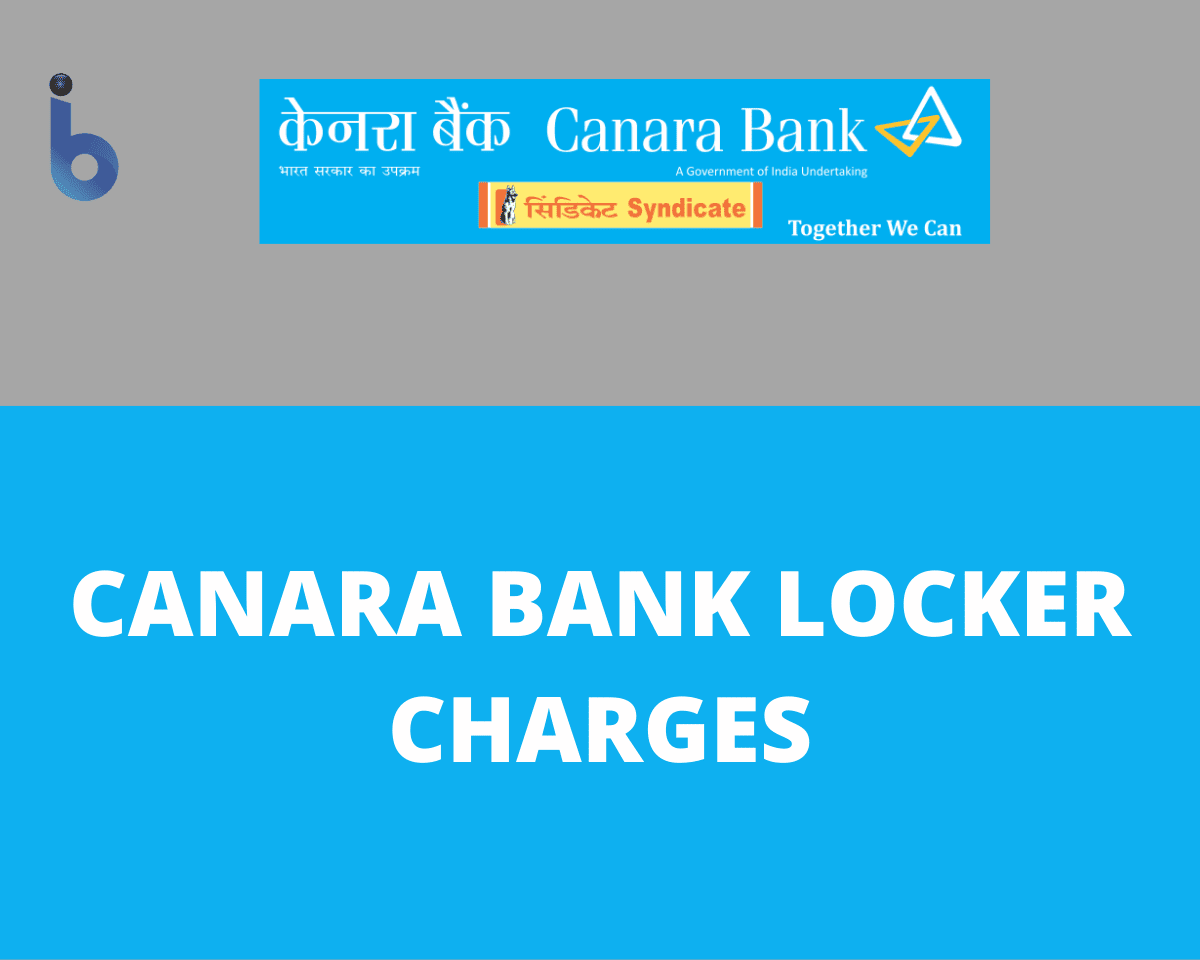 Documents Required for Using Canara Bank Locker Services
Before using the locker services, Canara Bank requires a few documents to allot you your desired lockers. Such documents include:
KYC documents and Security deposit
Current or Savings bank account
A passport-size photograph and signed copy of the locker agreement
By submitting these documents to the Canara Bank, you can easily avail of the locker facility in the bank.
Rent Charges For Canara Bank Safe Deposit Locker
The locker rentals are charged annually by the Canara Bank. The charges vary with respect to different cities, different branch locations, and even the availability of varying locker sizes. Below we have provided you with a table stating the different locker charges according to their size.
Hence, depending upon the size of valuables a customer holds with himself he can opt for any size of the available locker.
Locker Size
Locker Charges

(Metro)

Locker Charges

(Urban/ Semi-Urban)

Locker Charges

(Rural)

Small
Rs. 2000
Rs. 1500
Rs. 1000
Medium
Rs. 4000
Rs. 3000
Rs. 2000
Large
Rs. 7000
Rs. 6000
Rs. 4000
Very Large
Rs. 10000
Rs. 8000
Rs. 6000
Locker Visiting Charges
Canara bank allows 12 free locker visits annually. But each visit over and above the free limits costs the customers Rs 100 INR as a penalty. This amount is exclusive of operational service charges.
Locker Security Deposit fees
Locker Size
Security Deposit

(Metro)

Security Deposit

(Urban/ Semi-Urban)

Security Deposit

(Rural)

Small
Rs. 12000
Rs. 10000
Rs. 8000
Medium
Rs. 15000
Rs. 14000
Rs. 10000
Large
Rs. 20000
Rs. 20000
Rs. 15000
Very Large
Rs. 25000
Rs. 25000
Rs. 20000
Other Charges
| Locker Registration Charge (One Time) | Loss of Locker Key |
| --- | --- |
| Rs. 400 | Rs. 1000 + GST |
Last Updated: 15 February 2023
Conclusion
People should always store their precious valuables in a safe and secure place. The customers of Canara Bank can take the help of their locker facility to be assured of the safety of their belongings. But before opting for a locker facility blindly, you must be well aware of the terms and conditions and the respective features that it has in store to offer you.
To know the accurate amount of Canara Bank locker charges you need to either visit your nearest Canara Bank branch or you might also contact their customer care team to be well informed as the locker rental rates tend to change with locations and sizes.