If you have highly valued tangible assets, Bank of Baroda's locker facility is considered one of the best. Bank of Baroda is one of the few banks that provides gold lockers to its valued customers.
Generally, all the banks charge a nominal fee for their locker facility. Similarly, even the Bank of Baroda's locker policy comes with a price. If you are keen to keep your valuables safe with the bank, then stay tuned to know more about the Bank Of Baroda locker charges. These charges are also applicable to Dena Bank and Vijaya Bank customers.
Bank Of Baroda Safe Locker
Safe lockers are a bank facility open to all its customers. The bank account holders can choose to keep their valuable belongings for a definite period, say one year, at a nominal fee. The bank locker facility is optional and can be taken depending on the size of your belongings. Typically, lockers of a large size charge a higher rent than small ones. The annual rent varies with the bank branch, the size of the locker, and its location as well.
Features Of Bank of Baroda Safe Deposit Lockers
Now the Bank of Baroda customers can keep all their precious gems and jewels in the locker facility provided by the bank for the safe upkeep of their belongings. Some other important features that highlight the locker facility of the Bank of Baroda include:
The bank lockers are available for all customers.
The account holders can choose the locker size, i.e., small, medium, large, and extra-large lockers.
The rates and rentals vary for different bank lockers.
The user can pay the bank locker to rent through the account holder's debit card.
The bank account holders can issue any individual or joint hirers as nominees for their lockers.
The customers can access their lockers on all working days during bank hours.
Lockers are always given on a first-come, first-served basis.
Thus, the account holders should choose a locker facility of the Bank of Baroda wisely after going through its features carefully to safely keep their precious documents and papers in the bank locker.
Documents used for obtaining a Bank Of Baroda Locker
To reserve a locker of your choice in the Bank of Baroda branch, you need to have the necessary documents with you. These documents include:
Passport size photograph
KYC documents
Security deposit
Current or savings account details
Signed Locker agreement
These are the necessary documents to avail of a locker facility in the Bank of Baroda.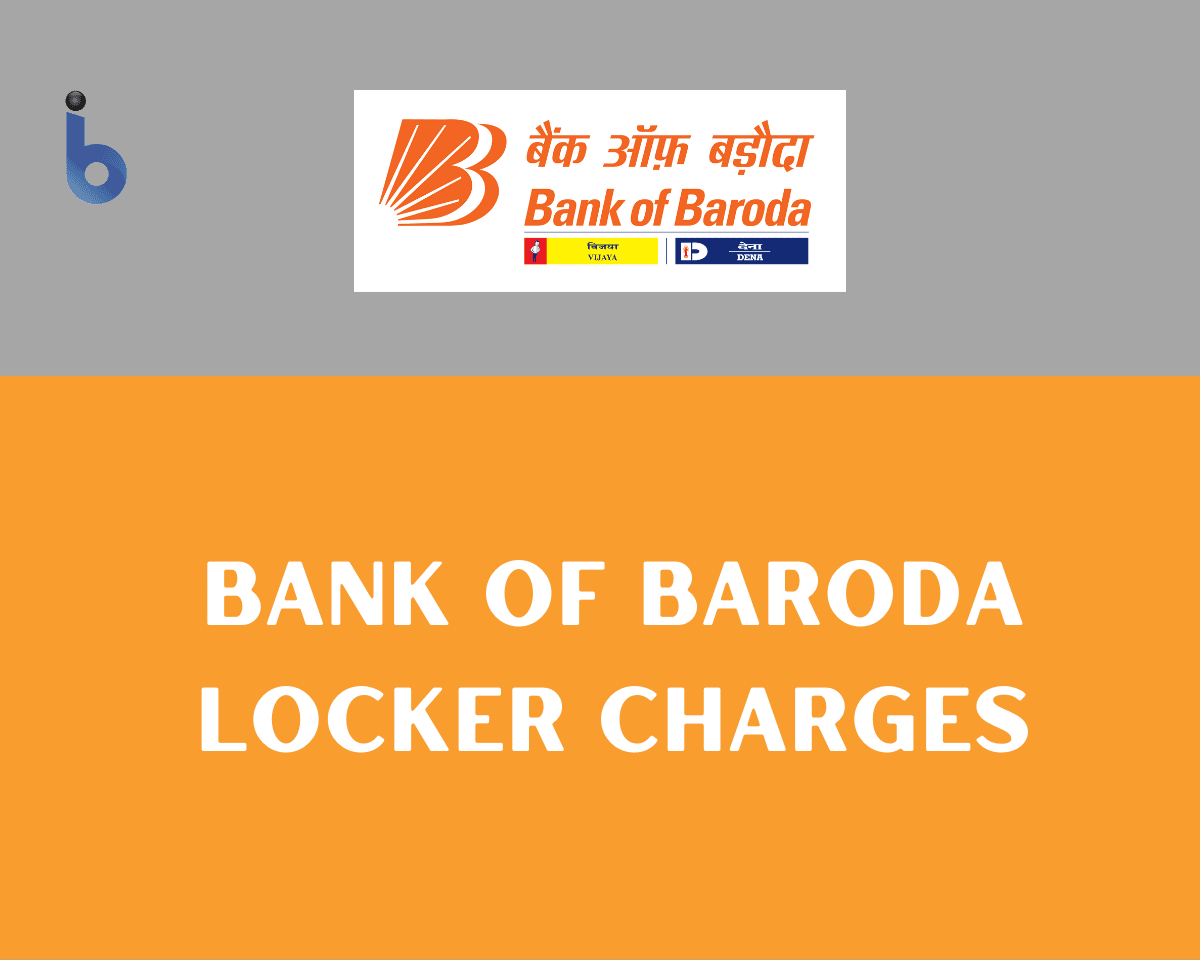 Locker Service Charges in Bank of Baroda
Generally, the annual locker rentals for Bank of Baroda vary widely concerning their size, locations, and respective branches. Below given is a table for a brief understanding of the locker charges depending on their size:
| Locker type | Metro/ Urban | Semi-Urban/ Rural |
| --- | --- | --- |
| A | 1500 | 900 |
| B | 2000 | 1000 |
| D | 2800 | 1500 |
| C | 3000 | 1700 |
| E/H-1 | 4000 | 2200 |
| G | 7000 | 5500 |
| F | 7000 | 5500 |
| H | 7000 | 5500 |
| L1 | 10000 | 8000 |
| L | 10000 | 8000 |
It largely depends upon the number of valuables a customer holds for his choice of locker size.
Type
Charges
breaking locker
Rs 1000
Penalty for late payment of locker ren
Annual locker rental is up to Rs 3000: Rs 200 for the first 3 months and thereafter Rs 50 per month

Annual locker rental is above Rs 3000: Rs 500 for the first 3 months and thereafter Rs 100 per month

Locker Visiting Charges
12 visits per year: free, after 12 visits – rs 100 per visit
Table Updated: 11 April 2023
Locker Visiting Charges
Bank of Baroda allows you 12 free locker visits annually. After that, you will be charged INR 100 for every visit.
Conclusion
Generally, the Bank of Baroda locker charges varies between 900 INR to 110000 INR depending upon multiple reasons such as the bank's branch area, bank locker size, and the metro or urban city or town where the bank branch is located. You can easily obtain a locker facility by getting the bank locker form from your nearest branch.
The locker charges quoted in the table are only for reference purposes. The annual locker fee might change due to a change in policy and economic factors apart from their sizes, areas, and cities. To know the exact amount of Bank Of Baroda locker charges, you must either visit the nearest branch or call customer care services to know more about the same.