Stock market is a place where traders buy and sell their stocks. Here, the Demat and the trading account is necessary for the stock market to handle the stock buying and selling. A Demat account works as a bank to hold on to the purchased stocks, and the Trading account works as an investment account that holds securities, cash, and other holdings like a brokerage account.
Customers open Demat accounts to store their shares and securities in electronic format and also keep records of buying and selling shares. You have to have a trading account to trade in the stock market. Other than that, a Demat account is enough. You can open a Demat account just like your savings account and can maintain it with zero balance.
We will talk about Zerodha trading company here. Zerodha is an Indian financial services company that works on mutual funds, trading with currencies and commodities, and bonds. This company is Bangalore-based and founded in 2010. Not only that, Zerodha the name is very unique in its own way of trading, that is Zero and Rodha(a Sanskrit word for barrier). Zerodha started its journey on the 15th of August, and its goal was to break the barrier the Indian traders and investors faced in technological terms, costs, and support.
Now almost 9 plus million clients invest regularly via Zerodha for the better retail trading volume. Zerodha has a trading platform called Kite, which is an advanced set of software to trade online. Your Demat and trading account with Zerodha will help you deal with your shares and funds, financial documents, money securities, etc.
How Zerodha Trading and Demat Accounts Works
Zerodha is an online discount brokerage company that offers to handle the trading in stocks, bonds, and derivatives. Also, they give the Demat account facilities to hold onto shares, commodities, and mutual funds. Zerodha makes it two in one account with Demat and Trading linked together to transact with super ease.
Now, you don't need to ask for Demat and Trading accounts to open separately, and once you open one account, the other one opens automatically. The products in Zerodha will help you decide whether you want delivery-based trading or intraday trading.
The Demat account in Zerodha will open via Central Depository Services Limited(CDSL). Zerodha works as an intermediary between the central depository and customers. This company never requires any minimum balance in a trading account, but they only charge 300/- per annum for the Demat account. Zerodha is in the top rank if you are trying to open a Demat account with it.
Zerodha Account Closure Reasons and Process
People can close their Zerodha account at any time they want. Only they need to make sure the Zerodha account is no longer activated and all the dues cleared. They have some mandatory terms and conditions to be applied. There are many reasons a person can choose to close the Zerodha account, and some of them we mentioned here.
Reasons: If you are not accessing your Zerodha account, it's better to close the account instantly to save the annual maintenance charges. Other than this, you can also close your Zerodha account if you feel dissatisfied with the service or the platform. It's better to close the account permanently than to abandon it to save from misusing the account if you have no plan to use it further.
Process: Zerodha has two ways to close the account. One is online, and another one is offline. Zerodha also provides the facility to close the account both temporarily and permanently. The closure request can lead to stopping the trading and investing.
Before requesting the same, you need to download all your ledger, tax, trade book, contract notes, P&L, and other statements. The online closure processing will continue only if your account has no pending positions or orders and if your account has zero balance. Once the account is closed, you can not download the statements.
We are mentioning the steps below to request the close Zerodha account.
Zerodha Offline Account Closing Steps
To close the Zerodha account you will find the form in pdf format n their official website.
Step 1: Visit the Zerodha website https://zerodha.com. At the top of the website, you will see the support option. You have to go there. At the extreme bottom, you will find Download and Resources option underneath the Support system. Click on that link to go to the next page.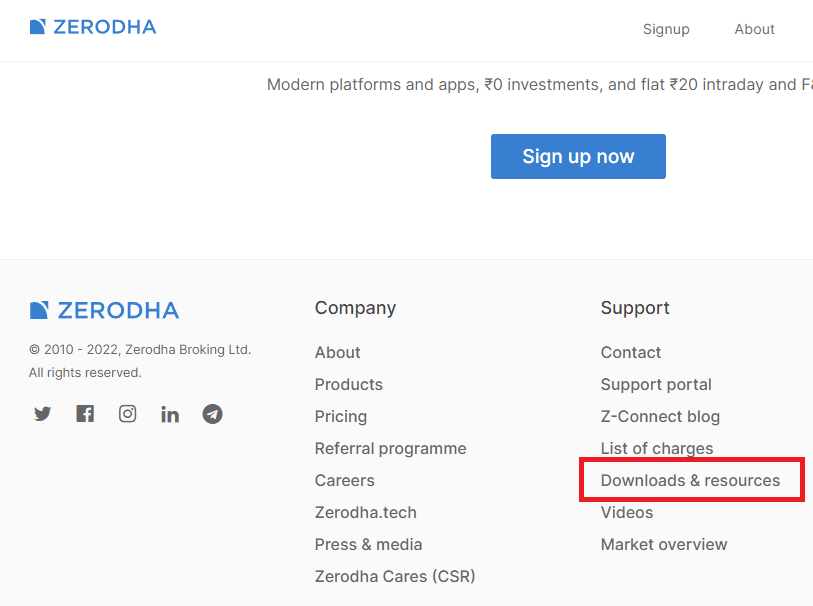 Step 2: The Account Deactivation/Closure form you will find under the Change request forms in the Application forms.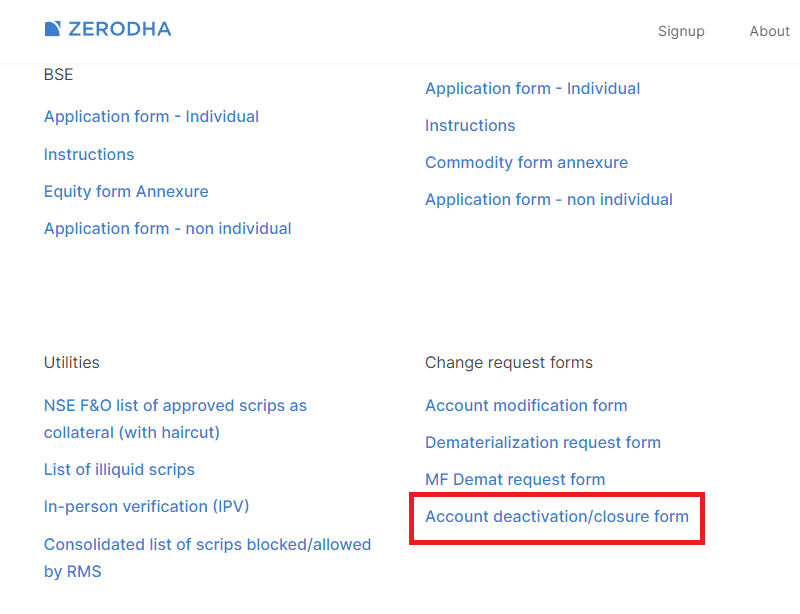 Step 3: Download the Zerodha account Closure pdf form to fill up, or you can fill it up online as well. Put your signature properly in the required space.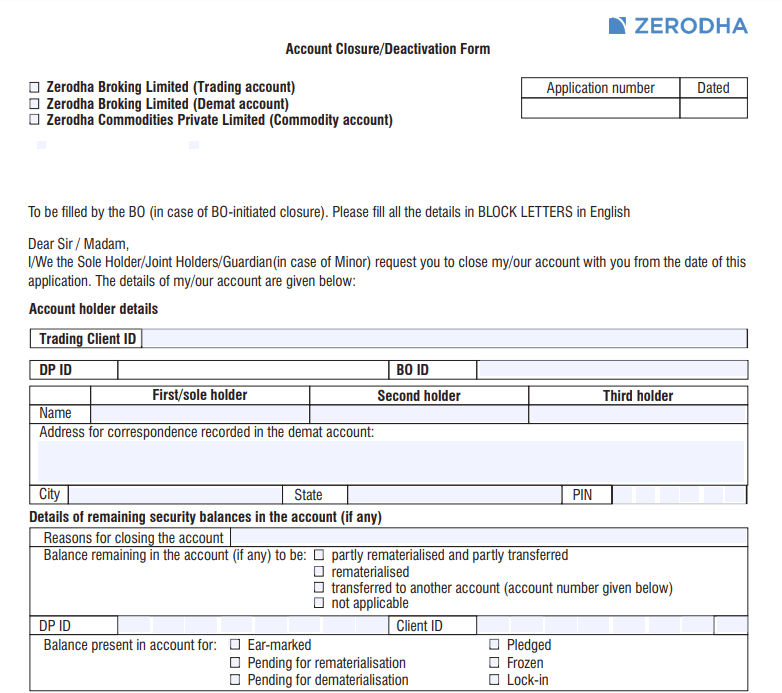 After filling out the account closure form, Send it to the below address via speed post or courier. Your Zerodha account closure will be processed within 5-7 working days.
Services
Contact
Support Numbers
080 4718 1888 / 1999
080 7190 9543 / 9545
Postal Address
Zerodha H.O No.153/154 4th Cross Dollars Colony,
Opp. Clarence Public School, J.P Nagar 4th Phase,
Bangalore – 560078
Important Note: you have to transfer all holding to another Demat account before closing the account. Zerodha does not take any charges for account closure. Account closure will not be processed if you have a negative balance in your account.
Zerodha Online Account Closing Steps
Step 1: For online account closing, you have to log in to Console and click on the Account option. Click over the segment option and scroll down to the next page. Here, you have to select the account closing option choosing a reason for account closing.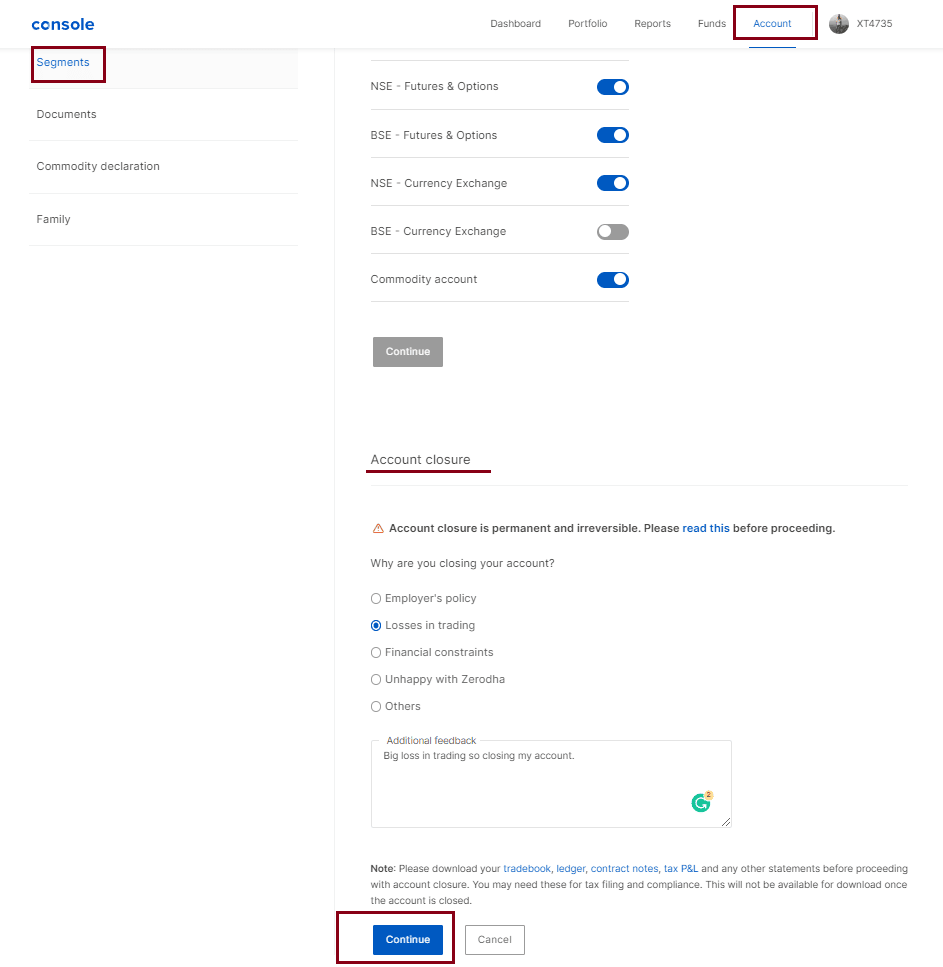 Step 2: After selecting the reason, you must click on the continue option. Proceed with the e-sign, and click on the sign. After that, you have to accept the terms and conditions to continue further. You will be redirected to the Digio website and all details will be filled in automatically. click on the sign now button to complete the process.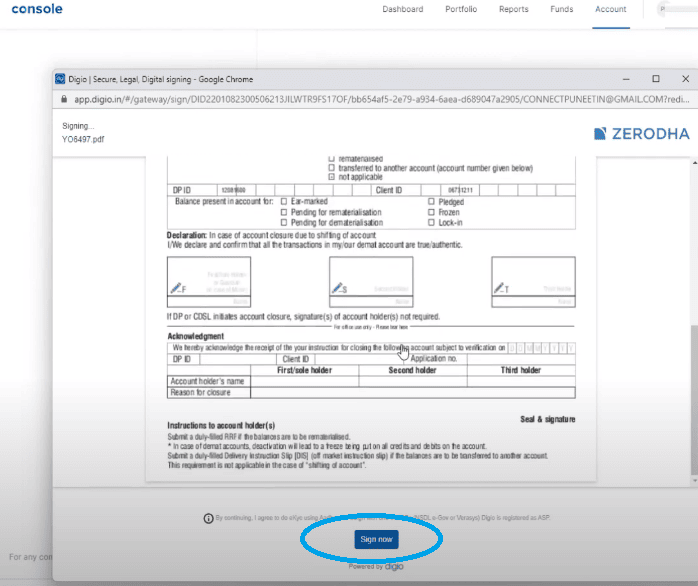 Step 3: Here, you need to put your Adhaar card number and click on Send OTP. The OTP will come to your Adhaar linked mobile number. You have to put the OTP in the given box and click on the verify OTP option.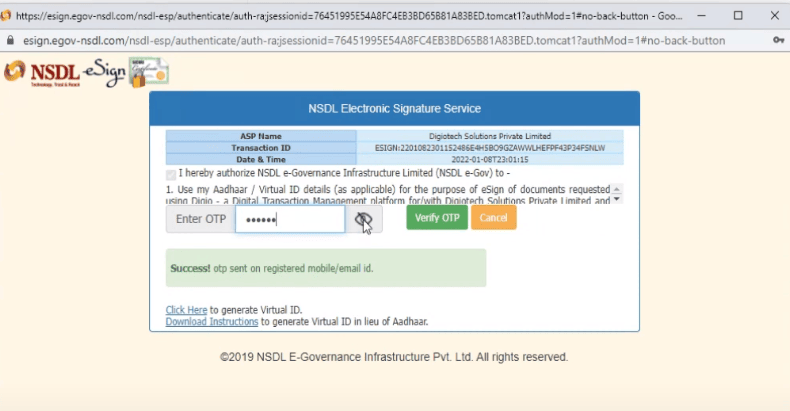 After completing all of the steps, Zerodha will send you a mail over your registered mail ID with them.
Conclusion
The processing for the Zerodha account closing will continue right after the application is submitted. It will take only 72 working hours to start the process. The mail that will be sent to you will show you the details about your request and all of their processing details. Zerodha company never charges anything for your account closure.
Account settlement will be done within a month or so. The settlement refers to that there are no outstanding funds, balance, or shares left. If your account is dormant, the request will not be able to process. It will remain Inactive until you reactivate it. For any more queries, you can contact the toll-free number 08047181888.