Zerodha is a trading company where people can have an excellent experience trading in the share market. But before starting trading, one should have a Demat account with Zerodha. Zerodha has some terms and conditions for having a Demat account, and as a customer, you have to focus on the rules. Since Zerodha is a trading member of NSE and BSE, your account's commodity trading will be enabled by Zerodha Commodities Pvt. Ltd. and the depository services through Zerodha Broking Limited.
Zerodha, a trading company under the Securities & Exchange Board of India (SEBI), announced that traders must add a nominee to their trading accounts in Zerodha by 30th September 2023, or else the account will be frozen. In this article, we are going to tell you how to add a nominee to Zerodha demat account step by step with screenshots.
Adding Nominee in Zerodha Account
Now, we are describing here the procedure for adding a nominee in Zerodha Demat account. So, if you are searching for a solution, says that you already have a Zerodha Demat account. Again, make sure you thoroughly look into all the segments of your Demat account before taking any steps.
Now it's better to say a few apps are linked with Zerodha company that helps people trade and invest, basically to access the Demat accounts. You can open your Zerodha account through the Kite app, Upstox, AngelOne, Samco, etc. We are going to write about the Kite app today. Now, read till the end to get your answer.
Step 1: First, you have to open the Kite app on your phone or Computer. It's a broker app for controlling stock market investments linked with Zerodha. Log in to your Kite app for nominee addition. You will need your User Id and Password for it.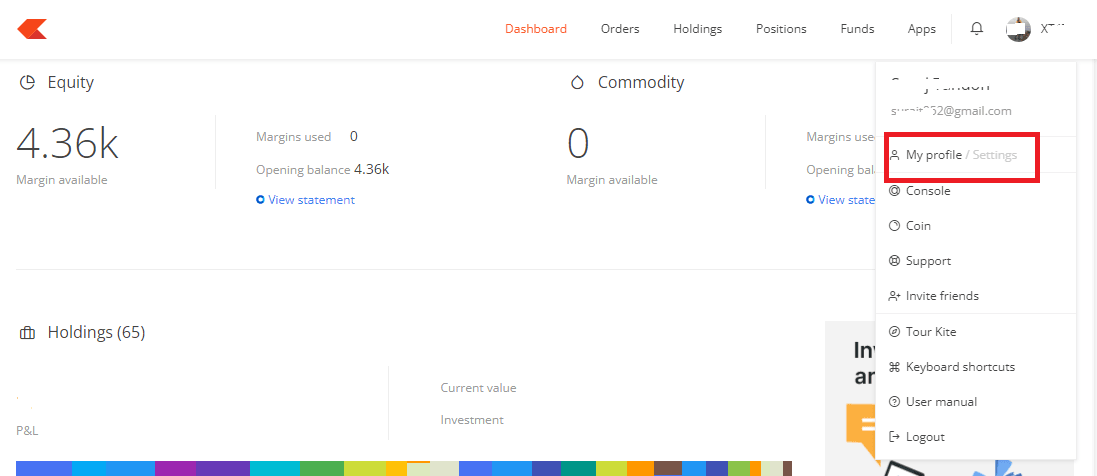 After Log-in, click on the profile icon that has been given below the right-hand side of the screen. It will take you to your official account. Again here you will see the Profile option on a list under your account. Click on that to get into it.
Step 2: Click on the Manage Account option in front of the Detailed Profile section, and it will direct you to the Zerodha website of your account. Here, you can see an arrow with a blue button. You have to click on that to go to the nominee addition page.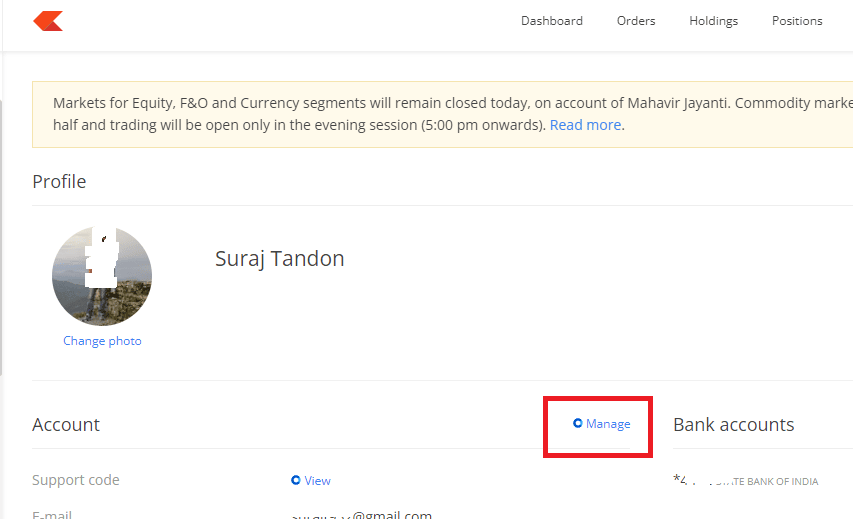 Step 3: You have to select the Nominees option, and the nominee adding page will appear clearly. You can add a maximum of 3 nominees here. If you have already added a nominee, it will show the details here.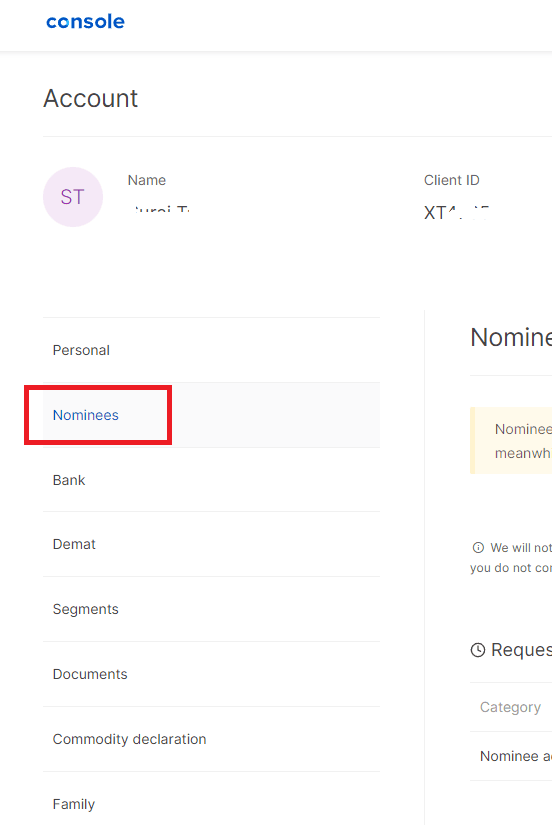 Step 4: Click on the Add Nominees option, and add all the details of your nominee.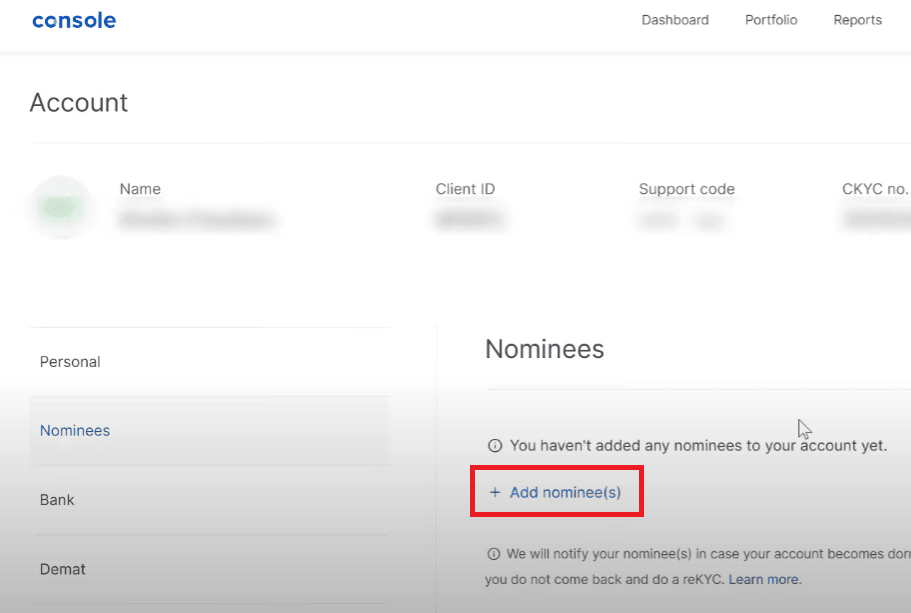 Step 4: You can see an interface that will appear with all the requirements that you need to fill out. You can fill in the percentage you want to give to your nominee. Suppose you want to give 50% of your shares, then put down 50 on the box. You can add the percentage according to your choice.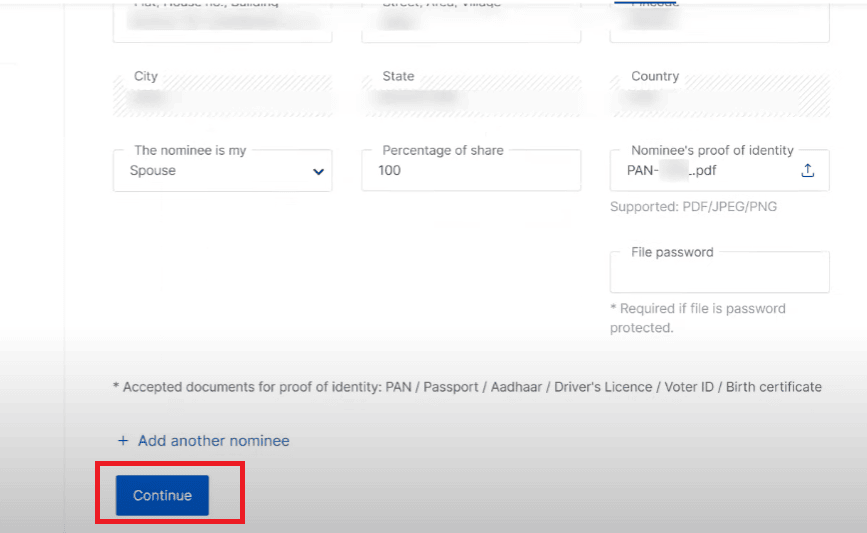 Provide the nominee's Id proof. You can give Adhaar Card, Voter Card, Passport, Driving License, and Pan Card as it will be approved. The Id proofs will be acceptable only in PDF, JPG, or PNG format. If your nominee's Id is password protected, fill in the password in the given box below. Otherwise, leave it as it is. Click the continue button.
Step 5: Here, you have to put tick the Terms and Conditions boxes. Now, click on the Proceed to E-sign button underneath. Here, you will see all the details of your nominee that you have added. Right below it, you will notice the Sign Now option, and click it to get into the NSDL website.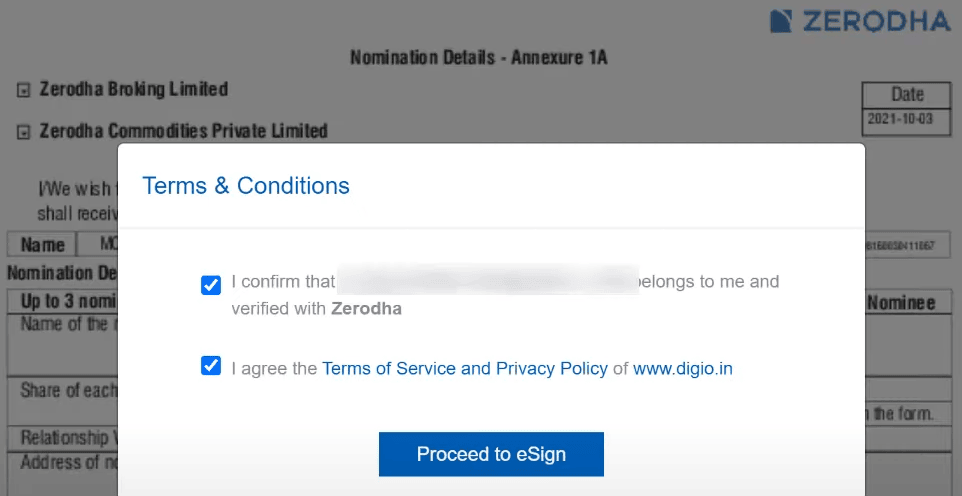 Step 6: Here, on the NSDL website, you have to mark the box given below to notify your allowance and again provide your Adhaar Card number. This Adhaar number must be of the Demat account holders. You must have your Adhaar Card linked with your phone number, as the next step is to Send OTP. The OTP will be sent to your registered phone number.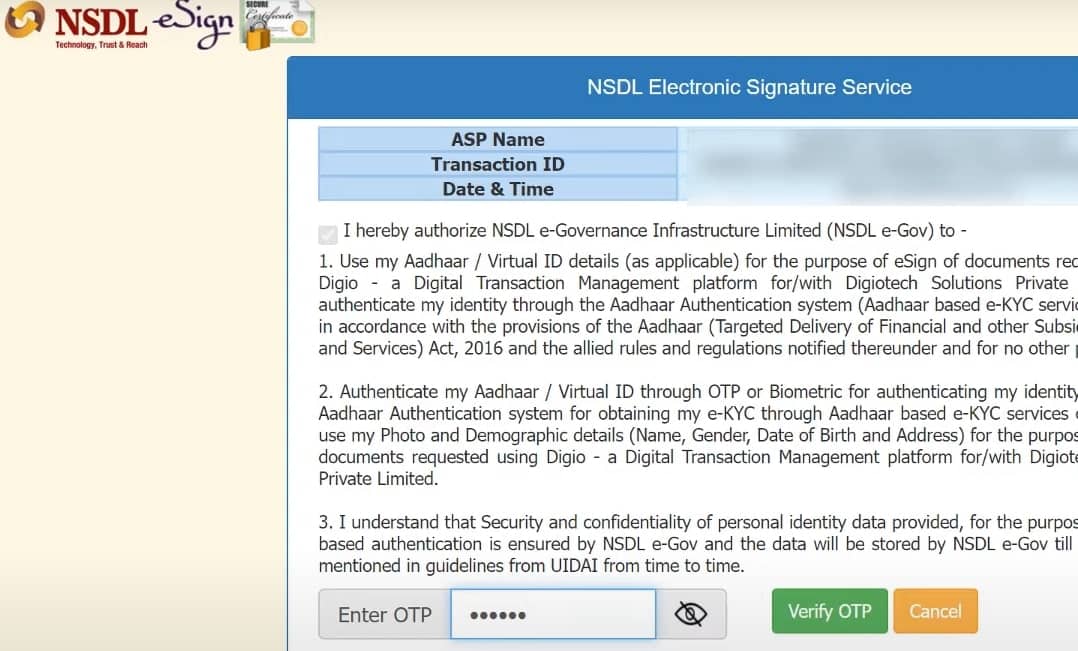 Once you fill up the OTP on the box and click over the Verify OTP button, your process will show Successful. your request for nominee addition will be submitted successfully.
Note: If you are choosing a nominee, you must give 100% of the share, or if you choose two nominees, you can divide the share 50-50.
Conclusion
Since all of you already know, SEBI announced the Nominee Addition in Zerodha account would be dated till 30 September 2023, and till that date, if anyone left to update, then the Demat account would be frozen. That means the person won't be able to access his shares, can't trade, or buy and sell shares.
But recently, SEBI announced since they're getting a heavy amount of requests for Zerodha nominee addition, the process will take at least 5-7 days to complete. With this write-up, you'll find the easiest way to add a nominee to your Zerodha Demat account. You can do this job with your laptop or mobile phone sitting anywhere you want.