Zerodha is a financial service provider company offering mutual funds, currencies and commodities trading, institutional broking, retail, and bonds. As a financial stock broking and trading company, it should be linked with the client's bank account. Once you open a Demat Account and start trading, you'll need three types of accounts. These three types of accounts should be Demat Accounts for holding stocks, shares, bonds, mutual funds, and insurances, Trading Accounts for buying and selling equity shares, and a Bank Account for credit and debit the requisite amount of shares. Since you have come here, assuredly, you have already opened your Zerodha Demat Account linked with your bank account and are confused about the alteration process of the bank account.
The Benefits of a Bank Account Linked with a Demat Account
As we mentioned above trading account is to buy or sell equity shares in the stock exchange hence your order for the sale or purchase of the same by reciting your Demat Account number will process, and the prerequisite amount of it will be either deducted or added directly to your bank account. A bank account linked with the demat account benefits customers in numerous ways. We are mentioning them below.
Easy Accessibility
Mitigation of Risks
Ease of Operation
Save Stamp Duty
Easy Dematerialization
Easy Money on The Liquidation of Shares
Aids For Opening a Trading Account
Auto Credited Stock Dividents and Refunds
These are the areas that benefit customers with their bank accounts being linked with their Demat Accounts. If you are opening a Demat Account with Zerodha, it's part of the rule to link your bank account with your Demat Account. Or if you want to change the already linked bank account in Zerodha, then follow the below steps:
Steps to add or Change Bank Account in Zerodha online
In Zerodha, the Main Bank Account is a Primary Bank Account linked to your Zerodha Account. Now that you know the benefits of a bank account connected to a Demat Account, let's come straight to the steps here.
Step 1: The first thing to do is open your Kite App, or on the other hand, you can search for Kite Zerodha in the search bar. Then click on the first website came Kite-Zerodha, to log in.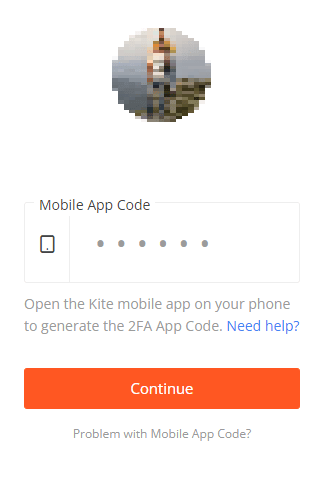 Put your User Id and Password carefully in the specified box. Here, Kite added a new option of OTP to follow to be more secure in the process of logging in. Hence you need your mobile number to get this OTP. Put the OTP in the required place and click on the Continue button.
Step 2: This way, you can get into Zerodha Kite's accessible platform. You need to click on your User Id that appears right above the page on the right-hand side. Now the list of profile management directions will appear, and you've to click on the 'My Profile /setting' option here.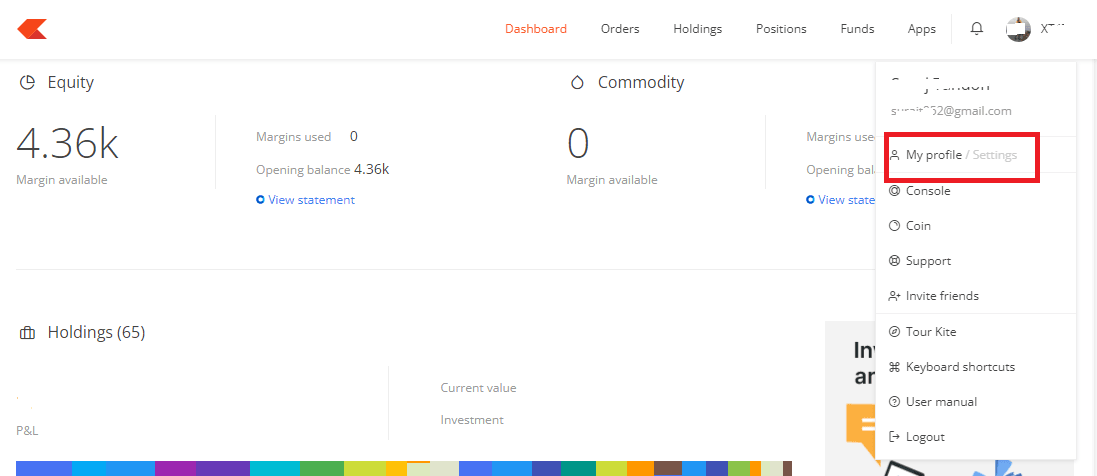 Step 3: That is how you can go inside your Zerodha Account profile. Here, you can see the Bank Accounts option beside your Zerodha Account option, and there you can change or add your bank account details. You can change any details in your Bank Account or Zerodha Demat Account by clicking the Manage icon beside.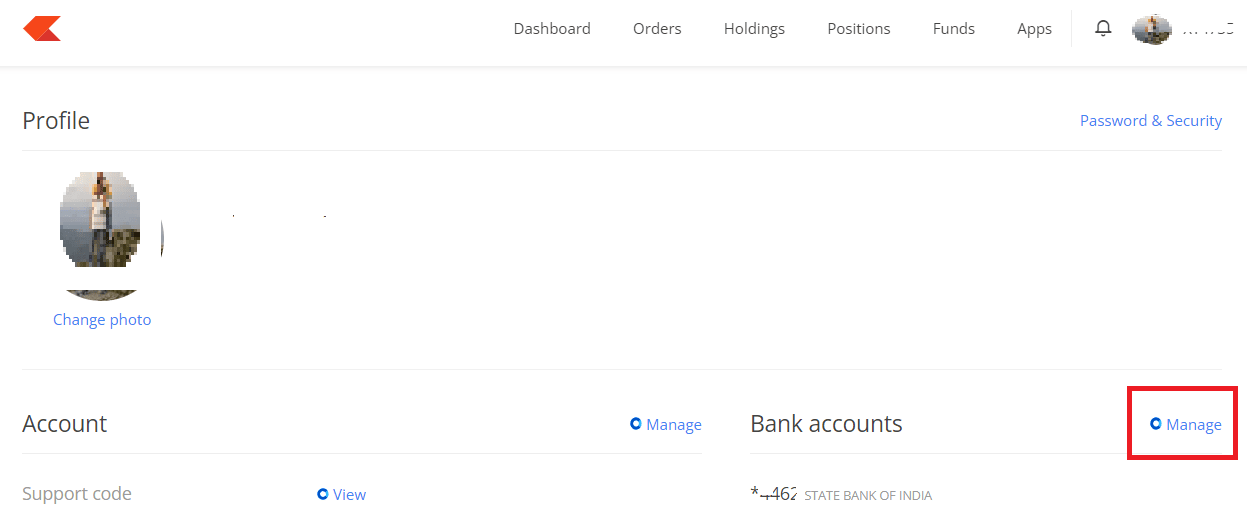 Click on the Manage icon beside the Bank Account option, and you can see all your Bank details at once. Here, you can add or change your Bank details.
Step 4: To change your bank account, you have to click on the pen icon that is given beside the Account option. To add a new bank account click on add bank account option.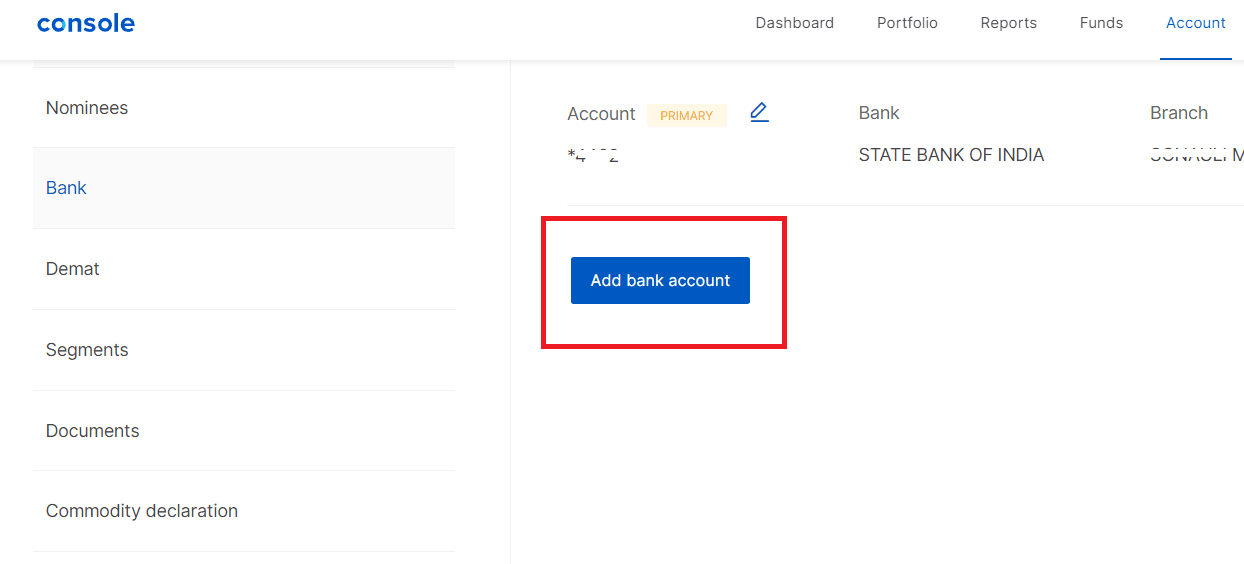 Step 4: Now, a new interface will appear where you need to put all your Bank Account details that you want to add, like account number and IFSC code. To assure the account number, reenter the number.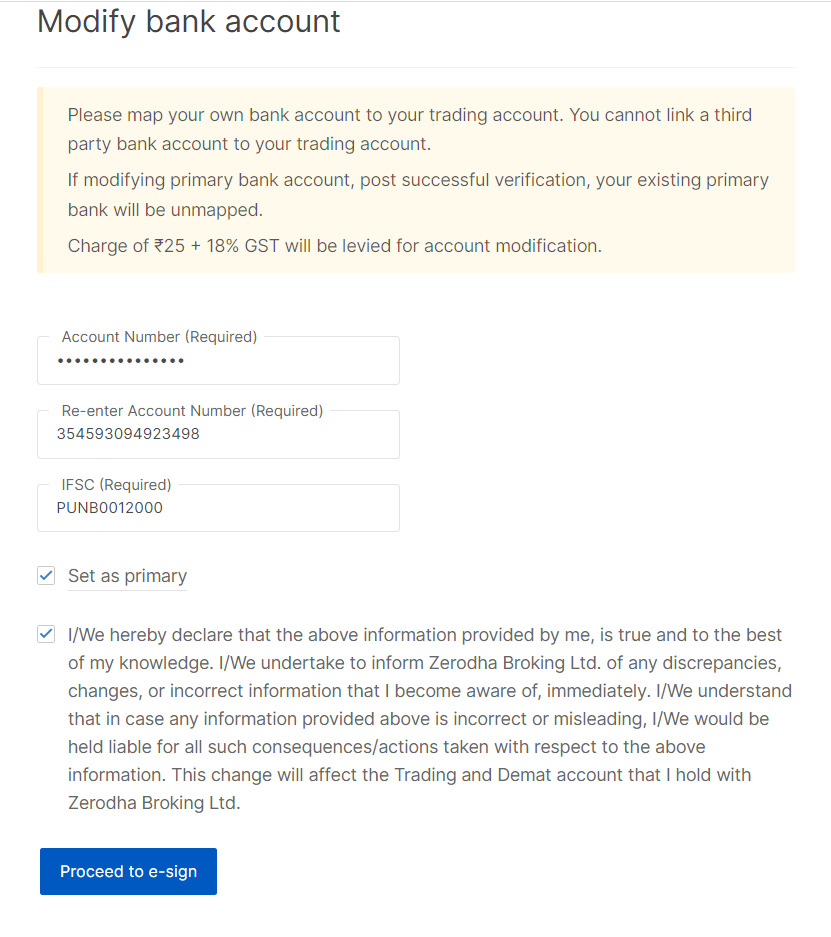 After this, the page will ask you to agree to the terms and conditions by clicking on the tick below. Now click on the Proceed to E-Sign button.
Step 5: In the new interface, you need to click on the Sign Now button and put your Adhaar Number in the given box. This new interface will be from the NSDL website that asks for your Adhaar number to send the E-Sign number to your Adhaar-linked phone number. Once you enter your Adhaar number and click the Send OTP button, the OTP will be sent to your mobile number.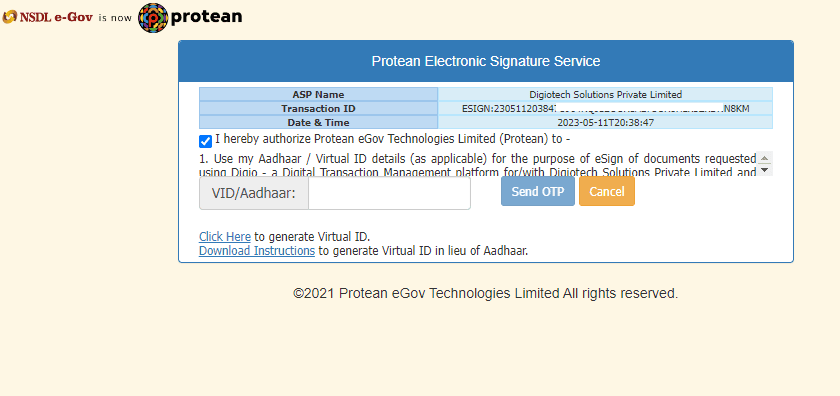 Enter the OTP in the box and click the Verify OTP button. Once you finish all the procedures, your purpose of bank account add and change will be successful. Here, you can check the just-added bank account to your Zerodha Account with the same methods. If you change your Bank Account with the previous one, your newly added bank account will turn into your Primary Bank Account.
Conclusion
To all the steps you have come here with the procedure of adding a bank account in Zerodha, your success matters to us. You have come to this article to get a solution to the problem you're having with the bank account change in Zerodha, and we were able to give a quick fix that made you feel relaxed. Stay connected for more information like this.