Zerodha is a brokerage company that works with other companies by providing services with commodities, mutual funds, stock exchanges, bonds, and currencies. Today, we will talk about the Mutual Fund one can get in Zerodha. Before that, let's know a slightly about the Zerodha Mutual Fund service that provides the latest equity investments. Zerodha is a stock broking and trading company where people can buy their mutual fund just after logging in to an account in Zerodha itself.
In April 2017, Zerodha launched the Coin Platform to buy mutual funds online directly. It is an order collection platform that lets investors buy mutual funds without any commissions passed back and from asset management agencies. You can invest in direct mutual fund schemes and save on commission for regular mutual funds.
How Zerodha Mutual Fund Works
People need to know the Zerodha mutual fund offers brokerage-free investment. It doesn't charge any commission from the broker. In Zerodha, the mutual fund gives an additional income of 1% to 1.5% per year to customers as the AMCs pass on added payment from the unattended commissions of the brokers.
Every year the mutual fund distributors get a commission of 1% and 1.5% from AMC. But with Zerodha, the direct mutual fund system increases the return as it passes this commission amount on to customers. Zerodha doesn't charge for coin platforms to buy mutual funds online. It's India's largest platform for direct mutual funds online with zero commission.
Steps to Buy Mutual Funds in Zerodha Online
As Zerodha is a 12 years old company serving its customers with mutual funds, equity investments, and stock exchanges, people are more than happy enough with the assistance. Now, when you come to get to know the steps for buying Mutual Funds in Zerodha denotes, you already have a Zerodha account. Keep an eye till the end to figure out the entire process.
Step 1: First, start by opening your Coin App. If you have a Demat account in Zerodha, mutual fund buy will be easy for you. But as everyone knows, the Kite app provides Zerodha services but won't show anything about buying mutual funds or any of its services in the Kite app. Zerodha has the Coin app separately for the mutual funds.
You better install the Coin app on your mobile phone screen to work on your mutual fund buying. After opening the Coin app, you'll get Zerodha mutual fund platform. Here, you have got to log in with your Demat account. The login id will be the same as the Zerodha Kite app, and you don't have to register separately. It is similar to the Kite app. For web login, visit https://coin.zerodha.com/ and login using the same Zerodha kite details.
Step 2: Here, you can choose which mutual fund you want to invest in. You have to click the Explore section to search for your preferred mutual fund. Here, you will have different types of filters to choose the appropriate option for mutual funds. Suppose we are Choosing an Equity Fund having Large capital stocks.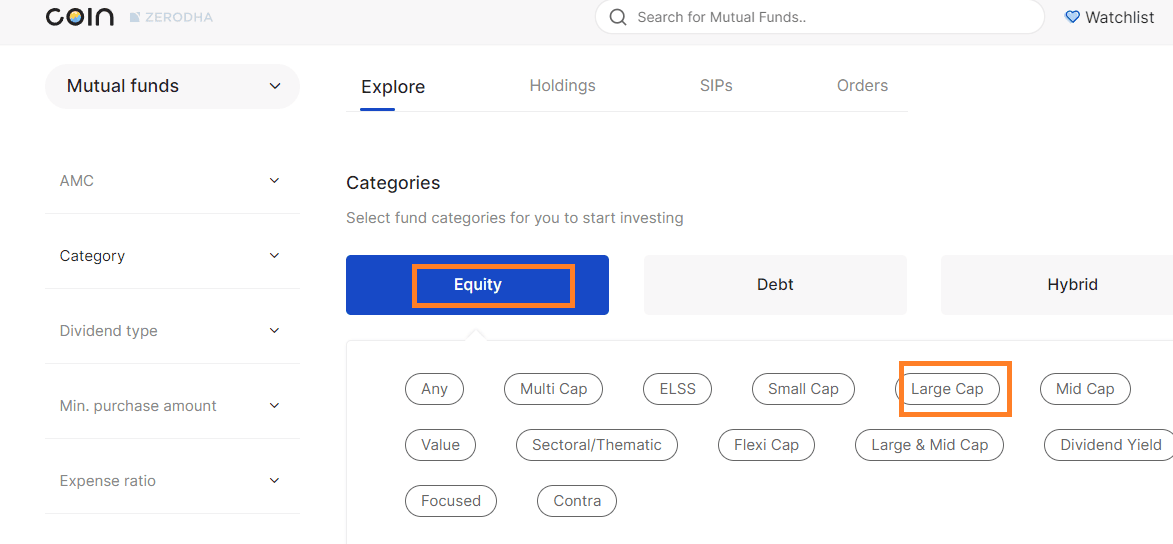 Step 3: Select the mutual fund of your choice. For example, we are selecting the 'SBI Blue Chip Fund' here.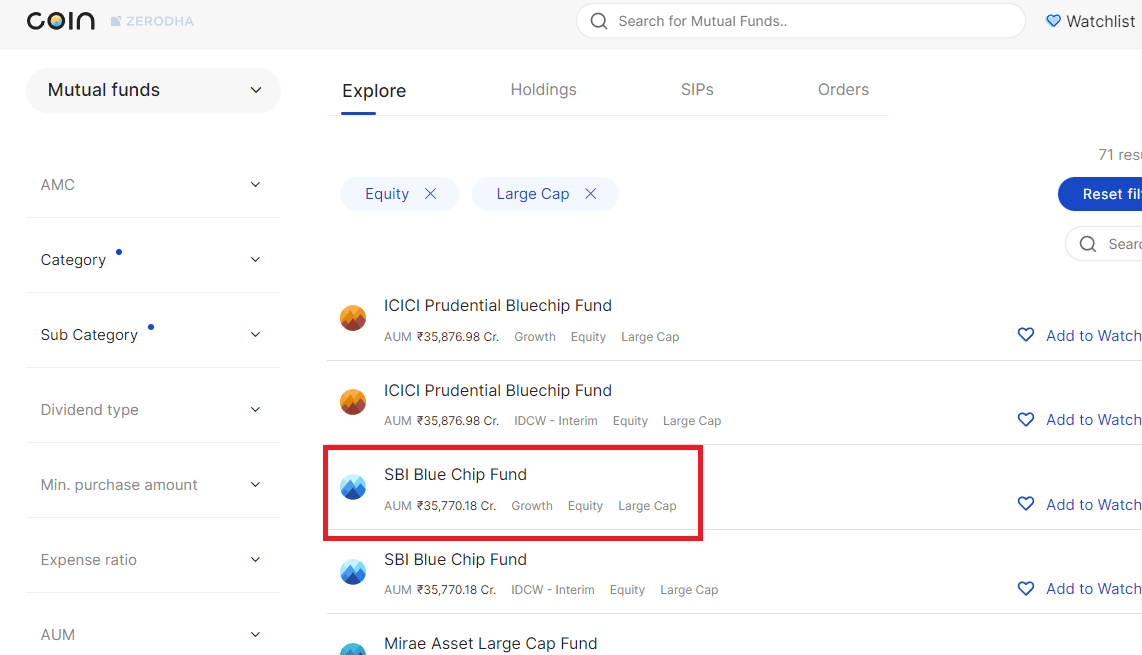 Step 4. You'll get two courses of action for investment. One is SIP, which will give you monthly or weekly investment plans, and another is a one-time investment.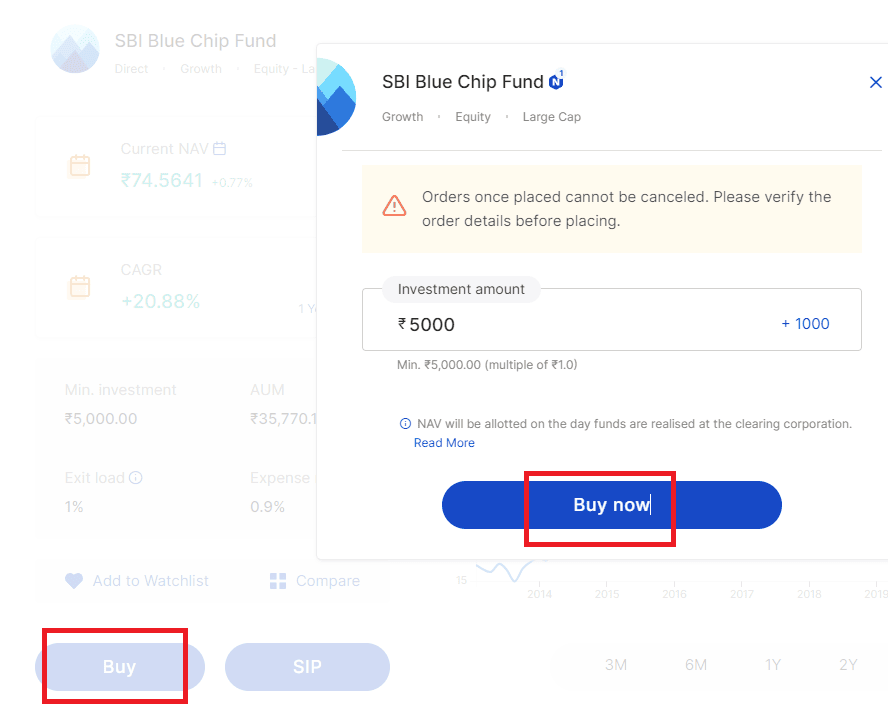 If you choose a one-time investment, the amount starts from rs. 5000/- to any extent you want, and in SIP, you will get to select the frequency, date, initial investment, installment amount, and increment percentage. The amount for SIP will be according to your plan.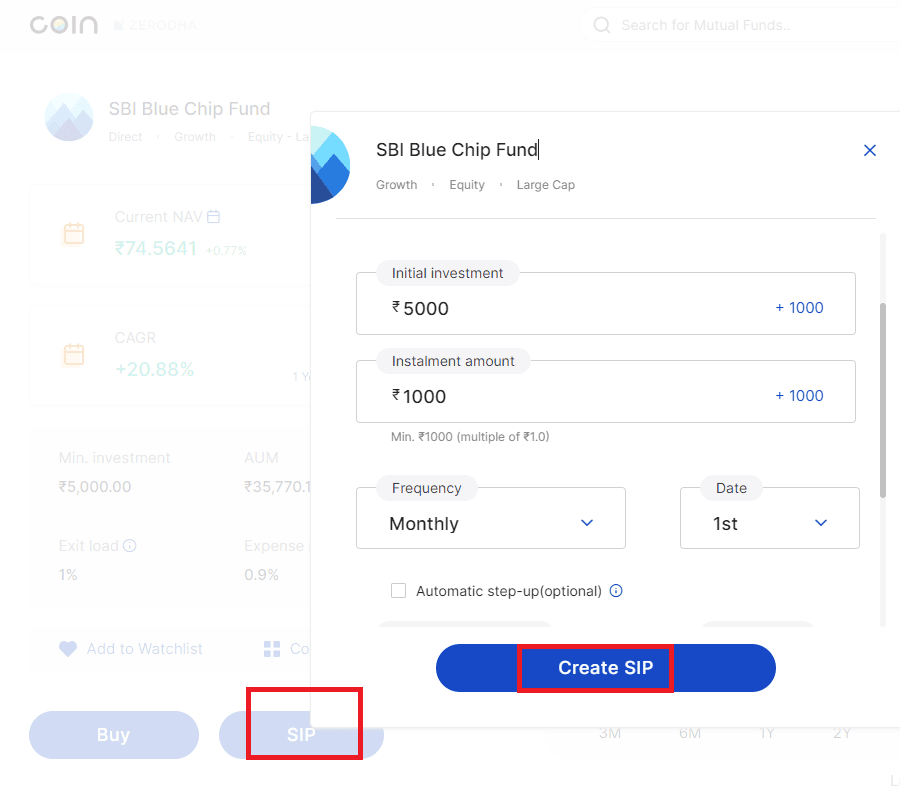 Step 5: Once you select the Buy Now option,  you can add money according to your estimate. Here we are entering 5000 rs. it will ask you to confirm it.  complete the process by clicking the Pay Now button.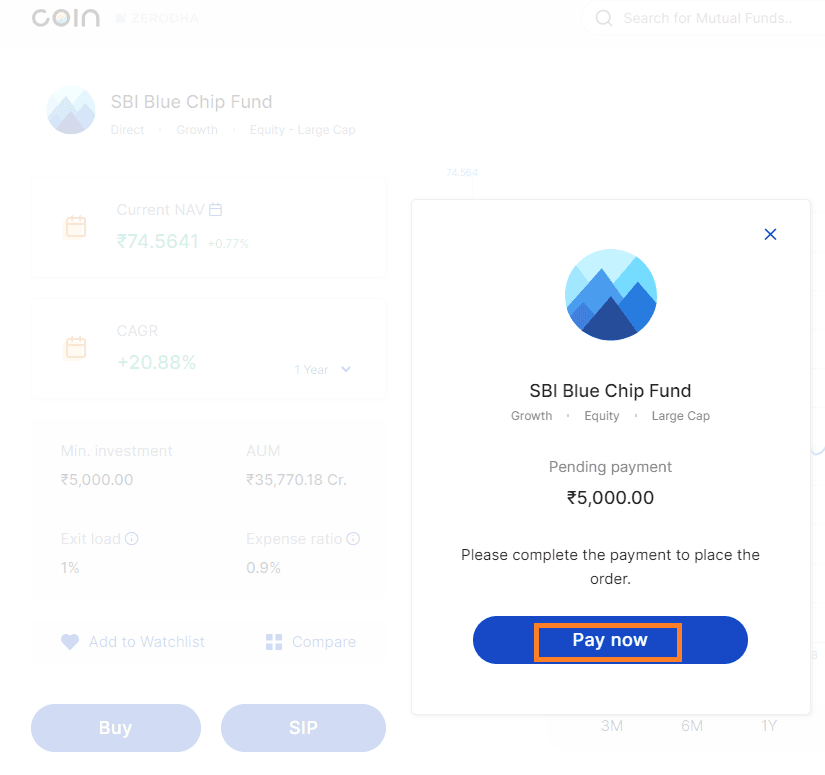 You can add the amount in the Amount box provided from your bank account that is linked with your Demat account. Now, you can pay the amount through UPI, Net Banking, GPay, etc. The options will be there in list form. After selecting the method, click on the Continue button.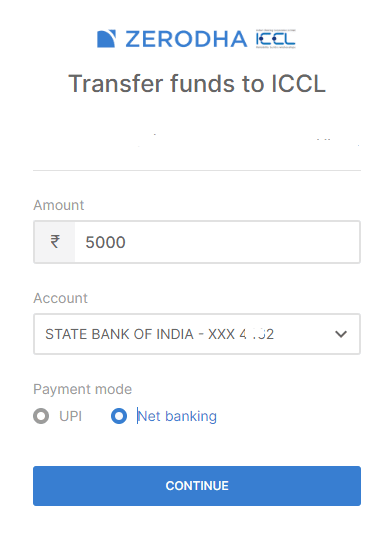 Once you click on any payment method, it will redirect you to the main payment page. In this area, you have to complete the payment process, and the process will be successful. Your order-placing procedure will be successful.
The next day company will execute your order as soon as the market opens. They will update all the information related to the investment in your mutual fund portfolio within 3-4 working days. Here, it'll be easy for you to track the market rate from the portfolio. So in this way, you can invest in mutual funds through the Zerodha platform.
Conclusion
With this Coin app, people can see and track down the market values of mutual funds. Zerodha Mutual Fund buying may seem tricky, but once you finish buying, managing your portfolio is effortless. But before investing or buying, you should confirm the mutual fund where you want to invest. You can research which company mutual fund is in a good place in the market and how it is accomplishing.
Its graph, growth level, return amount in last 3 months, expense ratio, exit load, etc. People should research every time they wish to buy a new mutual fund. Because of market ups and downs, which mutual fund is beneficial for the long term, or which one will generate regular income, investors should know at the beginning. We are hoping this article will be helpful to you with your mutual fund buying aspiration.