In recent times, users are getting inclined towards the benefits of investment. Having an investment plan helps tackle any unexpected financial crisis. In addition to this, the investment provides financial freedom and security to individuals. As a result, numerous investment plans are introduced by banks and independent financial institutions.
Among the traditional ones such as Fixed Deposit and Recurring Deposit, individuals are resonating with mutual funds and SIP investments, owing to their attractive returns and better liquidity. While the mutual fund schemes offered by some of the private financial organizations may not seem reliable, SBI, the trusted government bank has been an active provider for investment instruments.
The State Bank of India started its operations back in 1987 in Mumbai. SBI offers investment in mutual funds for the long-term, mid-term, and short-term. In addition to this, the bank also offers various types of services pertaining to mutual funds such as mutual fund calculators, mutual fund guides, tax saving options, and more.
If you have invested in a mutual fund with the SBI bank and want to liquidate your SIP, you will need to opt for cancellation. Let's help you understand the procedure to cancel your SBI mutual fund SIP plan.
What are the Steps to Cancel Mutual Fund SIP with the SBI Bank?
There are numerous ways to cancel mutual fund SIP with the SBI Bank. We will cover most of them for you to select the most convenient way.
1. Cancel SBI Mutual Fund SIP Online
You can cancel your SIP in two ways using the online mode. The first way is to visit the website and do it yourself
Below are the steps you can follow to cancel your SIP online:
Step 1: The first step is to visit the SBI Mutual Fund website. I will provide you with a direct link to go https://www.sbimf.com/en-us/investor-corner/investor-services/non-financial-transactions.
Step 2: Once you click on the link, you will find a non-financial transaction header with options such as Update Details and Check the status of the request. Here, you need to scroll down from Select Request. In this tab, you will find options such as Updation/ Change of Email ID., Updation of PAN, Updation of KYC Status, Addition of Multiple Banks, SIP Cancellation Request, and more.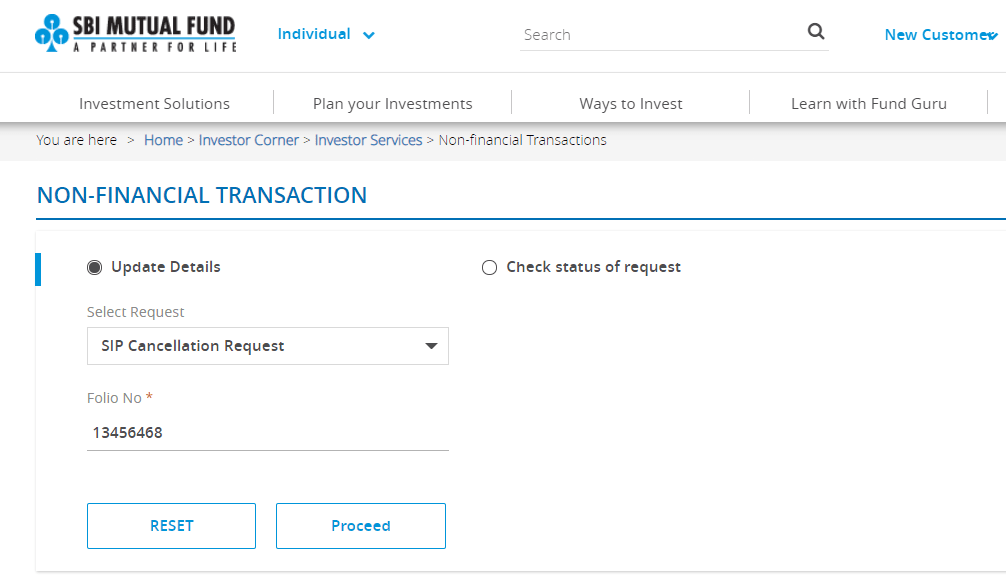 You can select 'SIP cancellation request' from the menu.
Step 3: The next step is to add the Folio No. in the required section and then click Proceed.
Upon the processing of your request, the SBI bank executives will cancel your SIP. It might take about 30 days for the processing of the request.
The second way to close your SIP with SBI bank using the online mode is through an agent.
You can contact your investment agent and talk to him/her about your account closing request.
After placing the request, you can furnish the necessary details, and then they will log in to their portals to cancel your SIP mutual fund portal account.
2. Cancel SBI Mutual Fund SIP Offline
Often than not, frequent fluctuating in portfolios create a panic among the investors. However, the market is a volatile place with constant ups and downs. But if you feel that your fund is not performing as you expected, you would want to close your SIP. If you are not very tech-savvy, you can use the offline mode.
Below are the steps you can follow to cancel your SIP offline:
If you have signed up for SIP, you would have an agent, investing in your portfolio, you can talk to your asset manager to initiate the process. If you want to do it yourself, you have to inform your asset management company.
The next step is to require an appointment form from the transfer agents.
The appointment form will require you to furnish details about your bank account that is linked to the folio, folio number, name of the SIP scheme, SIP amount, and PAN. In addition to this, the form will also ask you for a specific date from which you want to discontinue the scheme.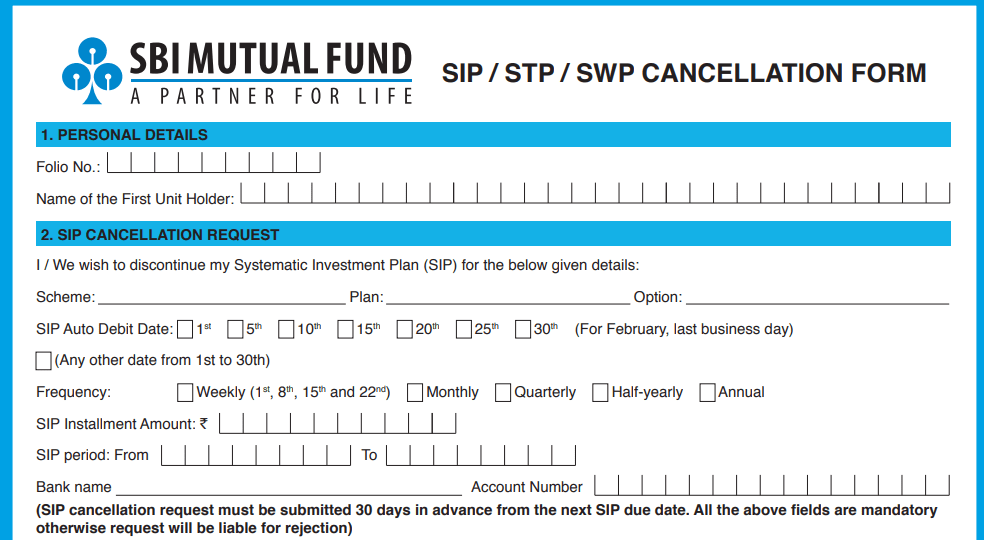 Once you complete filling in details, you can submit your form to your asset manager.
It would take about 21 days for your cancellation request to be processed. Although the time varies for different fund houses, you can talk to your local bank about the processing of your funds.
| SBI Mutual Fund Services | Contact |
| --- | --- |
| Toll Free Number | 18002093333  or 18004255425 |
| Email | [email protected] |
Conclusion
Before closing your account, it is a good practice to check with your asset manager or portfolio manager about the current status of your funds. In addition to this, identify the hidden costs if any. Usually, there are no charges. However, some companies might just ask for a processing fee or transaction fee.