Do you not require the ICICI credit card anymore and are looking for a permanent solution to close the account? Well ICICI bank has an easy procedure for its cardholders to help them close their credit card easily. For this, you need to follow certain instructions given by ICICI bank. To ensure successfully closing your credit card account.
Here are the instructions on how you can close your account both online and offline. So sit back and relax until you finish reading this article.
1. Contact Customer Care
The first thing that ICICI account holders can do is make a call on the customer care service number. The call can be made on ICICI toll-free number 1800-200-8181. This procedure can easily be done online. Those who wish to cancel their credit card service then can raise a request for credit card cancellation. The customer care service provider will tell you how to proceed further.
2. Fill A Credit Card Cancellation Form
Another way to cancel your ICICI credit card is by filling a credit card cancellation form on the official website of the bank. You need to submit some essential information like your credit card number, your reason for cancelling your credit card, your city, your contact number and an active e-mail ID.
As soon as you complete the form and your request for cancelling your ICICI credit card is made, you will receive a call within 3 working days. This is to ensure and confirm your credit card cancellation. So fill the form with correct information and contact number as well as email.
Therefore within 7 working days, your credit card cancellation request will proceed after a phone banking officer will contact you.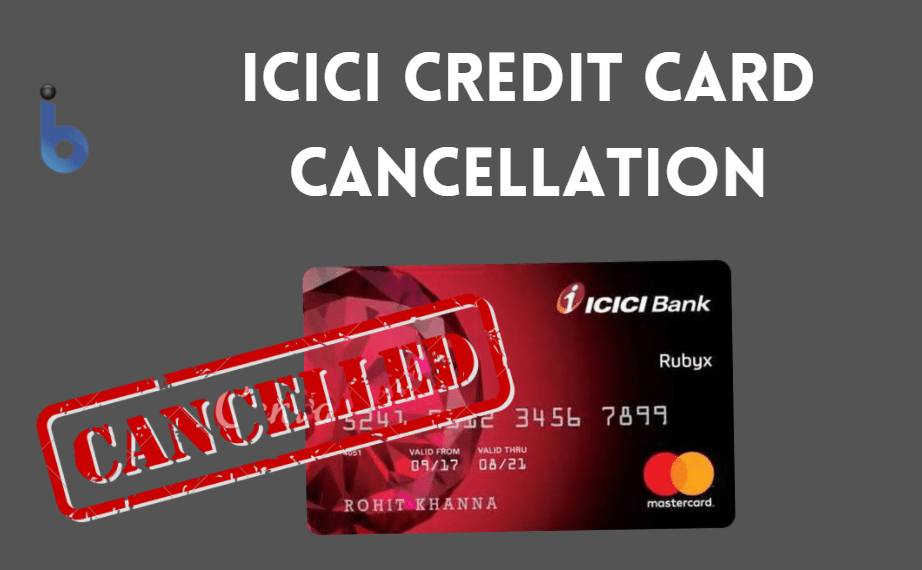 3. Closing Credit Card Account By An Email
Another way to close your credit card account is by writing an email to the credit card issuer. Raise your request to close the credit card account by using formal and straightforward language. Make sure that the ICICI bank provides this facility. If the bank accepts email cancellation then you will find a dedicated email where you are supposed to write the email.
Services
Contact
Toll-Free Number
1800 103 8181
1860 120 3399
Email
[email protected]
4. Closing Credit Card Account By Branch
If you want to close your credit card account by branch this is another offline option available. For this, you have to visit your nearest ICICI branch, fill a form and submit it to the authority directed by the staff present there.
Important Things To Do Before Cancelling ICICI Credit Card Account
Getting a credit card is not a big deal, you only have to maintain a minimum transaction every month. Plus you have to have a stable job that can ensure you can pay your dues well on time. But have you ever wondered what all you need to do when closing your credit card account?
No worries because below are three important things you need to do before you apply for cancelling your credit card account. These will help you speed up your credit card cancellation process without ensuring any losses.
Pay Off All Dues
Before applying to cancel your ICICI credit card, the account holder must clear all the EMIs, dues or debts that the credit card carries. This will help you speed up your credit cancellation process.
Redeem Reward Point
Redeem the reward points before applying to cancel the credit card. Most people forget to redeem rewards and miss out on getting gifts for free that ICICI has for them. You can start collecting rewards and redeeming them all before cancelling your credit card from ICICI bank's reward catalogue.
Stop Using The Card
As soon as you think of cancelling your credit card try not to use the card further. Clear all your dues, debts and EMIs and once the cancellation request is raised stop using the card. If you continue to use your card the bank will terminate the ICICI credit card cancellation process as soon as the cardholder makes a fresh due.
Conclusion
These are a few essential things that a person should know before applying to cancel their ICICI bank credit card account. Make sure you clear all your dues and don't use a credit card once the application for cancellation is made. In both cases, your cancellation process will slow or may even be terminated.