As per international laws, a Passport is essential for everyone while traveling to different locations in other countries. For example, suppose you are wondering how to find an Indian passport file number; you are at the right site. Stay tuned to learn more about the Indian passport.
How to Apply For an Indian Passport?
Applying for an Indian passport requires the submission of some relevant documents. You must complete an online/offline form and submit the necessary documents for a Passport Seva Kendra, or a passport office. Then, you will get your appointment scheduled.
On your scheduled appointment date, if all the relevant documents are correct and the required application fees are paid correctly, the passport authority officer will accept your passport application and keep it with them for further necessary actions. Then, you will receive an acknowledgment receipt, having written "Passport Reference File Number (PRFN)" on the receipt. This (PRFN) is a Unique Serial number of your Application file, which is generated for further processing of your application.
What Is a Passport Reference File Number (PRFN)?
(PRFN) is a 12-digit number in alphanumeric format, set in three parts.
First part: It consists of the four letters representing the City/Place of the application submission.
Second part: It is followed by the next two digits, which indicate your application year.
Third part: It includes the last six numbers, representing the applicant's number in that application submission city and year.
For example, suppose your (PRFN) is "MUMB21004239." Then your application number will be 4239 in the Mumbai passport office in 2021.
How to Find File Number in Indian Passport Offline?
To know your file number, open the last page of your passport. At the bottom of the last page below your personal and address details, you can see the passport file number easily. The file number is very important, so keep pictures or photocopies of passport pages in a safe place.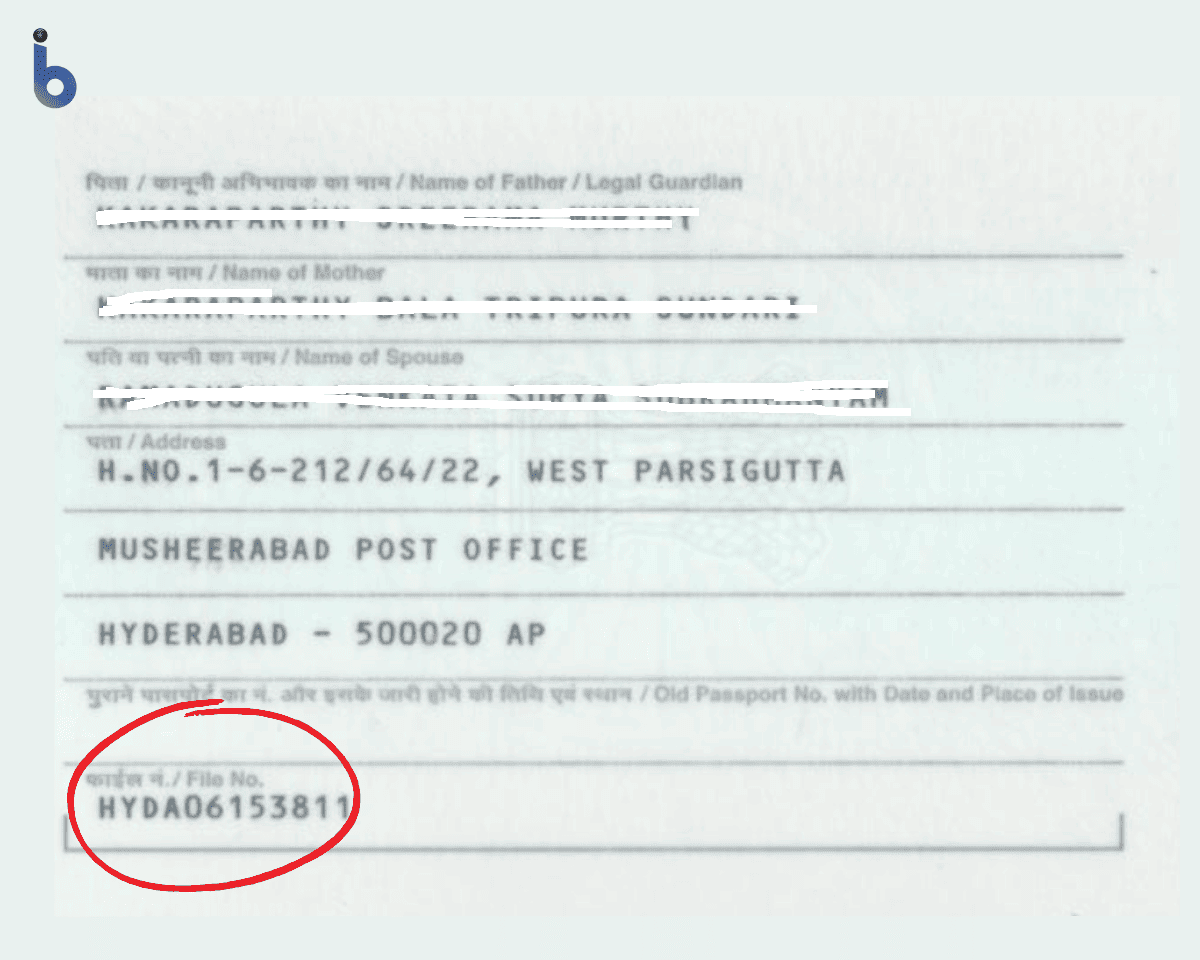 How to Find File Number in Indian Passport online?
If you were looking to find your Indian Passport File Number online, then you can follow these quick steps for same, such as
Step 1: Firstly, open Google and type passport. Click on the first link, i.e., https://www.passportindia.gov.in.
Step 2: Now click on the existing user ID. Next, enter your login id and click the continue button. Click on the login button by entering your password and captcha code.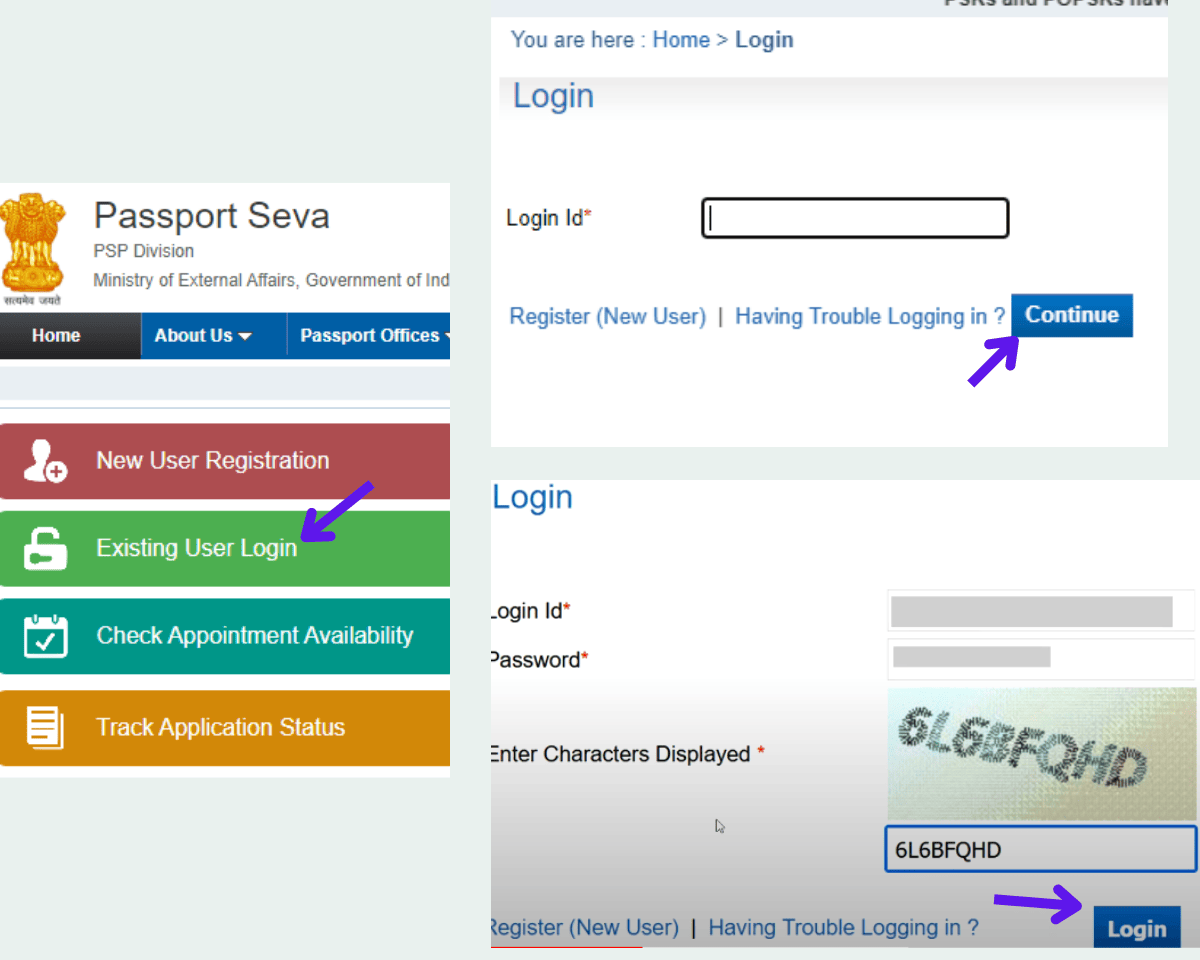 Step 3: Now, a new window will open before you. Click on the View saved/submitted application option under the Services section on the left panel of the Window.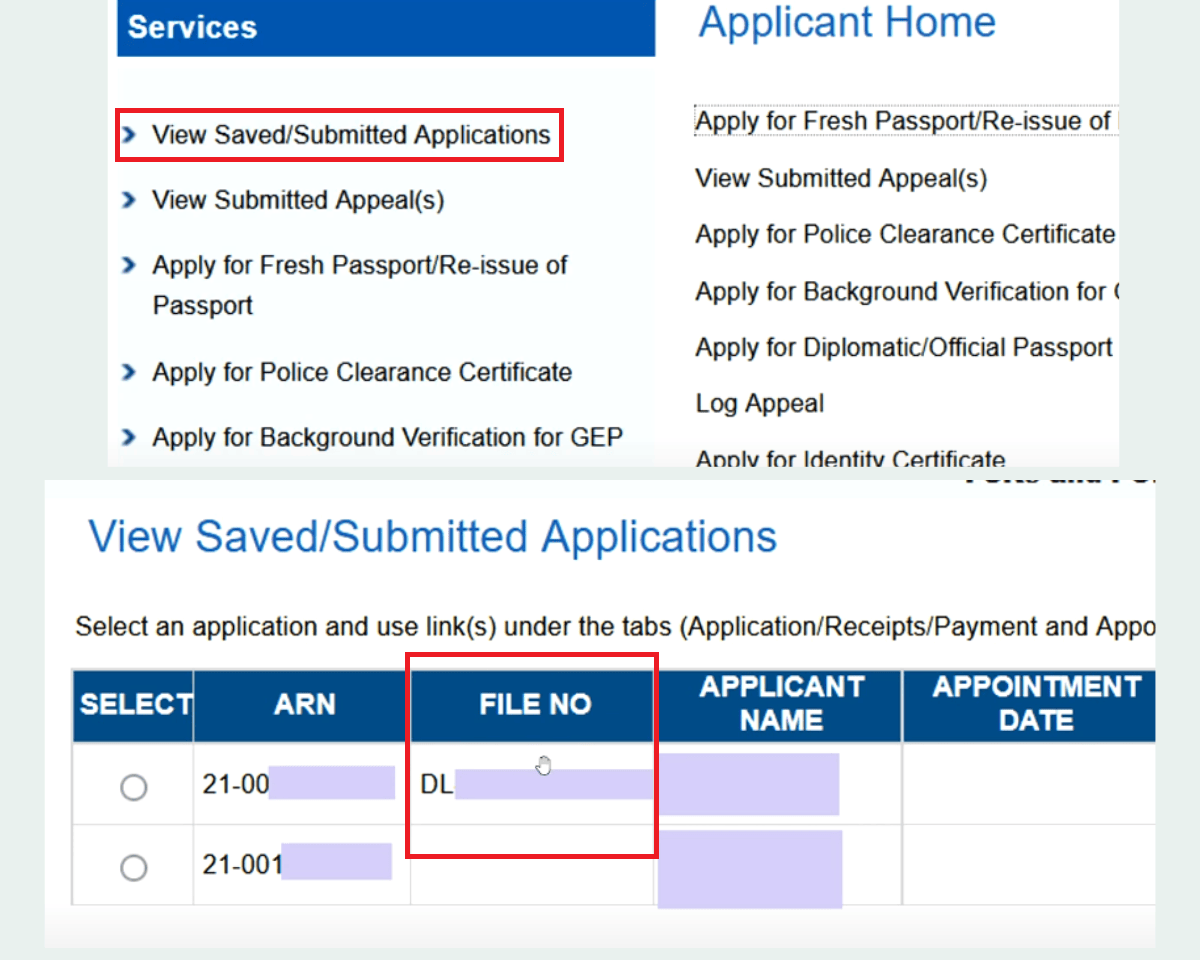 Step 4: A new page will open up on your mobile screen, where you can see the details of your passport application file, such as ARN, FILE NO, APPLICANT NAME, and SUBMISSION DATE.
Here you can see your PRFN with the title of FILE NO.
If you want to know about your passport status, select your application submission date on the View saved/submitted application page. Go to the Application section and click on the Track Application Status. Then you will see a message on your mobile screen, stating that your passport number xxx…. and has been despatched on the date xxx…. via Speed Post. The tracking number is xxx…
This way, following the above-mentioned simple steps, you can find an Indian Passport File Number.
How to Get a Passport Number If Lost?
By following the below given simple and easy steps, you can get your lost passport number reissued, such as:
Firstly, register an F. I. R. in your local police station regarding your lost passport.
Then search passport on google and click on the Passport Seva link.
Now click on the New User Registration and create your account.
Then, return to the website's main interface and click on the Existing User Login.
Go to the Before You Apply section > click on the Forms and Affidavits option > click on the Annexures /Affidavits > download Annexure 'F' > Fill the Annexure 'F' digitally.
Return to the Before You Apply section > click on the Document Advisor option > click on the Document Required for Reissue of Passport and complete the formalities as per the List of Documents Required – Reissue of Passport > click on the Continue tab.
Click on the Lost/stolen Passport option with the Reason(s) title for reissue > click on the View Required Documents tab. Now you can check if all the required documents are submitted correctly or not, and then do the needful accordingly.
This way, you can get a Passport Number if lost. However, you should know that reissuing a lost passport number requires additional information and documents. Otherwise, the rest of the procedure remains the same as for getting a new passport.
Final Thoughts
Now, if you were confused regarding the process of how to find an Indian passport file number, we are sure you must have gotten your answer by now. It would be best if you were alerted to fake websites related to Passport services. The official website for the Government of India, of the Ministry of External National Call Centre Affairs, for applying for Passport services is www.passportindia.gov.in. Hence, you must always resort to the official website for any necessary and hassle-free action.