Bank of Baroda is an international bank. It is the second-largest bank and a prominent financial services provider in India, with many retail and corporate customers across several countries. The bank's internet banking section used to offer various products and services under the blanket of 'BarodaConnect' provisions.
Like other banks, even the Bank of Baroda provides net banking services. However, you must register for Bank Of Baroda's net banking and create your User ID and login password to access your BOB net banking account.
Every BOB customer with a Savings Account or Current Account with the bank is given a Customer ID or Customer Information File (CIF) number. This Customer ID is a unique identification number for every account holder.
However, it would be best to remember that net banking user ID and customer ID are entirely different. So, you should always know your BOB net banking registered username for many reasons. For example, if you forget or misplace your BOB user ID, you will not be able to access the internet banking facilities.
However, if you do not remember your User ID, you can still take a back seat and relax as we have your back covered. If you are curious about how to Get a Bank Of Baroda User ID through SMS and e-mail, follow this article for the same.
Steps To Get Bank Of Baroda User ID Through SMS and E-mail
If you fail to remember and need to know your Bank of Baroda Internet Banking user ID, then don't worry. Instead, you can simply follow the below given authentic information and easy instructions to receive it online, such as:
Step 1: Open the Chrome browser and Type BANK OF BARODA in the search bar. Click the Search icon and click on Bank of Baroda official site – https://www.bankofbaroda.in.
Step 2: Now you will see the BANKING SOLUTIONS page. Click on the Login icon at the top-right side of the screen. Now you will come across For Customers, For Employees (Bank of Baroda Staff), and For Ex-Employees titles and various options under these titles.
If you are an Indian resident and account holder of BOB, you must click on the For Customer title and Select the Baroda Connect (Net Banking) India option. But, if you are from another country, Select the Baroda Connect (Net Banking) International option.
Step 3: Suppose you click on the first option, then you will see the orange-colored login page and Click on Forgot User ID option.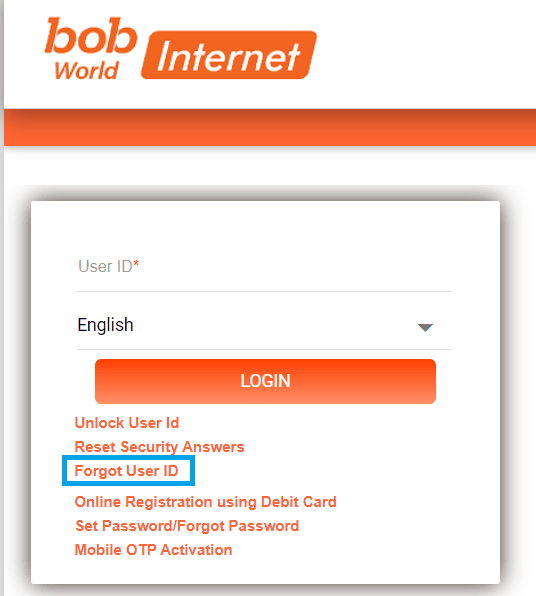 Step 4: A popup window will open before you and display the Online Retrieval of User ID page. Enter your bank account number and Select your mobile number or e-mail ID, then enter your registered mobile number or e-mail ID (depending on your chosen option).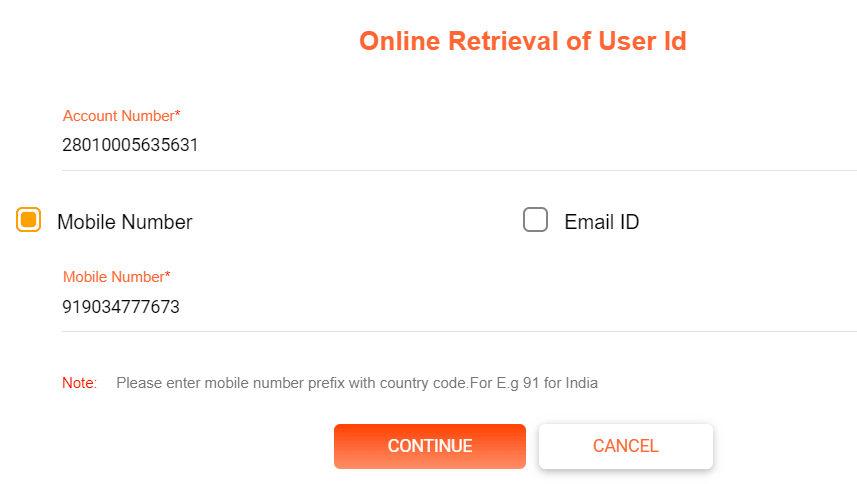 Important Note: If you select the mobile number option, then you will have to enter a mobile number prefix with a country code—for example, 91 for India. So, for example, suppose your mobile number is 7976777879. In this case, you must enter 917976777879 and click on the Continue button.
Step 5: Now, the system will send the 'One Time Password' (OTP) to your registered e-mail ID and mobile number (recorded with the bank). Now you must enter the OTP and click on the orange-colored Continue button.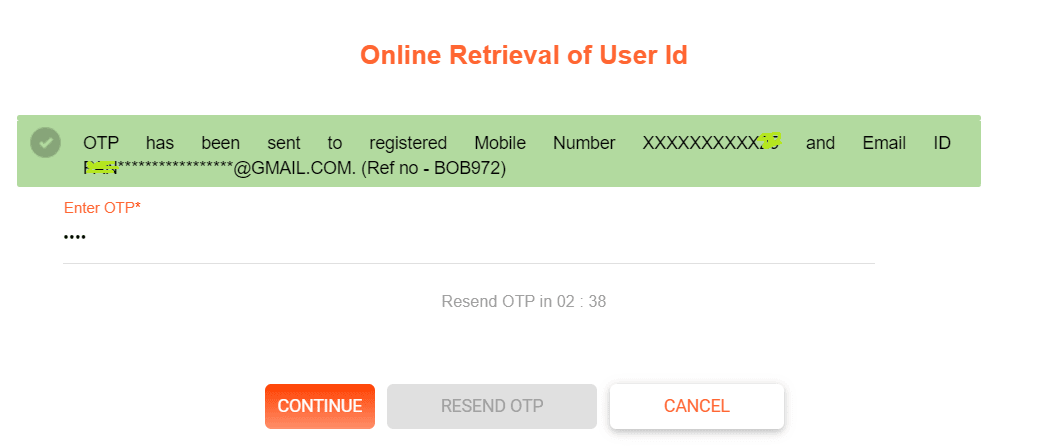 Now, you will receive a message that the User ID is sent to your registered mobile number or e-mail ID. That's it. Following the above-mentioned steps, you can receive your User ID in a few minutes. However, ensure an active internet connection to proceed with the steps securely.
Conclusion
If you are using BOB net banking services and need to know: How to get a Bank Of Baroda User ID through SMS & e-mail, then we can expect that after going through this article now, you are well aware of the related facts. Therefore you will not be clueless about your query anymore.
However, there may also be cases where you will see an error such as "DETAILS NOT MATCHED," but you might have entered your details wrongly in the required information section. So you can check it and correct it. But if you have entered the correct information, and still, the same error appears, then to solve such a problem, you can call the customer care service at its toll-free numbers, 1800223344 and 18001024455.