Bandhan Bank is one of the highest growing private sector banks and currently serves many customer-friendly, attractive banking services across the country. You can easily open your regular Savings Bank Account with Bandhan Bank. If you are a new customer with this bank, or if you forgot your current Bandhan Bank ATM PIN or want to change your ATM pin, Bandhan Bank provides the facility to its customers to change or generate a Debit card ATM PIN through Mobile Banking & net banking.
If you are availing of both these online banking facilities, then you can quickly generate an atm pin online. Other than these methods, you can generate a debit card pin instantly by calling on their customer card number. So let us check the quickest way to generate Bandhan Bank ATM Pin by calling. Keep reading to know the easy process.
Easy Steps To Generate Bandhan Bank ATM Pin
Suppose you are having a Savings Bank Account with Bandhan Bank and you are having an ATM card also. Suppose you forgot your current Bandhan Bank Debit Card PIN and want to change or generate your debit card pin. So don't worry about anything.
Just read the below-written text material of this article. You will get complete information on all the needful aspects of Bandhan Bank Debit/ATM Pin Generation by simply following some simple and easy steps, such as:
To generate an atm pin, make a call at number +91330902222 or +913366096709 from your registered mobile number.
After that, you will have to Choose your preferred language. So do as required.
Now, you must enter your 16-digit debit card number and re-enter to confirm it as required.
After that, enter the necessary information as required to authenticate using your card expiry date and your date of birth.
After that, you will be asked to set and enter a four-digit PIN as per your choice. So do as asked to do.
Now, you will be asked to re-enter your new set 4-digit PIN to confirm the same. So do as asked to do.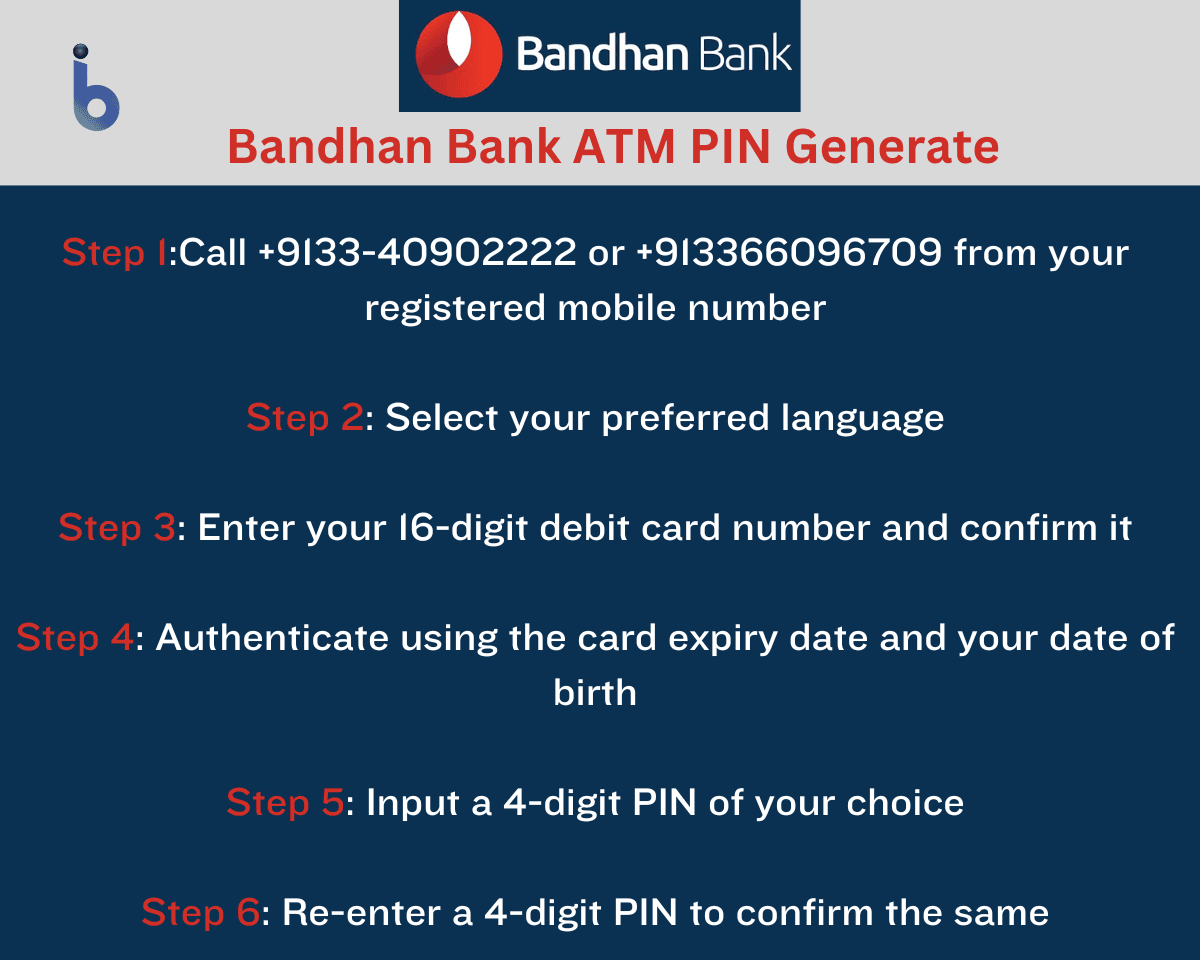 After that, you will receive a confirmation text message from Bandhan Bank on your registered mobile number that your PIN generation has been successfully done. So this way, you can quickly learn about how you can generate Bandhan Bank ATM pin by call method.
| Services | Contact |
| --- | --- |
| 24×7 helpline numbers | 1800-258-8181 (toll-free), +91-33-6633-3333, 91-33-4409-9090 |
| Email | [email protected] |
Important Takeaway Thoughts
Hopefully, by thoroughly going through this article till the end, you will have quenched all your queries about how you can easily and quickly generate your debit card PIN in Bandhan Bank.
However, in case you face any problems or difficulties in pin generation-related matters, you should contact any of Bandhan Bank's 24×7 helpline official toll-free numbers: 1800 – 258 – 8181 or +91 – 33 – 6633 – 3333 or +91 – 33 – 4409 – 9090 or you can write directly to their official website [email protected].
Bandhan Bank's customer care team of bank employees will help you in every possible way. Tell them your detailed grievances and follow the instructions given by the customer care executive so that you can get the best solution for your problems and difficulties.