Karnataka Gramin Bank is an excellent regional rural bank having its head office in Ballari district, Karnataka. This Bank came into existence with the amalgamation of two regional rural banks, such as Pragathi Krishna Gramin Bank, sponsored by Canara Bank, and Kaveri Grameena Bank, sponsored by State Bank of India.
Regional Rural Banks are commercial banks, which are also known as Gramin Banks. RRBs were established by the Government of India under the Ministry of Finance. Their main objective was to uplift the rural economy by fulfilling the basic banking requirements for developing various productive activities in the rural areas, such as Agricultural activities, buying or selling goods or services, and Industrial activities by providing loans and other facilities, especially to the poor and marginal farmers, Agricultural Laborers, who work on the others' land on wages and small entrepreneurs, etc.
So stay tuned for more information on Karnataka Gramin Bank Balance Check through Missed Call. Let's get started.
Operational Highlights Of Karnataka Gramin Bank
Karnataka Gramin Bank not only manages to create opportunities and financial support for the poor and marginal farmers and socially and economically disadvantaged individuals in rural areas but also creates opportunities for their livelihood and enhances the quality of their lifestyle.
Karnataka Gramin Bank Provides a lot of modern banking products to its customers, such as Savings Accounts, Current Accounts, New Nithya Nidhi Deposit, Term Deposits, Tax Saver Deposits, Agriculture Loans, and Retail Loans.
Karnataka Gramin Bank also offers many customer-friendly services/facilities, such as Internet banking, Mobile Banking, E-Statements, Safe Bank Locker, and Quick Funds Transfer, such as RTGS, NEFT, CTS, etc., Online Bill Payment through Debit cards/Mobile Banking/Internet banking, Missed call Balance Enquiry And many more.
In this article, we are providing you with detailed information and easy guidance on how you can know your Karnataka Gramin Bank account balance & current transaction updates through missed call facility.
Karnataka Gramin Bank Balance Check Number
If you are having a bank account with Karnataka Gramin Bank, and you want to know how to view and check your account balance and updated transaction details, then with the help of a newly introduced Missed Call Alert facility by Karnataka Gramin Bank, you can easily and quickly know this crucial information at free of cost from anywhere, and anytime. Moreover, you don't need anything special to use this facility, such as a high-end smartphone, any data connection, an SMS pack, etc.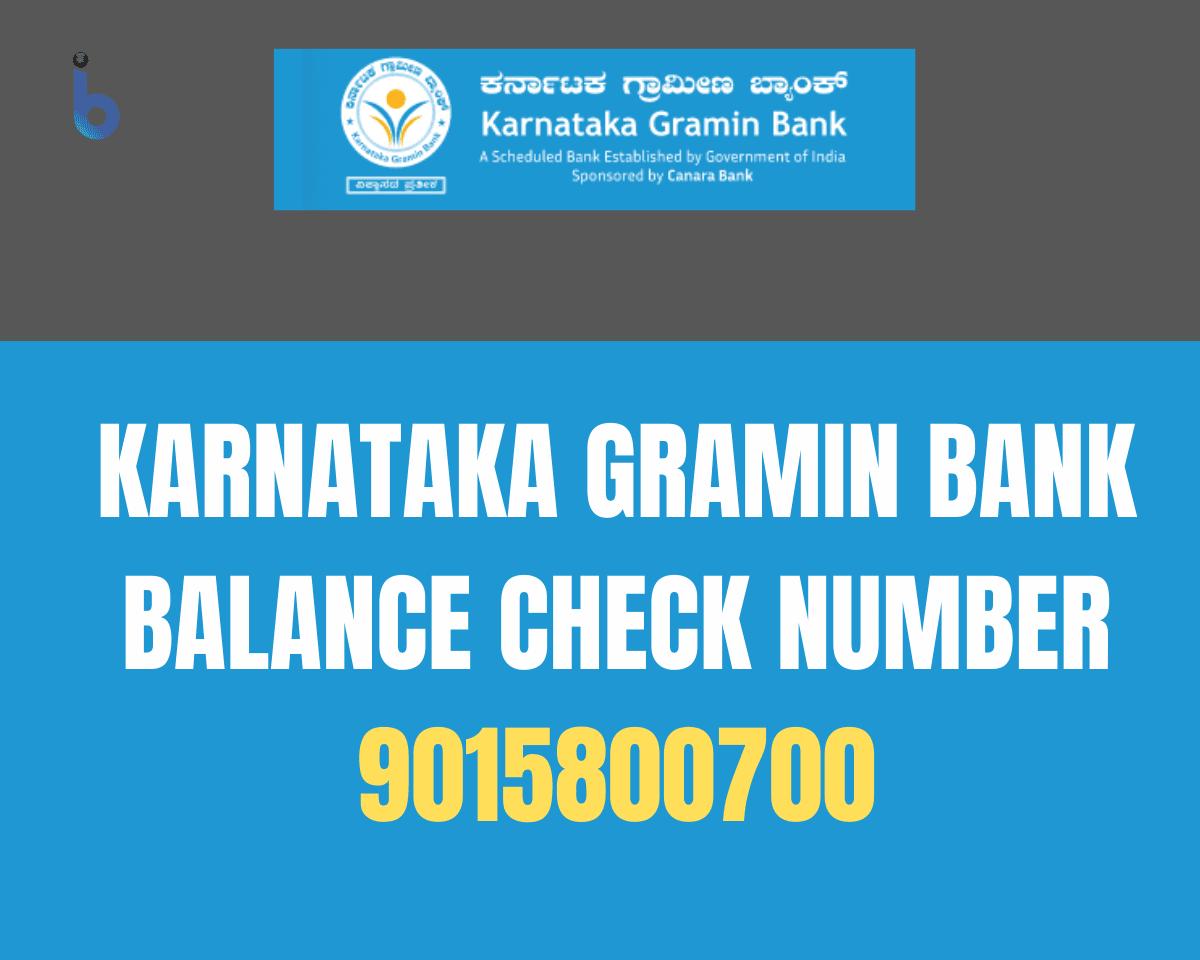 Karnataka Gramin Bank customers can easily use this facility by using any mobile handset and any mobile number of any Service Provider registered with the Bank for the SMS Alert facility.
Just follow the below-written simple and easy steps, such as:
Open your mobile phone and give a missed call at 9015800700 from your mobile number registered with Karnataka Gramin Bank for the SMS Alert facility.
After that, your call will be cut soon, and you will immediately receive a text message through SMS on your mobile phone.
You will see your bank account balance in this SMS.
So this way, you can easily and quickly know the Karnataka Gramin Bank balance using a check number without any hassle.
Services
Number
Missed Call Balance Check Number
9015800700
Mini statement Number
NA
Toll-Free Number
18001025250
Email
[email protected]
Address
Karnataka Gramin Bank,
Head office, Post Box. No.55,
32, Sanganakkal Road,
Gandhinagar, Ballari-583103,
Karnataka, India.
The Bottom Line
We hope by carefully reading this article till the end; you must have quickly learned about how you can know the Karnataka Grameena Bank balance through Missed Call.
However, in case you are still facing some difficulties or issues regarding checking on your Karnataka Gramin Bank account balance, you can contact them by making a call at their Toll-Free Helpline Number: 18001025250.
You can also write your grievances or queries, or issues at Karnataka Gramin Bank's Customer Support website: [email protected]. Your queries or issues will be shortly responded to help and guide you satisfactorily.