There are two Bihar Gramin Banks in Bihar, Uttar and Dakshin Bihar Gramin Bank. Both banks are very popular in rural areas of Bihar.
Uttar Bihar Grameen bank: Uttar Bihar Gramin Bank is a Regional Rural Bank (RRB) in Bihar, India. The bank was formed by joining Uttar Bihar Kshetriya Gramin Bank and KosiKshetriya Gramin Bank by the Government of India in 1976. It is headed by the Central Bank of India in the state of Bihar as a separate RRB. The bank's headquarters lie in Muzaffarpur.
Dakshin Bihar Grameen bank: Dakshin Bihar Gramin Bank is a regional rural bank (RRB) in Bihar, India. The bank was consolidated on 1 January 2019 by joining 2 RRBs namely Madhya Bihar Gramin Bank and Bihar Gramin Bank. Dakshin Bihar Gramin Bank is headed by PNB Bank. This bank has 1078 branches.
Bihar Gramin Bank provides the means of missed call service and SMS service for each account owner who wants to check bank balance instantly. These services are beneficial because you will be able to get the required information promptly. You have to get your mobile number registered with the bank firstly.
Uttar Bihar Gramin Bank Balance enquiry with missed call service
You just need to dial 9223008811 with your registered mobile number. By phoning this toll-free number, you will be able to review your bank balance anytime. It is the simplest way for every account holder who wants to receive news on balance enquiry in Bihar Gramin Bank. You can dial the number 9223025111 from registered mobile number to get UBGB mini statement through missed call.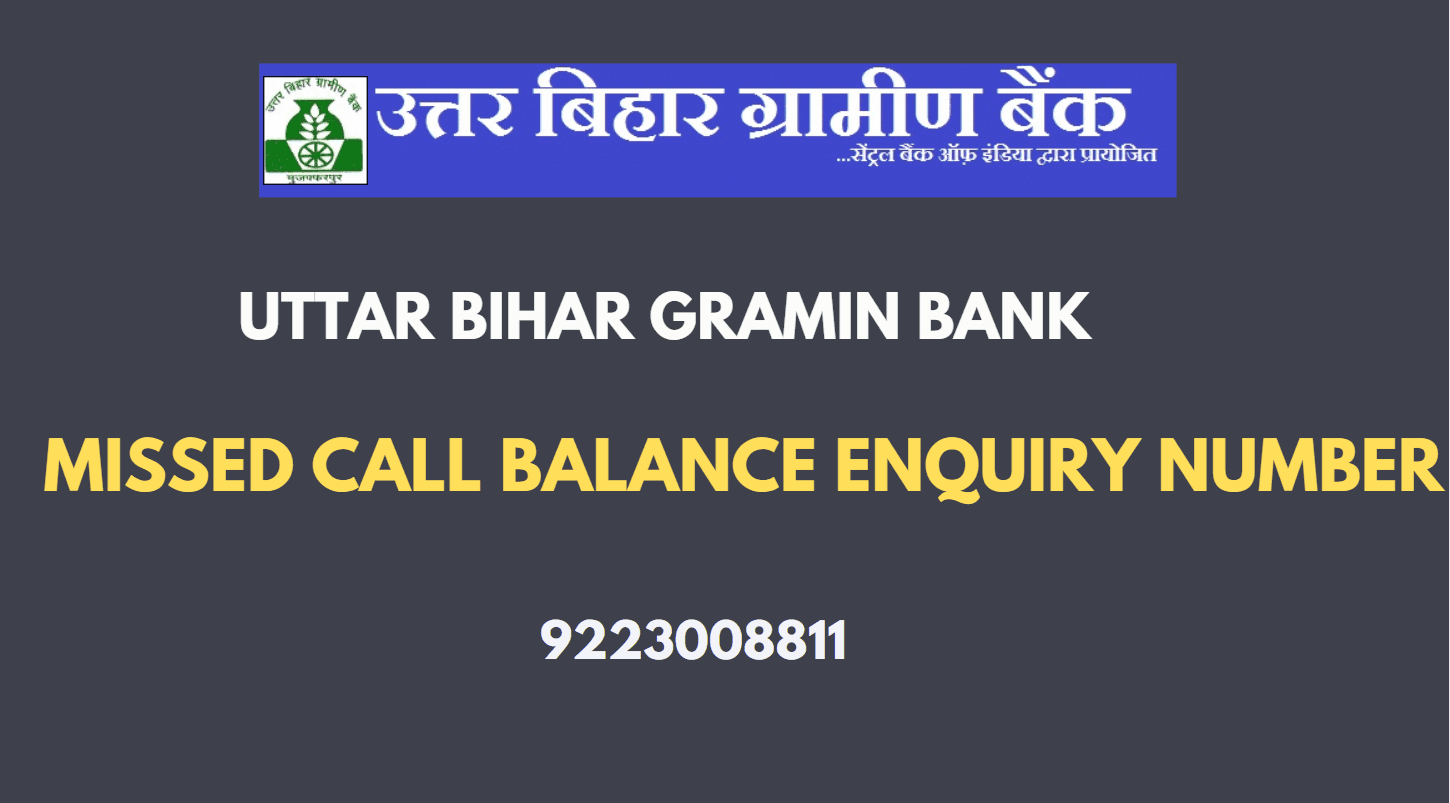 Balance request with SMS service in Bihar Gramin Bank
By employing your registered mobile number, you just require to send a text message with keywords BAL to the above number of Bihar Gramin Bank. By this means, they will text you back with full details of your bank balance. It is also toll-free for every account holder in Bihar Gramin Bank.
By utilising both of these means rendered by the bank, the account holders do not have to visit the ATM branch or Bank branch to get enquire about their balance. It is essential to use your registered mobile number to avail these benefits by Bihar Gramin Bank.
If you need to list your mobile number in this bank, you can use the online method by using internet banking, or you can visit the nearest branch of Bihar Gramin Bank some time. After finishing the registration process, you can use these amenities anytime for balance enquiry in your account.
Bihar Gramin Bank Balance Enquiry through Mobile App
Android banking is quite secure nowadays. The bank provides a phone application for the Android and iOS version to check account balance. The process for using the banking app is :
Hit the branch to initiate Mobile Banking Services.
Confirmation of KYC and activation of Mobile Banking services.
You can then enroll for Mobile Banking just by ticking 'New Registration' accompanied by entering the information sought.
You can also request to customer care aid department to get more information about a mobile banking application
For Dakshin Bihar Gramin Bank, you can also use its official mobile banking application: DBGB m-banking.
It's more comfortable to access and handles your enquiries efficiently. The conventional forms of getting balance information involve: bank passbook update and inquiring balance inquiry at the ATM.
Both of these are time-consuming as the clients need to fill in a long queue. With the digital upheaval in the banking sector, the banks launched several convenient ways for the customers to access banking services. That's the purpose for which they started to check account balance enquiry via missed call or SMS.
Dakhin Bihar Gramin Bank Balance Enquiry, as well as customer care and a toll-free number, is 18001807777. You can call on this toll-free number and know your account balance through customer care executive.