The Andhra bank has made an initiative of providing their customers an online services where all they have to do to check their balance is by giving a miss call on from your registered mobile number on their number.
Then after a ring or two the call will be disconnected automatically and you will receive a message on your phone under different categories like saving Bank account, Current Account, Credit card balance, and Over Draft will be shown.
Missed call to be given on the following number: 09223011300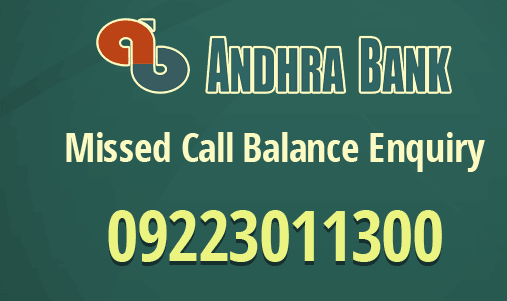 Their new service is called as AB e- passbook and all the account holders can access this service. Through this service, you can view your passbook online.
How to start this service?
All the account holders have to view their passbook on their android phones and there will be an application that you will have to use to get it accessed.
The first thing is to install the application from google play store
After installing it, enter your registered number.
After doing that, you will receive an SMS OTP.
Using that OTP, create a new pin and you can start using that application easily.
The Pros of using this application:
It maintains the passbook of the multiple accounts.
Gives you the balance inquiry immediately.
Share all your account details.
Locates the nearest ATM.
Refers the bank to your friends either by SMS or Email.