Mobile Banking service is a blessing of banking Industry for the people who get the least time to transfer money from one source to another. IMPS, IMMEDIATE PAYMENT SERVICE is an instant money transfer service where money can be transferred instantly.
Now the banking is made easy. You can now send or receive money using your mobile phone. A 7-digit number called MMID is generated to ensure that the money transaction was successful or not.
There are several benefits of MMID number when it comes to making payments or money transfer via IMPS in State Bank of India. Let us look at some of them:
MMID number gives you flexibility and you don't need to add a beneficiary and take the unnecessary pain.
Real-time money transfer.
This method instant and just a flick of a second, your money would reach from one place to another.
IMPS service is only available for the SBI Mobile Banking users. However, anyone can receive Money using this instant service without any hassle.
If you are new to IMPS and want to get funds transferred through this service, you would be asked to register your mobile number in order to get an MMID number from the bank.
When anyone sends money to your account, the bank would ask you to share your phone number along with the MMID provided by the bank itself.
Here are Four methods to get MMID number for State Bank of India?
1. Get MMID By Visiting SBI home branch
SBI account holders who have activated mobile banking would get a 7-digit MMID number for the primary account.
If you want to get MMID number for other accounts as well, you need to visit the bank branch and fill an application form for getting MMID number.
2. Get MMID through SBI ATM
For users, who have not activated mobile banking, can visit the ATM and send a request for the MMID number for their primary account. Follow these steps:
Swipe your ATM card
Click on Mobile Registration
Now enter ATM pin
Then Select 'SMS /Secure Code / IMPS'
Now enter your mobile number
Finally Confirm it.
3. Get MMID through SMS
You can get the MMID for your account by sending the message 'MMID SBI' to 9223440000 from registered mobile number.
4. Get MMID by calling customer Care
Call toll free number 1800 425 3800
Pick Mobile Banking (its a 5th option)
You will be connected with Customer Service Representative.
Give Mobile Number.
You need to validate some particulars.
On successful validation, MMID will be sent through SMS on your number.
5. Get MMID through SBI Freedom App
1. First open SBI Freedom app and click on 'IMPS'.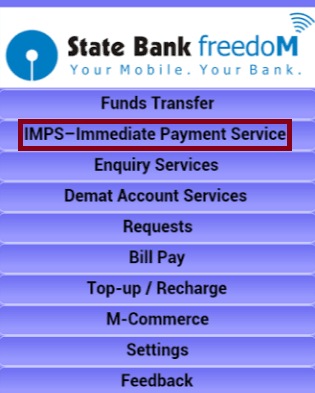 2. Now just click on 'Generate MMID' to get mmid.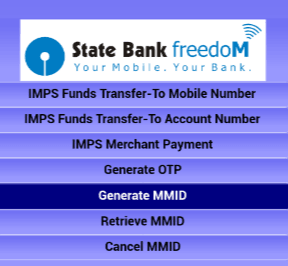 These were five methods to get mmid for sbi account. If you know any other method, please share it with us via comment.