India is trying to move away from cash transactions and it is trying hard to move towards a cashless economy. Every citizen of India is trying hard to adapt to these changes but the fact is that the technology and the regulations play a bigger role in this case.
A person needs a quick technology which is easy to understand, this will eventually promote cashless transactions. The government also contributed a lot by announcing several new incentive schemes which encouraged people to adapt to the cashless transactions.
There is certain scenario when a person can't pay through a debit card or a credit card and in such a case he needs to transfer the money to someone's bank account. Digital wallets definitely help a lot in these case but they are not widely accepted.
In such a case, the only option that a person is left with is to register the person as a beneficiary in his savings account and transfer the money to him. But the problem here is that the process can take long. Banks like Axis Bank has a provision where a person needs to wait 8 hours before the transfer can be made. SBI had always been a leader in the banking industry and it is one of the largest public sector banks in India. SBI recently introduced something called as Quick Transfer.
The quick transfer is quite helpful for the transfer procedure as it eliminates the need of registering the user through 'the add beneficiary' process. This definitely saves time and at the same time, this also helps in making the process quick because the user doesn't need to wait for the registration to complete. The user can transfer the money immediately without having to wait for an hour.
The quick transfer can be done through the application as well as the website. Both the channels are really convenient to use and it just takes about a couple of minutes to transact through these mediums.
How to Do quick money transfer in State Bank of India?
1. First login your account at https://www.onlinesbi.com/ by entering username and password.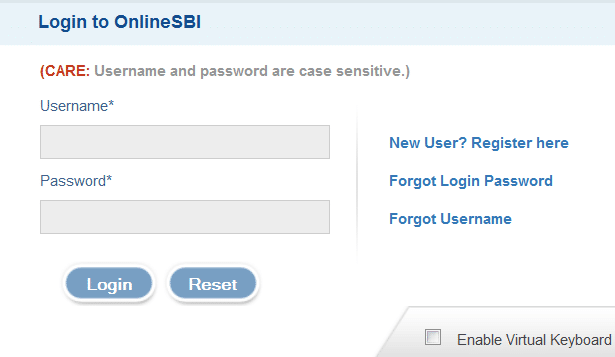 2. Now click on 'Payment/Transfer' tab from main menu.

3. Now from list of transfer services, click on 'Quick Transfer'.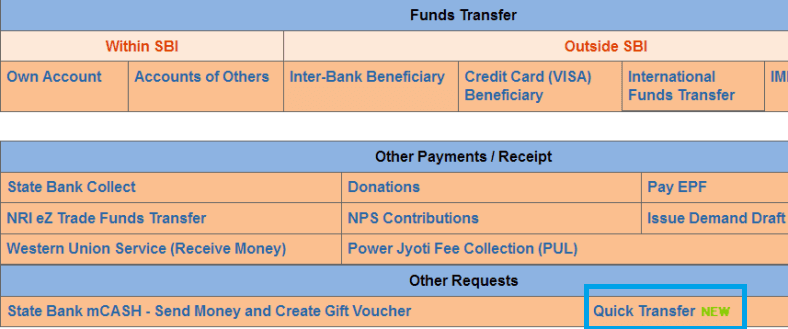 4. Now there are two ways to do quick transfer:
a) Within SBI: To do quick transfer SBI to SBI, just you have to enter Beneficiary name, account number and amount. In payment option select payment option 'within sbi' and select purpose.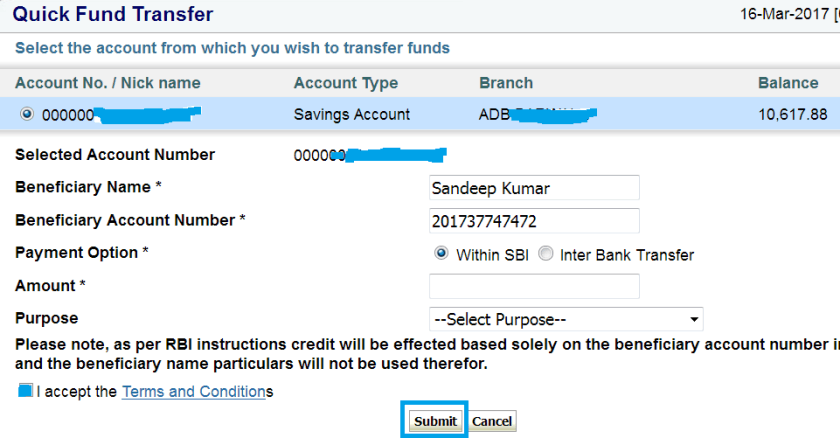 Accept term and conditions, then click the 'submit' button. Finally enter one time password sent to your registered mobile number and complete the transaction.
b) SBI to other Banks: To do quick transfer sbi to other bank, select payment options 'inter bank transfer' and select any purpose.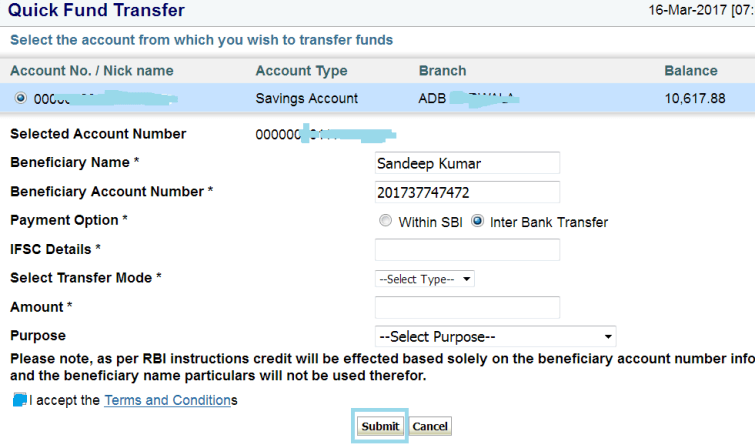 Enter Name, account number, amount, IFSC code and click the 'submit' button. Finally complete the transaction by entering otp sent to your mobile number.
Limit of Quick Transfer
The transactions that can be made with Quick Transfer has been limited to Rs 10000 per day per user. A user can either transfer the sum of Rs 10000 to a single user or he can make transfers to multiple users but the cumulative sum of the transferred amount cannot exceed Rs 10000. The limit is kept for the security reasons. This also ensures that in the case of any fraud, the loss is limited to Rs 10000.
Charges Applicable on Quick Transfer
No service charge for quick transfer with in SBI
To transfer money to other bank account, the charges applicable on Quick Transfer are same as the charges of NEFT.
The NEFT charges applicable on transactions are Rs 1.00 plus Good & service tax. The charges would be deducted from the account of the person who is transferring the amount.
No amount will be charged upto amount rs 1000 for quick transfer using IMPS mode.
Rs. 5 + GST will be charged for amount above rs. 1000 for quick transfer using IMPS mode.
Timings of Quick Transfer
If beneficiary account is maintained with SBI, as soon as the amount is transferred from the bank, the amount reflects in the account of the person to whom it has been sent.
Quick Transfer using IMPS mode can be made 8 a.m to 8 p.m
If quick transfer is choosen in NEFT mode, Transaction will be done maximum within next working day
Article Updated: 4 March, 2018.